How we ranked the 100 B-Schools

From a large database of 4000-odd institutions that are listed on the website of All India Council of Technical Education (AICTE), and Careers360's list of 700 universities that have management departments, we culled out a list of 570 B-Schools that had ample information on critical parameters such as name of the management programme, duration, number of students and faculty members, infrastructure details, accreditation and awards, placement statistics and admission test score cut-offs. Such details were sourced using publicly available information such as Mandatory Disclosure, Annual Reports, National Assessment and Accreditation Council (NAAC) website, National Board of Accreditation website, AICTE website and Department of Technical Education or equivalent thereof. Questionnaires were mailed to all the shortlisted schools and all those who wished to participate were invited to submit their responses in the form of a questionnaire provided two of their batches had graduated by August 2013. Also, those institutes have been excluded which offer distance learning programmes or offer five-year integrated course. All unapproved institutes have also been kept out of the ranking process. The B-Schools were also asked to submit supporting documents of authenticity since many respondents were found to be prone to overstating their virtues. For Public institutions who did not participate, we used the information made available after filing for the same through RTI Act and if they were found to be adequate, we included them as part of the ranking process.

Post scrutiny of available data, we used our INPUT-PROCESS-OUTPUT methodology to arrive at six broad parameters (see pie chart). This includes two crucial parameters: research output and alumni. The top 100 B-Schools in the country have been divided into Public (30) and Private (70) category based on relative minimum score criterion. The important thing to note this year is that we have moved further in evaluating B-Schools on such factors that are objective and fairly quantifiable so that any good management institute can safely determine where its place is.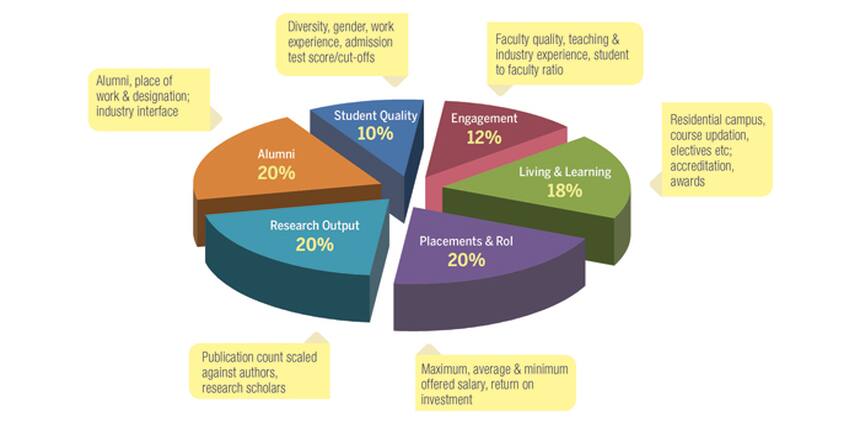 Note: We have listed good schools, which did not participate, in the ranking   as "Missing Schools". So make sure that you do not miss out on any of them
The Schools that do not figure in the top 100 have been rated separately in B-Schools Cluster and are listed zone-wise (Central, East, North, South and West) for helping you in knowing their standing. These are clubbed with the select B-Schools of the state (top 10-20%) based on the average ranking given by renowned magazines (Business Today, Business World, Careers360 and Outlook) spread over five years (2009-2013). The categorization is as follows:
 AAAAA : < 1% of 570 B-Schools Shortlisted
AAAA+ : < 5%
AAAA : < 10%
AAA+ : < 15%
AAA : < 25%
AA+ : < 35%
AA : < 40%