Best Courses after BBA - Know What to do after BBA?
Best Courses after BBA: The Bachelor of Business Administration (BBA) is one of the most popular choices of management courses after class 12 in India. The course offers excellent opportunities for jobs and further studies. BBA is a course that will give you a great start to your management career.

The BBA is a professional course and many students choose careers and begin their careers after the BBA. However, looking for postgraduate courses after BBA is another great way. In this article, we will look at some of the best courses you can pursue after completing your BBA. However, before we go into that, let's look at why you should choose further courses after completing the BBA program.
Also Check; BBA or Integrated MBA - Which Course to Choose after Class 12?
Stay up-to date with CUET News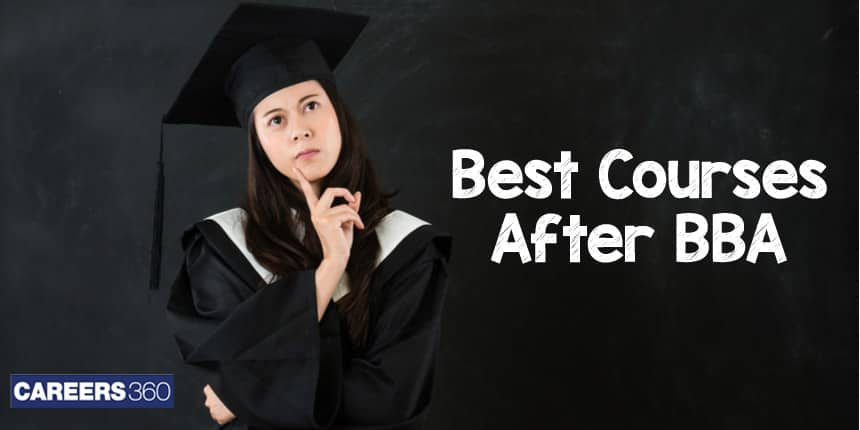 Top BBA Entrance Exams
Why Pursue a Course after BBA
The BBA is a professional course designed to prepare a student for a career. The course enhances management skills and a candidate's communication skills, while at the same time providing practical expression. The curriculum is fully packed to help candidates search for private and government jobs.
So, why go for higher studies after BBA? Each student may have a different answer to this question, but here are two reasons we can think of.
Further improve your theoretical and managerial skills. Having better skills will help you explore better career opportunities with higher pay.

A special choice. Many candidates go on to a BBA general course and a PG course will help them choose a specialized topic.

Change your field. You may want to consider choosing an alternative field for management through your PG course.

Add a degree to your portfolio from a top college. Students often try to enroll in the best or top college for their course after the BBA.
Also read; Top 10 Skills for a Successful Management Career
Best Courses after BBA
It is important to understand your reasons for pursuing a postgraduate degree after BBA. This will help you in choosing the right course and determining your career path. There are many choices of courses after a BBA degree. Here are some great courses you can consider.
Master of Business Administration (MBA)

Post Graduate Diploma in Management (PGDM)

Bachelor of Law (LLB)

Chartered Accountant (CA)

PGD in Banking
Top BBA Colleges - Location Wise
1. Master of Business Administration (MBA)
The MBA is the most popular choice for a BBA graduate. Going one step further in the management stream develops the basic principles that a student is taught in a BBA course. The average course fee for an MBA in India is Rs. 5,00,000. However, in the top colleges with a national and international reputation, the course fee is Rs. 15,00,000. Despite the high fees, the MBA is a popular subject because of the excellent income it offers.
An MBA course is the path to some of the highest-paid jobs available in the private sector. There is no shortage of job opportunities after an MBA in the private sector. After an MBA you can also go for government department jobs. You can choose to pursue a specific field or career after MBA by choosing the right MBA expertise to suit your needs.
Top Colleges for MBA in India
There are more than 6,500 MBA colleges in India. Below you can check out some of the popular options.
Here is the complete list of MBA colleges in India.
2. Post Graduate Diploma in Management (PGDM)
PGDM is another great choice for BBA graduates. The curriculum of PGDM is very similar to the MBA degree, with many PGDM courses often referred to as MBA courses. However, there is a difference in the fact that PGDM courses can be offered by full-fledged institutions without being affiliated with any university.
Since universities are not involved, the PGDM curriculum can be updated more quickly than MBA courses. You will also find that PGDM courses offer a wide variety and specialization. PGDM courses have the same career opportunities and scope as an MBA degree. However, it should be noted that the value of an MBA degree is high in the industry.
Top PGDM Colleges in India
Below are some of the popular colleges of PGDM in India.
Here is the complete list of PGDM colleges in India.
3. Bachelor of Law (LLB)
Many students may decide to move on to LLB after BBA. Having a degree in law with management skills can work in favor of a student and help them earn more money, completely changing the specialty or case they choose. LLB offers you a wide variety of career options and a great alternative to trust.
For example, a friend of mine decided to enroll in an LLB course, and the company he continues to work for reached out to third-party lawyers and law firms for legal advice. As soon as he finished the course, his company began to trust him for help with legal matters, and he received a pay rise.
Top LLB Colleges in India
Below are some good options for LLB colleges that you can consider after BBA.
4. Chartered Accountant (CA)
The Chartered Accountant course is another great option for students who want to explore a career in the field of financial management and analysis. Candidates who have completed BBA in Finance, Accounting or any other specialized profession will find it very useful to pursue CA after BBA.
In fact, CA is a course that you can take with your MBA courses. This will give you incredible benefit and expand the areas where you can look for career opportunities. However, since both of these courses require a lot of time and study, it is important to do your research and careful planning when considering this option.
Top Colleges in India offering MBA
5. PGD in Banking
Banking is one of the key career paths taken by BBA graduates and PGD is definitely a great choice in bank management. The course develops the skills needed to succeed in the banking industry.
Top PGD in Banking Colleges
Check out the list of some of the best colleges for PGD at Bank.
It is very important to choose the right postgraduate course after graduation. This will help you to get on the right career path and improve your salary and salary scale.
Here is the complete list of PGD in Banking colleges in India.
Top MBA Entrance Exams
Questions related to CUET
Showing 99 out of 99 Questions