MBA in Sports Management: Dire need for Professionals
MBA in Sports Management: The programme was barely known until a few years ago but with the growing number of opportunities in the sports sector, it's gaining popularity among youth. Now, a formal MBA in Sports Management programme is here for all the sports enthusiasts who wish to turn their passion for sports into a profession. The programme opens opportunities in the fields of marketing, sponsorship, exporting of sports goods or apparel, sports medicine and sports tourism & journalism. With rising popularity of sporting events such as IPL, BPL, KPL etc., MBA in Sports Management programme is gradually becoming popular among youth. Let's know how the industry is becoming the next big thing in India and how MBA in Sports Management specialisation is changing the face of management education in the country.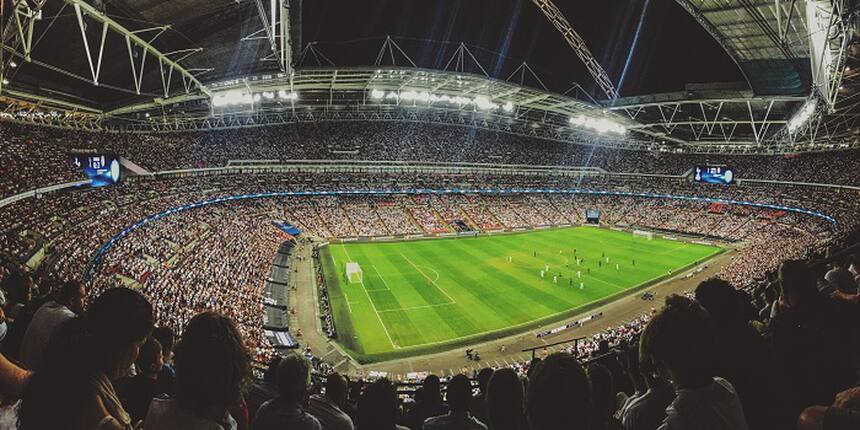 What is Sports Management?
Planning, organising and managing a sports event come under Sports Management. A professional programme in Sports Management allows students to understand the business of sports. It exposes the students to the techniques of sports marketing and administration. MBA/PGDM in Sports Management also allows students to develop PR skills and other relevant expertise which are necessary to manage a sporting event, sports celebrities and officials.
Sports Industry - Quick facts
Global sports industry is worth over $ 480 billion

Indian sports industry grew from Rs. 43.7 billion in 2013 to Rs. 48 billion in 2015

A full-fledged sports industry may contribute about 1% to 5% of the country's GDP

Sporting goods industry alone provides employment to more than 5,00,000 people in India

By 2022, India will require Sports coaches – 3,64,745, PE teacher – 9,76,938, fitness trainers – 3,63,605, skills for player development (physio, medicine, psychology) – 3,66,533, skills for matches (scorers, commentators, referee)

23 lakh people are expected to be a part of Indian sports industry by 2023 (FICCI 2014)
* (As per National Skill Development Centre study on Sports sector)
Present and future of Sports Industry in India
Despite being home to many major sports and sporting legends like Sachin Tendulkar, Vishwanathan Anand, Sania Mirza, Saina Nehwal, M. S. Dhoni, Abhinav Bindra, Mary Kom, Sushil Kumar, Vijender Singh, Major Dhyanchand and many more, Sports Management was never given due recognition for its financial potential. However, the scenario has been changing quickly in recent times.
The industry is not only taking a professional shape, it's also turning into a potential economic sector. India is gradually realising the potential of the Sports sector academically and professionally. With the establishment of Indian Premier League (Cricket), Hockey India League, Indian Badminton League, Pro Kabaddi League and Indian Super League (Tennis), the sector is flooded with opportunities like never before.
Regional players have got a huge boost through these leagues. They have received recognition which they truly deserve along with a number of monetary benefits as well. All major sporting authorities in the country are looking for young talent with sports management skills. With the institutes offering a specialised programme in Sports Management, the industry is ready to meet the ever-increasing demands of the sector.
To become a global superpower in the sports industry, India needs to use the complete potential of its large population. At the same time, it also needs to promote the regional as well as international sports in the country. However, the way people have started to follow various sports and if we observe the money involved in these sports, it is a certainty that sports as an industry is the next big thing in the country.
INTERVIEW
Professionally trained managers needed for roles across sports
Dr. N.R. Parasuraman
Director,
SDM Institute for Management Development
Q. How does specialization in 'Sports Management' bring an edge over a general management programme in terms of job prospects and career growth?
A. Ever since the beginning of the IPL ten years ago, the Indian sports industry has literally exploded in terms of opportunities and openings in the field of Sports Management. We now have Professional Leagues in almost every major sport right from hockey to badminton to boxing and kabaddi, dotting the Indian Sports calendar at different times of the year. There are city-based teams run by different franchises in all these leagues and they have a huge fan following. These teams are backed in a big way by industry and television and the IPL in particular, has grown to be one of the most watched and most cash rich leagues of the world.
All these teams and the 500 plus Indian Sports Management companies that have come up over the last five years or so, to support them in various capacities, need trained people for a variety of roles, starting from the top, Chief Executive Officer, COO downwards to the hundreds of young professionals helping in the marketing, logistics event management, broadcasting, advertising and brand building, merchandising and ticketing of these mega enterprises.
The whole sports industry is in a state of flux and anyone who has a formal qualification and training in these areas would certainly not have a paucity of job openings or career growth, in the foreseeable future! Their edge over others is obvious when you consider the fact that there are so few institutions in the country that offer Sports Management education in any form, in sharp contrast to the thousands of students graduating from hundreds of institutions, all over the country, with their traditional management education in areas that are already saturated in the first place!
Q. What is the Unique Selling Proposition (USP) of the specialization that you offer? What are the core teaching areas for the specialisation at your institute?
A. USPs of the programme:
Curriculum is designed with inputs from experts in sports management

Association with premier and national level sports body

Tie-up with sports leagues and companies for internship and placement

Faculty members are from the respective domain

Programme offered by one of the  Top B-School in the country
Core teaching areas are in the fields of managing sports leagues and teams, The Business of Sport, Sports Administration in India and overseas, Sports Event Management, Sports Brand Building, PR and advertising, broadcasting and media coverage of sports events, laws governing sport and arbitration.
Q. Could you shares some details of the curriculum of the programme?
A. The course was launched in June 2017 by the international tennis player and brand ambassador of the Sports Management Course. Somdev Devvarman. This is the first batch of the course.
Besides the above, we offer a minimum of two internship programmes and opportunity to organise a professional sports event by the PGDSM students as a project.