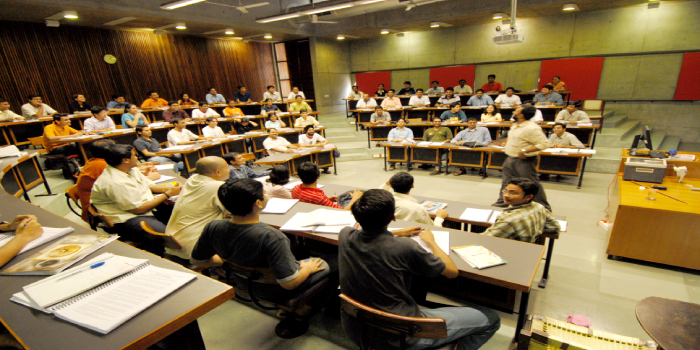 Prof Amit Karna, Placement Chairperson, IIM-A, speaks to Careers360 on how a titan institute like IIM-A among the country's management instituions is taking a number of steps to enable to amke an informed career choice. The column by Prof Amit Karna will help you know how the instituions like IIM-A have changed their placement processes.
Read this column by the IIMA Placement Chairperson talking about the recruitment scenario in the B-Schools.
Compare Colleges
College Comparison based on Courses, Placement, Rank, Fee
Compare Now
Being one of the premier institutes in the country, Indian Institute of Management Ahmedabad (IIMA) attracts best of the students and recruiters to its campus. This results in one of the most competitive job markets taking place with lot of pressure on both the sides. Given the rapid nature of decisions taken in such a market, and an overwhelming process of interviews and job offers, it is natural for young students to come into pressure that is driven by reputation of the company and salary offered by the recruiter. This, we believe, is ineffective for students as well as recruiters, as it leads to suboptimal choices on both sides, especially on part of young students.
Launching pad for corporate world
Management institutes in India today work under tremendous pressure of providing a good launch pad to students for building their careers in the corporate world. The practices followed by majority of these institutes aim at providing 100% placements, at whatever cost. Such a short-term objective leads to compromises on the best-fit between the student aspirations and skill-sets and organisational expectations. Institutes will be better-off in the longer run, if they were to focus on more dimensions in addition to salary offered and reputation of the company, in order to serve all the stakeholders better. 
At IIMA, we have constantly changed the placements process in order to facilitate a more career-fit-oriented decision-making on the student side of the job market. This has helped us provide a better-fit between the candidates and recruiters over the years. IIMA has some unique features in their placements process that I outline below.
Cluster-cohort system
IIMA has moved away from the conventional "day-system", that is essentially salary-oriented, towards a unique "cluster-cohort system." The system, adopted a few years ago, clubs companies from same sector offering similar profiles into a cohort, and several such cohorts, termed as cluster, are invited to visit campus for interview on the same day. We currently have three clusters, thereby removing the salary and reputation oriented categorization of firms into Day 0, Day 1 and so on. Recruiters visit campus to attract the best talent and compete with similar firms, and students make choices not only based on salaries offered, but on the sector and role offered by the recruiter.
Flexibility in sector selection
IIM Ahmedabad also provides the flexibility of making "dream" applications to firms of their choice in a subsequent cluster even after receiving an offer in one cluster. This enables students to explore more sectors and choices to build careers in a wider list of preferred sectors. Through such flexibility, recruiters also get a benefit to hire a future employee who had made a choice after looking at all possible options. This ensures that the organization where student joins has attracted a better fit.
No strings attached pre-placement offers
In final placements (for full-time jobs), we get a large number of pre-placement offers from recruiters who extend these offers to students who would have interned at their organization during the summer. At IIMA, we do not accept any conditions on this offer as that again puts students under the pressure to accept the offer without looking at more options. This is again unlikely to be helpful to the organizations where students will join. We allow the students to retain the offers and look at other options, so that they can make an informed choice. Students taking up jobs within such a process are a better-fit for recruiters and add lot more value in the long run.
"
Variety of co-curricular activities
In addition to these unique features of IIMA's placement system on the days of interview, IIMA also helps prepare the students through the programme in a continuous manner. In addition to a carefully designed rigorous curriculum of the programmes, IIMA offers a wide variety of co-curricular activities by student clubs, and various mentoring sessions and industry talks that prepare the students and make them ready to take on challenges in the real world. The placement related activities on campus are all geared towards reducing the stress levels on students and helping them make choices that result in recruiters attracting the talent that is best-fit for their organization.
Conclusion
We believe that providing an environment where students make placement related choices in a pressure-cooker situation is not conducive to recruiters finding the candidates that are a right fit for their organization. Therefore, management institutes will serve the cause of placements better by focusing on reducing the stress on students and enabling the students to make a more informed choice. This will not only serve the students better, but also enable a better fit for recruiters visiting campus to meet their employee requirements.