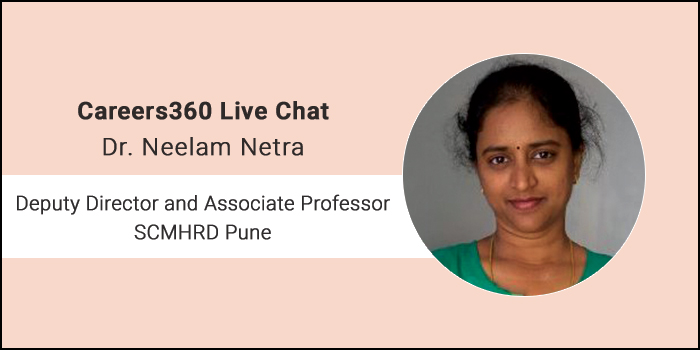 Dr. Neelam Netra - Deputy Director and Associate Professor at SCMHRD Pune takes queries from prospective management aspirants on different aspects of admissions and course of SCMHRD Pune.Careers360 formulated all the questions and answers from the live chat with the Deputy Director and Associate Professor of SCMHRD Pune.
Admissions Open Now
SNAP Admissions 2018
Register Now for SNAP 2018. Get accepted by over 15 colleges.
Compare Colleges
College Comparison based on Courses, Placement, Rank, Fee
Compare Now
Soni: Several rating agencies have good reviews about your college. What is your B-School ranking status? I want to enquire about the most popular MBA specialisations in SCMHRD Pune? Do you have dual specialisations? Do you allow lateral entry? Do you accept CAT percentile?
Dr. Netra Neelam: Thanks. SCMHRD is entering it's 25th year, and we are the youngest B-School to have been ranked in the Top 20 B-school list in India. We've expertise in all specialisations, but your specialisation depends on your interest. Career guidance is also provided during Semester 1. We offer specialisation in Operations, Marketing, Finance and HR. No, we do not allow dual specialisation; however you can select electives from other specialisations. Sorry to inform you that we do not allow lateral entry. Soni, we consider only SNAP percentile for admissions; not CAT percentile.
Excerpts from the Careers360 Live Chat.
Avik:  What are the facilities you provide including co-curricular activities? Do you have hostel facility?
Dr.  Netra Neelam: We provide the following facilities - Sports Facilities, Basket Ball court, Table Tennis court, sports like Cricket, Basket Ball, Badminton, Carrom and Table Tennis, Health Centre, Gymnasium and SCHC Yoga centre.
The institute provides excellent healthcare and medical facilities. A health care centre SCHC managed by the Symbiosis Institute of Health Sciences (SIHS), with a residential medical officer is a vital feature of the campus. Yes, we provide hostel facility.
Muskan: I am considering between SCMHRD and NMIMS MBA in HR. Could you help me on it? Both institutes seem similar to me, therefore I am in dilemma which one to choose. My priority is to learn HR aspects and get placed with a good profile. Also list me the companies that come for placement programme.
Dr.  Netra Neelam: Muskan, SCMHRD ranks amongst the top three B-schools for HR in India. We have companies like HUL, ITC, Godrej and Colgate and Palmolive coming for placements and offering niche HR profiles to the candidates.
On the whole, following are the esteemed companies that come for placement- Business houses like Aditya Birla Group, Bajaj Auto, Capgemini, Citibank, Ernst Young, Honeywell, HUL, HSBC, ITC, JPMC, L'oreal, Mahindra, Mercer, Piramal group, Philips, Pidilite, Reliance, Vodafone, Yes Bank, Bharti AXA General Insurance, Colgate Palmolive, Cipla, Ferrero, HT Media, Gallup Consulting, Godrej, ShopClues, Vedanta Resources etc.
Vivek: Does SCMHRD Pune provide core MBA? Do you offer PGDM Marketing if I opt for regular programme? Also, do you encourage exchange programme?
Dr.  Netra Neelam: We have flagship in MBA, MBA-IM and MBA-BA programs. We offer MBA Executive program with specialisation in Marketing. Yes, we do have exchange programme.
Mansi: Is there is any scholarship programme? If yes, then what is the criteria to obtain the same? Your website mentions about Education Loans. How to avail the loan? What is the highest package offered to MBA Executive
Dr.  Netra Neelam: No, we do not have any scholarship programme but do have tie-ups with several banks; so you can go ahead for availing the loan. We do not offer placements for MBA Executive. However, we provide placement assistance for the full-time MBA candidates.
Sanjana: I have work experience of two years. Which type of management program should I opt for; correspondence or regular? Is MBA Executive a full time course in SCMHRD Pune?
Dr.  Netra Neelam: We offer regular programmes only. However in case of Executive MBA, we offer a 30 months weekend programme. However, a full-time MBA always helps in better career progression.
Rihana: What is the cutoff score for MBA- Business Analytics? What are my chances to get selected if my name is in the second waiting list(General Category)?
Dr.  Netra Neelam: The cutoff score for MBA – Business Analytics programme is 88.2 percentile. Regarding your admission, it completely depends on the movement of the first merit list.
Rihana: How suitable is SCMHRD if I have 2 years of work experience and my current CTC is Rs. 9 LPA?
Dr.  Netra Neelam: It's a good option to consider for enhancing and upgrading your existing profile, as the average package offered at SCMHRD is Rs. 14 LPA (Lakh per annum).
Neeta: I am a B. Tech graduate. I had few arrears/backlogs during my course which I got cleared before passing out. The semester mark sheets reflect those. Will these arrears/backlogs hamper during my admission in SCMHRD? According to you, which is better SIBM-Pune or SCMHRD-Pune?
Dr. Netra Neelam: Your overall score must be 50 per cent in graduation. Both the institutions are at par.
Himanshu: Can I get direct admission in SCMHRD Pune? Is there any management quota? Do you have any fee relaxation for Schedule Class?
Dr. Netra Neelam: No. There is no possibility for direct admission in SCMHRD Pune. Admission is strictly based on SNAP percentile and overall profiling. We don't offer management quota as well. Also we do not give fee relaxation to anyone.
Neeta: What percentile do I require to get in SNAP in order to get a call from your college? Is it mandatory to have a work experience as I am a fresher?
Dr. Netra Neelam: The last year cut off was 97.1385 percentile. Work experience is not a mandate. However, work-experience of 2 years is required solely for MBA-Business Analytics programme.
Purushottam: Do you eliminate students on the basis of a Group Discussion? Apart from the SNAP percentile, what are the other admission criteria?
Dr.  Netra Neelam: It is not true. The final score is a consolidation of all the rounds. Apart from the SNAP percentile, we consider 10th and 12th marks during profiling. Anything above 50 percent will be considered appropriately.
Avik Sharma: What is the highest and median packages? What are the other facilities you provide including co-curricular activities? Do you have hostel facility?
Dr.  Netra Neelam: The average compensation is Rs. 14.61 LPA while the Highest goes upto 28 LPA.
Geeta. G: What is the placement ratio for Finance? Do you offer BBA programmes at SCMHRD Pune?
 Dr.  Netra Neelam:  97 per cent of the students are placed three months before the completion of the program. No. We only offer PG programmes.
More like Symbiosis Centre for Management and Human Resource Development, Pune
Questions related to Symbiosis Centre for Management and Human Resource Development, Pune