Campus Placements and Job Prospects, Propositions by Prof. Debashis Chatterjee (Director IIM Kozhikode)
Amid COVID 19 epidemic, students are worried about their placement offers, other job prospects as many companies have revoked their offers for the upcoming times and some are not even responding. Definitely there is ambiguity in mind of students and their parents regarding the future scenario i.e. post COVID 19 world. Things definitely will change dramatically not always for the worse. There will be some sunrise issues as well as some sunset issues. Careers360 along with Prof. Debashis Chatterjee (Director IIM Kozhikode) is highlighting information related to placements and job offers. Know what Prof. Debashis Chatterjee says about getting into a good B-School than any other. Students are pragmatic about COVID 19 and no one knows what the future looks like, so we can not plan but focus on preparing ourselves for the future that is still unfolding.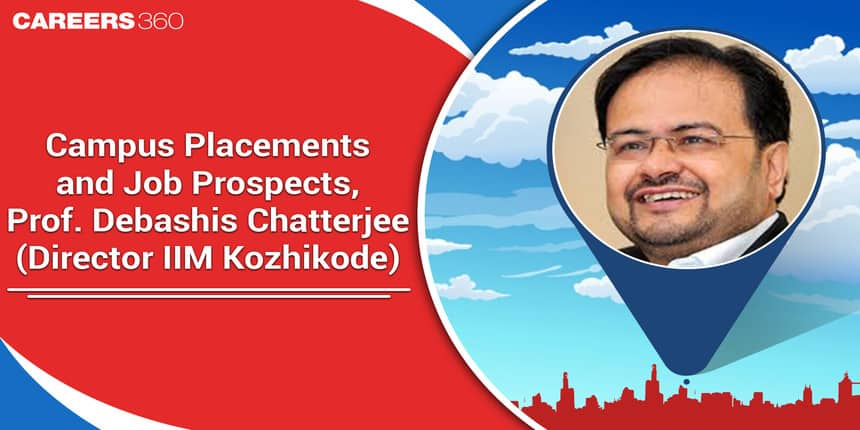 What is Campus Placement?
Campus placement or simply campus recruitment is a process which the educational universities or other educational institutions conduct in order to provide jobs to its students nearing completion of their studies (be it under graduation/post graduation course). For campus placements, the educational institutions partner themselves with various corporations (especially private sector companies) who wish to recruit students as freshers. Campus placement is beneficial for all parties i.e. educational institutes, its students and recruiters as well.
Phases Where Job Prospects Faced a Downward Slope
In the history of IIMs, there have been only two inflection points. One was in 2001-2002 and 2008 was another where almost all educational institutions including IIMs went through very depressing periods. Talking about how IIMs coped with the same, they were resilient enough to hold back the pressure. According to IIM Kozhikode Director, Prof. Debashis Chatterjee said the nature of calamity that we were facing at that time was probably smaller. Certainly all is not lost if we look at the history of pandemics. Flexibility and resilience is a must for every student in such times.
Question - Is it ok to wait for getting admission in a good B-School by dropping a year or more?
Prof. Debashis - Most of the B-Schools don't actually invest in real learning. Don't do an MBA just for the heck of getting a degree. Unless you get into a good B-School which has some kind of legacy.
Question - Is it actually fruitful to have work experience before taking admission in a B-School?
Prof. Debashis - Nothing can actually substitute for the work experience that you have. During the work phase, you have ample of opportunities to work on and build your net worth.
Question - Will COVID 19 bring recession in any particular sector?
Prof. Debashis - No one can project anything with certainty as they do not really know COVID 19 is gonna bang out. However, some of the speculations may come right at a given point of time. The virus is going through a non-uniform effect, as it will be no one's by geography (where you are accommodating), by domain (which sector you are working). There will be multiple factors which are to be analyzed as recession for one sector doesn't mean recession for the other too. For example, those who are in the government sector have the privilege of holding onto their jobs and in the long run they are considered secure no matter how smaller/higher the pay is.
Question - Will there be a dramatic shift in the way how corporates function in terms of hiring?
Prof. Debashis - If we take into consideration the Human-centred world then there will definitely be some systemic shifts. One of the most effective would be the geo-relational power- will it be possible for us to build the kind of relationship that we had before this pandemic?
Question - What opportunities are available with India in terms of placements and job prospects?
Prof. Debashis - As per Prof. Debashis Chatterjee, COVID 19 pandemic could be a push for India's healthcare in a way that no one can ever imagine as we have ample of opportunities to demonstrate. Our Prime Minister is also harping on the fact that India as a whole needs to be self reliant.
Essentialism will hold an important role. India is dealing well with the pandemic as of now. The whole system will shift towards greater conservation, says IIM Kozhikode Director. Insurance sector will grow exponentially. We just need to look at the demand pattern. Part of banking is another prospect which will re-emerge differently.
Question - Is entrepreneurship the next move for Indian candidates to move to the next level?
Prof. Debashis - Entrepreneurial skill which is now was not there in previous years. Earlier the social systems of India weren't conducive. But now there is no choice. The social stigma which has been associated with the entrepreneurial world will go away because when your survival is at stake you cannot sit idle.
Question - How does a student deal with a scenario whereby the offer letter has been withdrawn by the company?
Prof. Debashis - From IIMs perspective the withdrawals have been minimal. The companies revoking their offers may either be not worried about their reputation or they do not have sufficient provisions to pay. In such cases, candidates who will re-apply they need to use their networking so that the chances of getting help are enhanced.
The better the candidate's network, the higher will be the chances of getting a job. Students need to re-think and work on their capabilities as to where they can deploy their skills rather than being worried about what they are going to do? If students think they align well with the future goals of the organizations they are planning to associate with, then the chances of achievement are on cloud nine.
According to Prof. Debashis Chatterjee, Wellness doesn't only connote hospitals, vedas. It is a broad term that refers to investing in one's own psychological health, good eating and all healthy practices.
Question - Is there any connection between the skill set and market opportunities?
Prof. Debashis - No, there isn't much connection between the two of them. Students who do not get job in their respective field should not feel blue and try adding more skills and components to their current competencies. Candidates need to think what they should add in their skill set. We should not think we are civil engineers or any other, we should keep in mind that we are Humans and have a lot of potential in different fields.
Question - Will international placements be affected due to COVID 19 pandemic?
Prof. Debashis - This is just a subject of speculation which can only be predicted. Large organisations/ multinational companies will still recruit depending upon the geo-political scenario of the recruiting countries. But there can be a serious cut down on the number of international jobs.