BBA entrance exams Preparation tips by Amit Poddar, Sr. Regional Head, T. I. M. E. Delhi
In today's modern world the parents have 'grown up' and are ready to push their wards on the road less travelled. The two fancy careers Engineering and Medical are no more the only two best options available in front of the children of today and more importantly, the parents are in full support of their children to help them pursue their interest. Out of all the opportunities available one course clearly stands out and that is the management course and it attracts a lot of students from across the country. Amit Poddar, Sr. Regional Head, T. I. M. E. Delhi, provides vital preparation tips for the various BBA entrance exams. Read the full article to know from where one can pursue the Business administration program.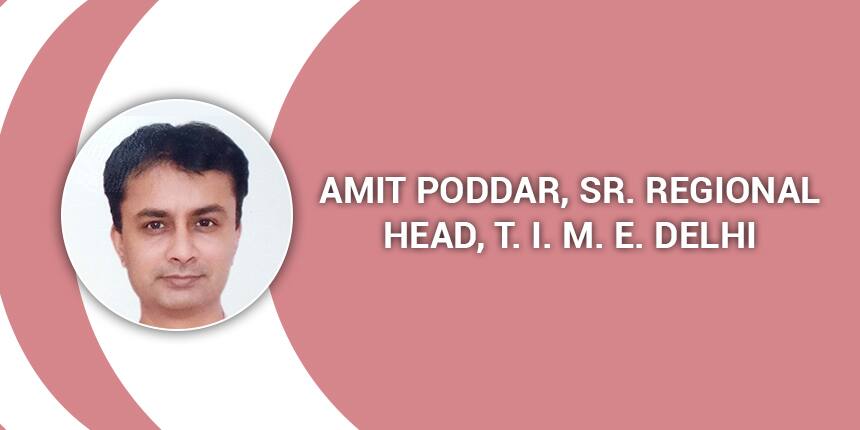 List of Institutes offering BBA Courses
Candidates who are planning to pursue the BBA course, they can check the names of the institute that are given below which are offering the same:
When is the right time to start preparing for BBA entrance exams?
BBA entrance exams of IP university,Symbiosis,Narsee Monjee,Christ etc. are generally conducted in May and BMS(DU) in June mid( this year is an exception because of the pandemic).So,an aspirant has around a month and a half after the 12th board exams to prepare for these entrance tests. Given the kind of competition in these exams ,one needs to start as early as possible.
A number of students preparing for BBA,BMS,IPM,etc, start the preparation once they enter class 12th.So,ideally speaking, to get into the top colleges one has to start a year or so before the actual exam dates. Still ,there are a lot of students who start just after the board exams. In order to beat the competition and to be ahead of the race, start early. Sections like English , GK, Reasoning and Quant are generally tested in these exams and to crack these exams one has to work on the knowledge enhancement and skill development.
Quick Links
Top 5 BBA Entrance Exams: Know Exam Pattern, Eligibility Criteria and Selection Process
How to Fill GGSIPU CET BBA Application Form 2020
What should be the initial preparation strategy?
The starting point should be the awareness on what comes in the exams. So, before starting the preparation the objective should be very clear, as in ,what comes in the exams. Then, one can slowly start building confidence in the areas tested in the exams. It also depends on when the student started preparing, a year before the exam or after the boards.
Areas like English and Gk require a lot of time to develop accuracy. So, one can start with developing a good reading habit and learning 10 to 20 new words daily apart from enhancing basic grammar knowledge. For Quant and Reasoning one needs to practice a lot and one should be conceptually very sound. So, going through NCERT Maths book of 8th,9th and 10th can be a good idea. Moreover, these tests are definitely about informed decision making rather than making wild guesses. Intelligent guess work may work sometimes for English section where Vocabulary and Grammar questions can be solved using root methods and common sense. Reading comprehension and Logical reasoning are clearly skill based areas and the aspirants need to practice a lot of questions to reach a good accuracy level. General knowledge and current affairs questions can be dealt with properly, only if a student has given time to daily newspaper, GK capsules, monthly GK snapshots and magazines.
Major BBA entrance exams are IIM Indore IPMAT, DU JAT, GGSIPU CET BBA, SET BBA among others. What should be the specific preparation strategy for each?
IPM (IIM Indore / Rohtak-BBA+MBA)
For English, broadly it is about RCs and para based questions with some Vocab and Grammar.
As has been for a few years now, the Quantitative Ability section in this exam proves to be a difficult one as compared to the Verbal Ability section. A significant number of questions are seen from Numbers, Algebra, Pure Maths, and a few from Arithmetic as well. The questions are majorly from the topics like Geometry, Mensuration, Probability, P&C, Progressions, Matrices, Functions, and Complex Numbers. There are a few questions from the topics like Time & Work, SI/CI, PPL. A couple of caselets are also there on data Interpretation which involves some calculations.
So, the basic focus should be on the quant and reasoning sections itself. Time management is the key to success.
DU JAT(BBA-FIA,BMS,BBE)
For this Mecca of all exams, one has to focus a lot on higher level Maths as almost all the questions are from class 11th and 12th.For the gk section the focus is on business and economics ,though the questions from other areas also appear under this section.
For the IP BBA one should work less on Maths as there is no Quant section in particular. Instead there is a special section on Communications and Management skills, where questions are based on business GK and basic understanding of communication.
For Symbiosis, equal attention should be given to all the basic 4 areas while preparing for the entrance test. Questions are moderate in difficulty level so all the chapters of Maths and reasoning should be touched upon at least once and should be revised 1-2 days before the exam. For GK one has to prepare on both current affairs and static GK.
Taking regular sectional tests and full length mocks can help aspirants sail through these exams.
Share sectional preparation tips for the areas like Quant, Verbal Ability, Reasoning and General Awareness.
For Quant , different exams require different level of preparation. BMS(DU) requires a thorough revision of all the chapters of class 11th and 12th.Symbiosis BBA entrance is a step lower where one has to go through the 9th and 10th Maths syllabus. One should practice more of Arithmetic, commercial maths (Profit, Loss, & Discount/SI CI), Time & Distance, Time & Work, P&C, Mensuration, Algebra, etc. There is no Quant section in IP BBA CET but some basic Maths questions can be seen in the Reasoning section.
For English section one should do a good mix of RC and VA questions regularly. Doing passages, para jumble, para completion, critical reasoning, fill in the blank, should form the basis of the preparation. Vocab building with a bit of focus on idioms and phrases should be done every day without fail. Basic grammar rules should be learnt and practiced once in a while. Reading newspapers everyday can help in both English and GK sections.
For Reasoning one should go through questions based on Arrangements, Series, Coding-Decoding, Visual Reasoning, etc. , Mensuration, Percentages, SI/CI, Clocks, Calendar, Indices/Logarithm/Surds (ILS), Series, Analogies, Odd one out, Ordering/Ranking, Direction sense, etc.
How should the preparation strategy change while a student approach nearer to exam date?
After the regular practice in the initial days of preparation one should gear up a bit when the exams approach nearer. In the initial days, sectional tests should be taken more and later on more of full length mocks based on specific exams should be taken. Proper analysis should be done after every test taken and the weak areas should be identified and worked upon. Initially one can devote 3-4 hours daily which should go up to 6-8 hrs when the exam gets closer.
What should be the time management strategy on the exam day?
As time management is very crucial in these entrance exams, students should take 10-12 mocks to get the feel of the actual exam and try different time divisions while solving the paper. Allocating almost equal time to the 3 main sections namely English, Quant and Reasoning and comparatively lesser time to GK section can be a good idea. Analyzing the mock and identifying the strengths and weaknesses should be done regularly to see what works for a candidate. As there are no sectional cut offs in most of the exams, more time should be given to a strong area and less time to a weak area. As all of us are unique, so the same allocation of time may not work for all of us.
Leaving questions which is beyond the abilities of an aspirant can save the much needed time which can thereby be used in solving other doable questions. This habit is something very different from the board exams where a student is advised to do every question. Reading speed is the key, which can save a lot of time. This time saved can be used in other sections. There has to be a clear cut difference which aspirants should keep in their mind about strategies to be used in the exam .And any rigid mindsets can be very detrimental.
'If you can dream it, you can do it' was very rightly said by Walt Disney. So, start Dreaming. Good luck!