5 Year MBA in India: Scope, Colleges, Entrance Exams, and Fees (BBA+MBA/ Integrated MBA)
5 Year MBA in India: The Integrated MBA program, commonly known as IPM (Integrated Programme in Management), is a five-year program that combines both undergraduate (BBA) and postgraduate (MBA). It is one of the coveted programmes students can enroll in right after completing their class 12.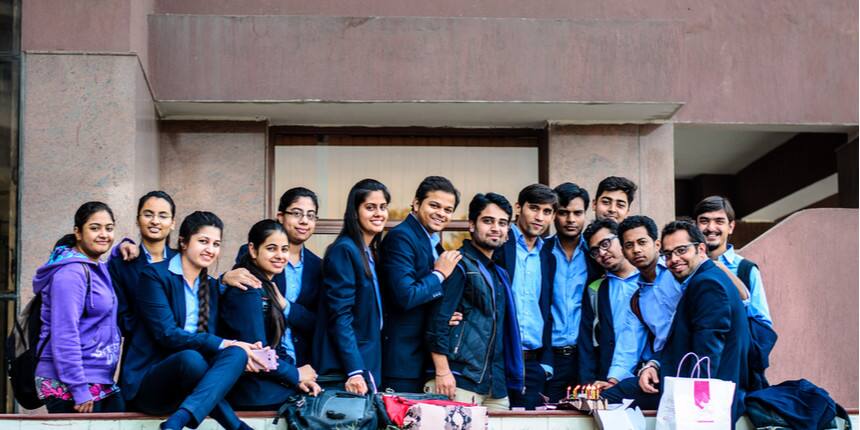 Candidates willing to pursue an integrated BBA + MBA course will have to apply only a single time for both degrees as it is a dual degree programme. It is offered by multiple private and government institutions such as IIMs, Xavier University,Narsee Monjee Institute of Management Studies, Nirma University Institute of Management, and many more. Unique pedagogy, various projects and internships, well-framed curriculum, etc make the Integrated MBA program a superb spot for students who just passed their class 12. Aiming at molding a cohort of socially responsible professionals, leaders, and managers, the BBA + MBA course provides a holistic and multidisciplinary curriculum along with brushing up their administrative and leadership potentials.
BBA + MBA Integrated Course in India: Highlights
| | |
| --- | --- |
| Particulars | Details |
| Name of Course | BBA MBA or Integrated Program in Management (IPM), if by IIMs |
| Course Level | UG-PG integrated course |
| Course Duration | Five years |
| Eligibility | Candidates who have already appeared or passed their 12th or equivalent examination in 2018, 2019 or 2020 with a minimum of 60% (GEN category) and 55% (SC/ST/PwD category) can apply. |
| Admission and Entrance Exams | Rigorous, three-step entrance process involving the filling up of an application form, followed by an entrance examination (IPMAT). Shortlisted candidates are then called for a Personal Interview. |
Integrated MBA Eligibility Criteria
The eligibility criteria for the integrated MBA programmes vary as per the institute the students want to pursue except a few common parameters. Thus, students are advised to refer to the prospectus of the respective institutions to know the specific eligibility criteria set by them.
Candidates must have passed their class 12.

Candidates should have had a minimum of 60 percent aggregate in 12th to apply for this course (this minimum percent of the marks in the qualifying exams may vary according to the colleges)

The students who are appearing for the exam of class 12 are also eligible to apply for the programmes. Students will have to produce the mark sheet before the date prescribed by the institute.

Candidates from any subject stream are free to apply
Top Colleges offering 5 year MBA in India: Fee Structure and Admission process
The fee structure of integrated MBA courses varies from college to college. The fee of the BBA MBA programmes consists of all the facilities given to students by the respective institutes. The students
who aspire to pursue BBA + MBA programme can refer below to know the average fee structure
Name of the Institutes

Fee Structure

Admission Process




Total fee for five years: 20 Lakhs

IPMAT

Personal Interview (PI

Total fee for five years: Rs. 30,51,000/-

IPM Aptitude Test

Personal Interview (PI)




Approx. Fee: 57,000/- per year

Applicants are selected based on the weightage of marks at :

qualifying examination (senior secondary)

Entrance Test

Interview.




Programme Fee: Rs. 3,50,000/- (per year)

Residential Fee: Rs.2,60,000/-(per year)

Applicants are selected based on :

a personal statement

X and XII grade marks

faculty interview

entrance exam

score (JSAT /SAT /ACT /UGAT).
5 year MBA: Points to be noted
The course fee is inclusive of accommodation charges.

The institute provides shared accommodation for the first three years of the course

IIM- Indore offers single room accommodation in the fourth and fifth year of the programme.

The fees for the last two years of the course are the same as that of PGP.
Top Management Colleges in India
Why choose a five-year integrated BBA+MBA?
Students are equipped with the requisite skills and knowledge to become the best leaders and managers.

The students get various internships and in-field projects that enrich their future careers.

This course avoids the repetition of the concepts and ideas that normally happened in the MBA programmes and provides a rich and structured curriculum.

With the completion of the Integrated programme, the candidates will have a higher rate of chance to find jobs with higher salaries.

Apart, the BBA+MAB students are trained with entrepreneurial skills that help them to venture into their businesses.
Specialisations in Integrated MBA
The 5 years Integrated MBA programme is an innovatively designed degree programme meant for young students with managerial and leadership aspirations. The programme offers comprehensive management education combined with in-depth specialisation in a specific domain. The major specializations offered under a five-year BBA MBA course are listed below.
Integrated MBA Specialisations
Job Scope and Career Prospects after BBA+ MBA
The students who completed the BBA MBA programmes have a plethora of opportunities that provide high scale salaries including managerial roles in the corporate sectors. The lucrative career opportunities span across the private and government sectors. Besides, both national and international level business arenas provide many opportunities for graduates from integrated MBA programs. Refer below to know some of the employment areas the BBA + MBA course students can work:
Banking and Finance

Managerial Consultant

Sales and Marketing
Job Roles after Integrated MBA
| | |
| --- | --- |
| Designation | Job Profile |
| | A sales manager is a professional responsible for leading and guiding the sales team members in an organisation. He or she sets sales targets to achieve, builds a sales plan and analyses data. A sales manager provides training to sales individuals for better performance. |
| | A brand manager is responsible for developing brand strategies, creating a positive approach towards the brand, implementing brand plans with alignment with the organisation's goal. |
| | A marketing manager is a senior-level role that comes with the responsibility of leading the marketing team. He or she is tasked with planning marketing campaigns to lure customers to buy the products and services offered by the company and raise brand awareness. |
| | An equity research analyst is responsible for providing information related to the stock market to make necessary decisions to buy or sell stocks to avoid major risks and increase profitability. He or she produces research reports, projections and provides recommendations to make investment decisions based on trends of the stock market. |
| | A project manager is responsible for supervising the specific projects assigned to him or her. He or she leads the planning, monitoring, controlling and closing out projects. A project manager ensures the successful completion of the project within the time and allocated budget. |
Top Management Colleges by Location
5 Year MBA in India: Scope, Colleges, Entrance Exams, and Fees (BBA+MBA/ Integrated MBA)