"How to make the best out of a B-school," tells Suhas Krishnamoorthy of Great Lakes Institute of Management Ch
The journey of a management aspirant doesn't end when s/he manages to take admission in a renowned B-school. It actually starts from there and s/he has to bring the best out of a B-school in two years to make his decision of pursuing MBA worth. But the question is how? How to make the best out of a B-school? Suhas Krishnamoorthy, who studied management at Great Lakes Chennai, and now works at HCL Technologies as a Consultant, tells the answer to the question.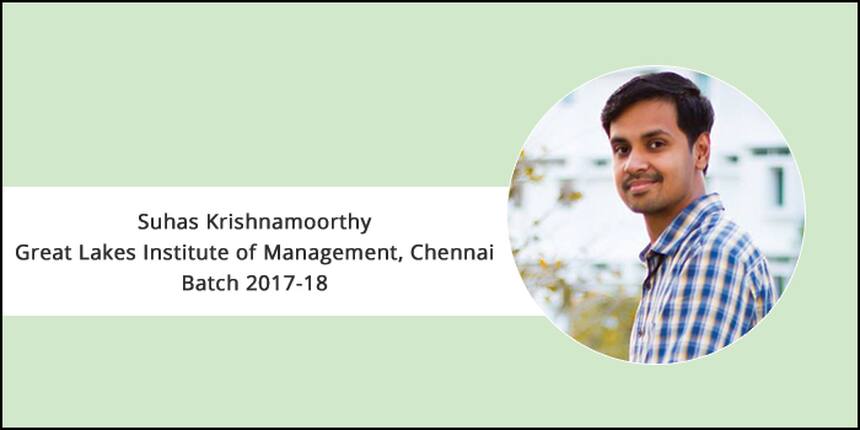 Suhas says that the students who have taken admission this year need to realize the magnitude of investment they have made. The students must realize that they haven't just invested money but also their time, mental presence, and personal life. Suhas adds, "My personal experience doing a post-graduate program in management has been once in a lifetime experience. Right from the first day of my b-school life to the last day, I have made sure to learn something every day. Do remember that learning does not always mean knowledge gained inside the classroom, it can be outside the classroom, on the football ground, or in the canteen. It can be anywhere and at any time."
Now let's have a look at the tips given by Suhas to make the best out of B-school.
You May Also Like:
Build your Network
During the induction program of my batch, the Dean stressed on the importance of the statement 'Your network is your net worth.' Initially, it did make much sense and hence I tried started building my network from the first day. However as the course progressed, I realized that it should become one of my ultimate goals in life. Once you meet a person, it is always better to make it a relationship than to make it transactional. After all, strong network relationships are invaluable assets of our life.
See Also:
Be a part of a student committee that interests you
Committee membership is more like experiential learning. Every college has multiple committees to look after various activities happening around you in your college. Since most of the activities are student-driven in a B-school, it gives you a good managerial experience pre-hand joining your job. Yes, it will definitely be difficult to manage both studies and committee work, but then what is the use of a B-school life if it does not teach you how to manage time and stress? Thus I would encourage every student who wishes to learn management to be a part of a committee and make the most of it.
You may also Like:
Take pivotal positions in college fests and other initiatives organized by your institute
I'm pretty sure that every B-school has its own National and International festivals and conferences. Be a part of the organizing committee of it. It will give you an outlook of how to manage activities that involve parties outside the scope of normal committee work. Moreover, this will give you a chance to work with a different set of the team thus giving you a different experience.
Know All About:
Maintain a healthy lifestyle
Health is the most main parameter which would enable you to become a successful MBA graduate. Unless you maintain a healthy lifestyle throughout your course, you'll not be able to manage the stress levels or work on your deliverable efficiently. Make sure to do some sort of exercise every day to keep yourself fit. Maintain a healthy diet and get a sound sleep of 5-6 hours per day. The more you compromise on these three factors, the more your health will deteriorate.
Quick Links-
Balance your life to pursue your hobby
Once you enter corporate life post MBA, it will be a little difficult to start and pursue your interests. Thus B-School life is a great platform to start, improve your and showcase your talent. Be it dancing, singing, and photography, art work, writing blogs etc., you'll have many peers to support, encourage and criticize you. Ensure to utilize their full support and make your hobby a habit. Build such a strong base that it will motivate you to continue it even after your graduation. This is, in fact, a very important point because devoting time to hobbies gives you time to yourself. This in turn aids in handling your life in a better way.
Students also Liked:
Maintain your LinkedIn Profile
MBA graduates generally spend too much time on social networking but fail to invest even a little amount of time on professional networking. Maintaining your LinkedIn profile not only helps you distinguish yourself from others but also helps you improve your industry knowledge. Often times, even before you apply for a role, recruiters show interest in you just because of your LinkedIn Profile. Read news, keep yourself updated about the industries, follow companies you are interested in and wait for the right moment. Sooner or later, you'll definitely get what you want.
Read Also:
Last but not the least, Study!
After all, you enrolled yourself for the course to widen your knowledge base. Thus amidst all these activities, you need to ensure that you learn as much as possible from the lectures and you extract maximum possible knowledge from your professors. Do religiously follow the pedagogy of the courses and put in an effort to solve the cases assigned. If there is any requirement to complete a capstone project, give your best shot at it because it simulates real life issues.
Great Lakes Chennai Placements immediately after your course will not define your success. What would define your success is how you assimilate the learnings and grow as a person in the future! Hence try to follow these few secrets which would help you complete MBA with flying colours. Have fun and learn at the same time!
Other Popular Universities
Read More:
Great Lakes Chennai Updates and Articles
Questions related to Great Lakes Chennai
Showing 92 out of 92 Questions