BBA is a popular and widely chosen undergraduate program in the current era. The course laids a gateway to enter into the business and marketing world. Bachelors of Business Administration (BBA), can be pursued by any student who has passed class 12 with a good score. Candidates from diverse educational backgrounds can also pursue BBA. There are various specializations offered through BBA such as Marketing, Finance, Banking & Insurance, HR Management. There are numerous BBA entrance exams available in India.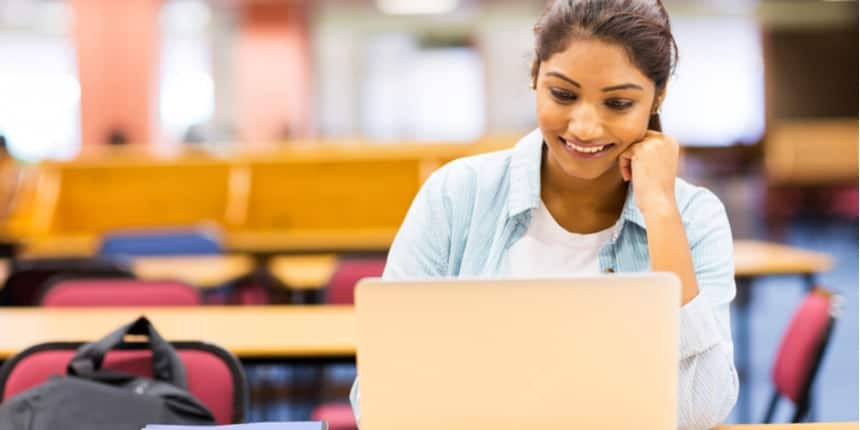 BBA Entrance Exam Syllabus: PDF Free Download for Latest Syllabus
Candidates aiming to pursue BBA must have passed their class 12 with the minimum required marks hailing from any recognised institution. The admission into BBA course is based on merit and also based on entrance exam. The top BBA colleges include IIM Indore, DU colleges, IIM Rohtak, NMIMS Mumbai, Symbiosis etc.The top BBA entrance exams in India are IPMAT, NPAT, SET, JIPMAT, UGAT, DU JAT etc. After completing the three year BBA course, the candidates can pursue MBA.
Browse BBA Colleges by Locations
BBA - Entrance exam syllabus
The BBA entrance exam syllabus mainly tests the candidates English language/ Proficiency, Quantitative aptitude/ Numerical ability, Logical reasoning/ Reasoning ability and General knowledge/ General awareness skills. The exam pattern of all the BBA entrance exams slightly varies from one to one.
BBA Entrance exam - English language syllabus
In the BBA entrance test, the English language section mainly checks the ability of the candidate in understanding the English language. To ace this section, the candidates should have a good command over the English language with a vast vocabulary. Below mentioned consists of all the topics which are covered under the English language section.
| | |
| --- | --- |
| Analogies | English usage errors |
| English comprehensions | Common error |
| English Proficiency | Closed test |
| Vocabulary | Spotting errors |
| Fill in the blanks | Rearrangement of words in sentences |
| Synonyms and Antonyms | Rearrangement of sentence in paragraph |
| Idioms & Phrases | Inappropriate usage of words |
| One word substitution | Spelling mistakes |
Quick Links -
BBA Entrance exam- Quantitative aptitude syllabus
Quantitative aptitude is considered as one of dredest sections in most of the competitive exams. But, it is not the same for the candidates who have strong foundational knowledge in maths. Quants sections basically test the basics of maths. Therefore, candidates have to brush up their basics. For those students, who do not have maths in their class 11 and 12, they have to work harder in order to crack this section with the required score.
| | |
| --- | --- |
| Square roots | Commercial Math |
| Number theory | Data Interpretation |
| HCF and LCM | Ratio and proportion |
| Profits and loss | Partnership |
| Data sufficiency test | Volume |
| Simplification | Discounts |
| Percentage | Data comparison |
| Surds and indices | Mensuration area |
| Approximation | Fractions and decimals |
| Quantitative comparison | Compound and simple interest |
| Average | Logarithms |
List of Institutes Offering BBA Course:
| | |
| --- | --- |
| Name of Institute | Admission Procedure |
| Narsee Monjee Institute of Management Studies | |
| Symbiosis International Deemed University | |
| Bharati Vidyapeeth Deemed University | |
| Christ University | |
| Delhi University | |
BBA Entrance exam - Reasoning ability syllabus
The Reasoning ability section basically tests the candidate's ability to resolve questions which demands the usage of logic rather than mere memory. The one quick strategy to boost your logical reasoning skills is practice. The more you practise, the more you excel in this section. Referring to the sample papers and previous years question papers can also help you to a greater extent. Below table contains all essential topics that are covered under Reasoning ability.
| | |
| --- | --- |
| Analogy test | Cubes and cubical dice test |
| Number test | Relationship test |
| Series test | Data sufficiency test |
| Logic test | Logical diagram (Venn diagram) |
| Ranking test | Alpha numeric symbol sequence |
| Mathematical operations | Data arrangement test |
| Alphabet test | Logical word sequence test |
| Time sequence test | Coding and decoding test |
| Statement arguments | Classification (Odd man out) test |
| Statement conclusion | Insert missing sequence test |
| Statement assumptions | Direction and distance test |
BBA Entrance exam- General awareness
General awareness is the most common section that appears in every competitive exam including BBA entrance exam. To crack this section with flying colours, one should always be updated with the happenings around them and around the world. The easiest tip to ace these sections is to consistently read daily newspapers and pay attention to the regular news. Following are the major topics which are most likely to come in the BBA entrance exam under the General awareness section.
| | |
| --- | --- |
| Business | Computer science |
| Business and general awareness | Science |
| Geography | Awards |
| Economic study | Sports |
| General polity | History |
| Trade awareness of world and India | Current events |
Browse Management Colleges by Location