TANCET Preparation Checklist: Do's & Don'ts
TANCET 2023 Preparation Checklist: Do's & Don'ts - Everyone who wishes to take admission in the best colleges of Tamil Nadu state wants to be in the toppers list of TANCET. But the question is what sort of final preparation level is required to hit the toppers list. Well, if you are looking for that answer, then you are at the right place. Careers360 in this article of TANCET 2023 Preparation Checklist: Do's & Don'ts, will guide candidates on how to go about TANCET exam in order to ensure certainty of clearing TANCET 2023 with good marks without thinking of dubious things. TANCET for the year 2023 will be held tentatively in the first or second week of May 2023. Candidates who are feeling skeptical can read the complete article to know more.
Latest Updates for TANCET
Stay up-to date with TANCET News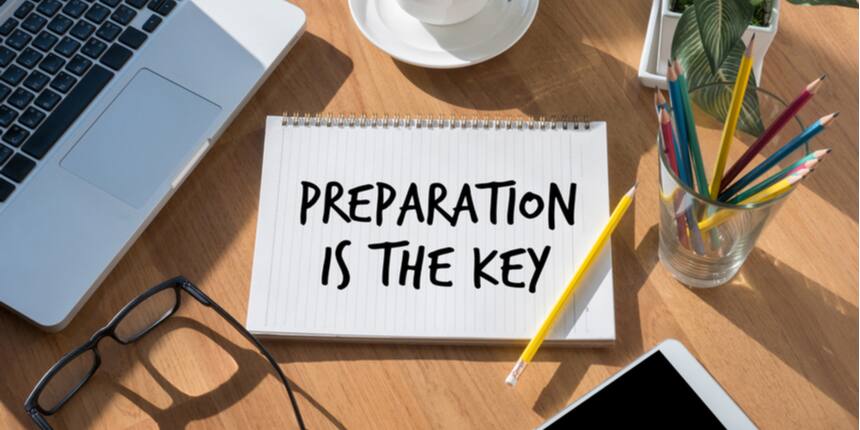 Major Dos for TANCET MBA 2023
Carry Photo ID Proof

Visit Exam Centre Prior

Be on Time to Avoid Fuss

Check Seating Arrangements Beforehand

Obey Invigilators

Be Careful with OMR Sheet

Do Not Panic
Carry Photo ID Proof
All candidates should carry a hard copy of their TANCET hall ticket. Also, since TANCET MBA 2023 will be paper based or CBT, for the purpose of verification of candidates' identification, all candidates should bring valid photo ID proof. Any of the following photo ID proofs-
PAN Card

Aadhar Card

Voter ID

Driving License

Passport
Visit Exam Centre before the test day
The exam center is the location where the exam of TANCET MBA 2023 will be conducted. The TANCET admit card will have the complete address of the exam centre allotted to candidates. Candidates should check the same and visit the exam centre beforehand.
Quick Links -
Be on Time to Avoid Fuss
Reaching the exam centre before actual time is always important as it helps in avoiding the fuss. Anxiety of getting late adversely affect the memory of candidates. It disturbs the compose, calmness of candidates which play a vital role in how candidate perform in an exam. So it is important to reach the exam centres a few minutes before the check in time.
Check Seating Arrangements Beforehand
After reaching the TANCET exam centres candidates are requested to check their seats. Information related to the seat allotted to candidates will be either available on the exam centre gate or notice board outside or within the premises of TANCET 2023 exam centre.
Obey Invigilators
In the TANCET MBA 2023 exam, a guide also known as invigilator will be there to provide assistance to candidates. He / she will be there before / during / after completion of the TANCET MBA 2023 exam. For any clarification related to the TANCET question paper, seating arrangements or the likes, candidates can ask the invigilators who will be present their throughout the exam. All candidates are requested to follow his / her instructions carefully. Failure to follow the invigilators may lead to disqualification.
Get familiar with exam structure
Due to CoVID much changes are being see in all exam. Before the actual exam on the exam day, candidates who are looking to appear for the TANCET 2023 should get acquainted with the nature of the exam. It helps avoid inconvenience at the exam day and write the exam with comfort and confidence.
Do Not Panic
In order to do well in TANCET 2023, candidates are advised not to get panic and start writing the answers abruptly. They should first read the question paper carefully and then mark the answers after they are sure of answer. Each wrong answer will get you one negative mark. Hence, writing answer carefully is very crucial.
Quick Links -
TANCET MBA 2023 Exam Day Guidelines
TANCET 2023 Section-wise Preparation Plan
Major Don'ts for TANCET MBA 2023
Do not go for Last Minute Preparations

No Unfair Practices

No Electronic Devices

Do not Hustle for Good Marks

No Bio-Breaks
Do not go for Last Minute Preparations
On the day of examination, candidates should not start any new topic to avoid agitation. Moreover, candidates should also not indulge in any kind of "study talks" with other candidates. This situation / conversation may lead to negative thoughts related to what will happen if something unprepared is asked. This will ultimately leading to bad performance in the exam. Hence, neither discuss how much is covered nor start studying any new topics.
No Unfair Practices
Candidates who will be caught being indulged in any negative / unfair practices like cheating or helping others or copying content using chits / other sources will be disqualified. Such candidates will not be allowed to continue their exam and their OMR sheets will be collected immediately.
No Electronic Devices
Be it TANCET MBA 2023 exam or any other entrance exam no candidates are allowed to carry any electronic devices with them. Thus, as part of safety measures during exams, candidates should remember that they should not carry any mobile phones, pagers, electronic calculator or digital watches.
Do not Hustle for Good Marks
One of the don'ts for TANCET MBA 2023 would be to answer questions abruptly after reading it once. Candidates are advised to first read the question carefully, think over it two times and then answer. Since answering wrongly in TANCET MBA 2023 will attract negative marks, hence answers should be marked carefully. Marking questions with a nonchalant attitude will backfire.
No Bio-Breaks
Total time duration of TANCET MBA 2023 will be 120 minutes. Candidates will not be allowed to take any breaks in between unless and until its a medical emergency. Invigilators will not let any candidate leave the exam hall before the exam hours are over.
Quick Links -
Questions related to M.B.A
Showing 900 out of 900 Questions