Description
In our quest to bring all the information and student experiences that helps you in achieving your B-school dream, we present you everything you wanted to know about B-School MBA Internship Experiences.This E-Book by Careers360, is a collection of students internship experiences from various IIM's and Top B-schools. Their experinces will support you in getting the mantras for a successful internship. Read this E-book to know about the qualities that the recruiters look for and what stratergy you should follow to complete your internship successfully.
Student Reviews
Showing 1-1 of 1 Reviews
it is very helpful for me
...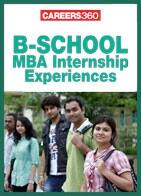 MBA Internship Experiences