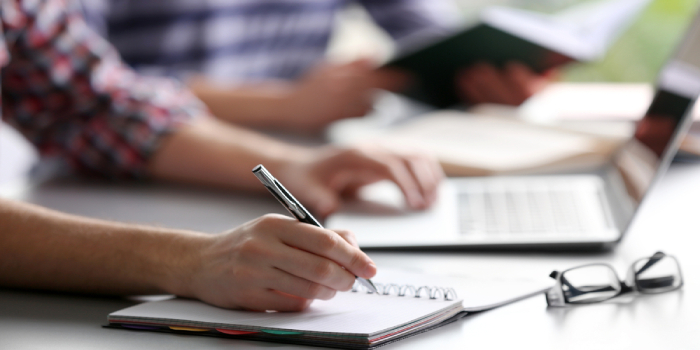 How to prepare for IIFT 2019? – One of the most coveted management entrance exams in the country, IIFT, is just three months away. Indian Institute of Foreign Trade, New Delhi, will conduct the IIFT 2019 exam on December 2, 2018. Around 60,000 management aspirants appear for the test every year for close to 600 seats at IIFT Delhi and Kolkata campuses. The entrance exam is conducted for admission to MBA (International Business) Programme. Just like other national-level management entrance exams CAT and XAT, the IIFT exam deals with more or less the same sections and topics but it's more trade or business centric but preparing for it requires an unmatched strategy. Careers360 presents answer to the question – How to prepare for IIFT 2019 exam?
MBA/PGDM Admissions Open 2019
Acharya School Of Management
First, let's understand how IIFT is different from other entrance exams and what's the best way to prepare for it.
Admissions Open Now
CMR University School of Management
Admissions Open for MBA at CMR University. Apply Now
Apply
Shanti Business School
MBA Admissions 2019 Open at Shanti Business School , Grab the opportunity to work with Leading brands. Highest Package offered : 16.12 LPA. Apply Now for Scholarship opportunities.
Apply
Is IIFT different from CAT or XAT?
IIFT (Deemed to be University) is renowned for its flagship program MBA in International Business which is focused on trade, commerce and business. Like most of the management entrance exams, IIFT also deals with General Awareness, English language, Reasoning, and Quantitative Ability. But the questions in IIFT exam are lot more business-centric. In terms of pattern and topics, IIFT exam looks quite similar to other MBA entrance exams but the type of questions and approach is different. Now, it's time to understand the exam pattern of the exam.
Getting friendly with the IIFT exam pattern is the first thing towards IIFT preparation. The offline (paper-pencil) exam has 6 sections carrying only multiple choice questions. The number of questions keeps changing every year. Unlike the CAT exam, the exam carries no sectional limit. The exam definitely has negative marking and that's why accuracy becomes of prime importance.
IIFT 2019 Exam Pattern
| | |
| --- | --- |
| Exam Duration | 2 hours (120 minutes) |
| Exam Timing | 10:00 AM to 12:00 PM |
| Exam Mode | Offline |
| No. of sections | 6 (Data Interpretation, General Awareness, Logical Reasoning, Verbal Ability, Reading Comprehension, Quantitative Aptitude) |
| Sectional Limit | No |
| Total Number of Questions | Not fixed (114 Questions in IIFT 2018; 123 Questions in 2017) |
| Type of Questions | Objective (Multiple Choice Questions) |
| Total Marks | 100 |
| Negative Marking | Yes (Marking scheme usually stays different for each section. Generally, 1/3rd of the marks allotted to a question are deducted for incorrect response) |
Now, let's move to the preparation part. How actually you should prepare for the exam? The previous years' exam toppers and academic experts have shared their views on the same.
How to prepare for IIFT 2019?
Some general tips would be to prepare for the exam are solve previous years' question papers or online mock tests regularly, read newspaper every day, and get professional assistance if required. Beyond that, if you are from engineering or commerce background, you will definitely have an edge. Let's hear from the toppers how one should prepare for IIFT exam.
IIFT 2018 Topper Harrshit Kansal says "For the section on General Knowledge, I regularly stayed in touch with the current affairs and latest happenings. I used to read Economic Times to stay updated with the business news. To develop my strategy, I took past papers of IIFT in a proctored environment."
Consistent Practice
Nobody can change the fact that "Practice" is the key to success. And it's a wide known fact that hard-work beats talent if talent doesn't work hard. IIFT 2017 topper Deep Vashi says "For IIFT, I used to attempt a lot of paper-based mock tests but it is all about the rigorous practice in the end that matters the most."
So, no matter what your schedule is, you need to practice every single day to ace the test. Instead of solving the entire question paper, you can practice section-wise questions throughout the week. Towards the end of the week, you can attempt a full length question paper. To get the best result, analyse your performance in the mock test from an academic professional. You can join any institute for test series as well to get professional assistance.
Learn to Solve in a Time-bound manner
The exam duration is two hours and usually, the total number of questions are above 110 which means you don't just have to solve questions but you have to solve them in the given time. On an average, you cannot have more than 1 minute to solve a question if you are targeting to attempt all the questions. You need to learn how quickly you can solve a question accurately.
Harrshit Kansal adds, "IIFT has six sections to be completed in 120 minutes. So, proper time management is the key to success in this exam. For the first 90 minutes of the exam, I had allocated a sectional time limit for each section. In the last 30 minutes, I worked on maximising my total score."
Be Accurate
What matters the most in an exam like IIFT is the 'Accuracy'. If you can make sure of that along with a good number of attempts, you will crack the test with a great percentile. The accuracy factor comes with clarity in concepts, consistent practice and working on your weak areas. When you attempt a question, you should know that you are right.
Anshuman Vijayvargia who studies MBA (IB) at IIFT says, "Cracking IIFT is all about speed and accuracy. I took a lot of mocks and kept a check on my speed as well as the number of right answers. IIFT has a particular cutoff for each and every section. So try to maintain a balance between sections."
General Section-wise Preparation Tips
English/General Awareness – Read a lot of books, magazines and newspapers especially editorial page. It will improve your language skills as well as general awareness of current affairs. You can also refer to the book 'Word Power Made Easy' by Norman Lewis to strengthen your vocabulary.
DI & LR – This section tests the reasoning and interpretational skills of the candidates. It is important for the candidates to have a conceptual clarity to score well in this section. Practice is the perfect key to crack the section. "Try solving caselets every day of different types so that you feel comfortable with the topic. The key here is to solve problems of almost every kind imaginable so that you don't have to waste much time during the exam to analyse the data," says Mohit Sharma who topped the IIFT exam with 99.98 percentile.
QA – Clear your concepts and solve the questions of each topic starting from the simplest ones. You can refer to the book 'How to prepare for Quantitative Aptitude' by Arun Sharma to clear your concepts.
IIFT 2019 will be conducted on December 2, 2018, in offline mode (paper-pencil) from 10 AM to 12 PM. The registrations have already started from August 6 and will continue until September 14.