Description
Finance can be defined as the science of money management. This field deals with various aspects of money or finance including investment, assets and liabilities and assesses the risks and rate of return involved in these activities. Top B-schools offer Finance as a major specialization of MBA/PGDM programmes with the objective of enabling students to understand major financialconcepts. This E-book by Careers360 brings to you every information about MBA in Finance.
Student Reviews
Showing 1-1 of 1 Reviews
Yes I enjoyed this book,it is useful for students
...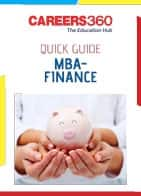 Quick Guide to MBA Finance