IIFT 2023 Time Management Strategy
IIFT 2023 Time Management Strategy - In order to get admission to the Indian Institute of Foreign Trade by cracking the entrance exam, it is important for all candidates to be aware of the IIFT time management strategy to be followed. The National Testing Agency, NTA will conduct the IIFT 2023 on December 18 in online mode. Interested candidates can apply on the official website before deadline which will close on November 14.
Stay up-to date with IIFT News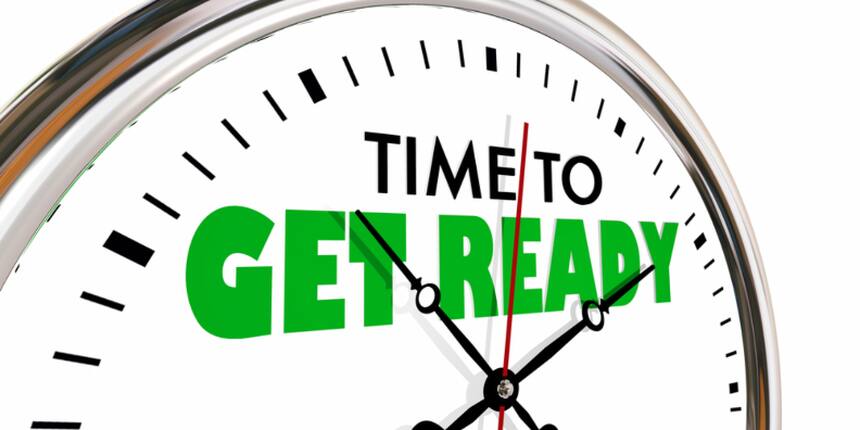 Hence, all candidates who are interested in pursuing an MBA (IB) from the Indian Institute of Foreign Trade must be good at time management. Candidates must be able to manage time while preparing for the entrance exam so they can judicially give time for each of sections in the exam. In this article of Careers360 on IIFT time management strategy, you will know the tactics of managing the time in such a way that all topics of the IIFT 2023 syllabus are covered. IIFT is a national level exam that is conducted by the National Testing Agency once a year. Apart from time tactics to be followed, we shall also discuss exam dates as well as the exam pattern of IIFT.
Exam Dates of IIFT 2023
Before starting the preparation, it is vital for candidates to be aware of the IIFT 2023 exam dates for making a time schedule as to how and when to start. IIFT 2023 exam dates as per the released IIFT schedule are provided in the table below.
IIFT Exam Dates for MBA admission 2023
| | |
| --- | --- |
| Events | Dates |
| Registration for filling online application starts | September 30, 2022 |
| Last date of submission of online application form | November 14, 2022 |
| Last date for payment of application fee | November 14, 2022 |
| Correction window | November 16 to 20 2022 |
| Availability of admit card | To be announced |
| IIFT entrance exam | December 2022 |
Topper's View on IIFT Time Management Strategy
As per topper, Daniel Sinha who scored 99.99 percentile in IIFT, time management skills is very essential for the IIFT exam as compared to other MBA entrance exams for the simple reason that questions of QA and DI sections are quite lengthy. Since candidates get only 2 hours to solve all four sections, it is necessary to have a sectional timing in your mind while solving the paper. Daniel further added that panic won't help as you may lose the right set of questions which can help in gaining marks.
Whereas, IIFT Topper Shivank Goyal who scored 99.94 Percentile says that since there is no sectional limit hence, in order to save time it is better to do the DI section last as questions in this section are lengthy and can be complex at times.
Quick Link -
Importance of IIFT Time Management Strategy
As compared to other MBA entrance exams, IIFT is considered to be a unique exam as the number of questions asked always differs. All four sections in IIFT are equally important as the Indian Institute of Foreign Trade also considers sectional cutoff. Apart from that as per the exam pattern of IIFT 2023, there will be negative marking as well. Henceforth, the selection of the right set of questions is vital for success.
Quick Links -
While Preparing - How to do IIFT Time Management Strategy?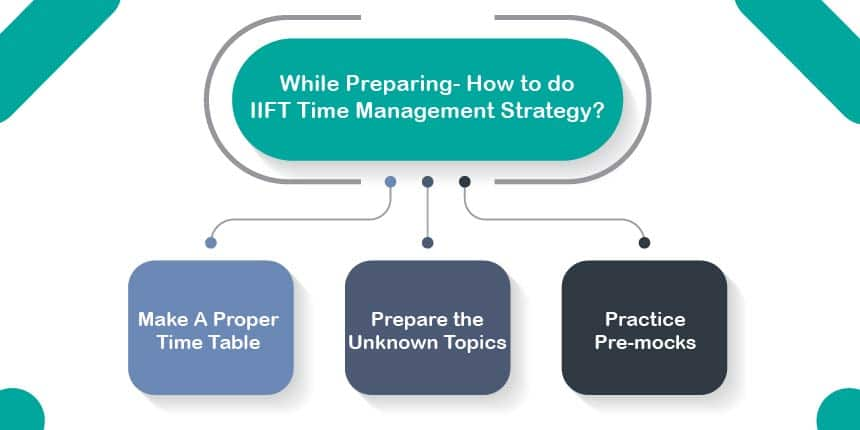 Make A Proper Time Table
Having a planner is beneficial while preparing for any entrance exam. For candidates who will give IIFT 2023 the best way to keep up with time is to make a proper study timetable. While making the plan or timetable, one of the time management theory i.e. ABC system theory can be applied. This theory of time management states that candidates need to prioritize the tasks that need to be done or undertaken.
Well begun is half done is a common phrase used by people around the world. Hence, to level up in terms of preparation, one of the IIFT time management strategies is to make a proper plan. It is advisable to make a weekly plan and move with that. In case of any difficulty faced, changes can be made accordingly. Given below IIFT Time Management Strategy can be applied by candidates who are preparing for the entrance exam.
IIFT Time Management Strategy to be followed:
Time Duration

What to do?

For 3 to 1 Months

Start solving previous year question papers

Focus on areas of improvements

For 30 days

Give mocks and analyze your performance

Keep 1 hour for studying GK on daily basis
Prepare the Unknown Topics
Give some time and highlight the topics of the IIFT syllabus. Mark tough/unknown topics. Since you have a handful of 6 months, it is good to start with topics that you find difficult. Try to analyze them and know the techniques of solving them in a simpler form. Take help from peers or someone who is of a similar mind and is preparing for IIFT 2023. Contact any senior through social media and ask them for tactics of solving questions rapidly with accuracy.
Practice Pre-mocks
In order to understand how to manage time on exam day, it is imperative for candidates to take mock tests. This will help them in knowing whether they can accurately solve questions within the time limit set or not. Moreover, to gauge where candidates stand and what more they need to study, it is good to take mock tests beforehand. To have an idea of how much time to devote to each section, candidates can also take up some sample papers of IIFT and solve them while keeping up with the timer.
During Exam - How to do IIFT Time Management Strategy?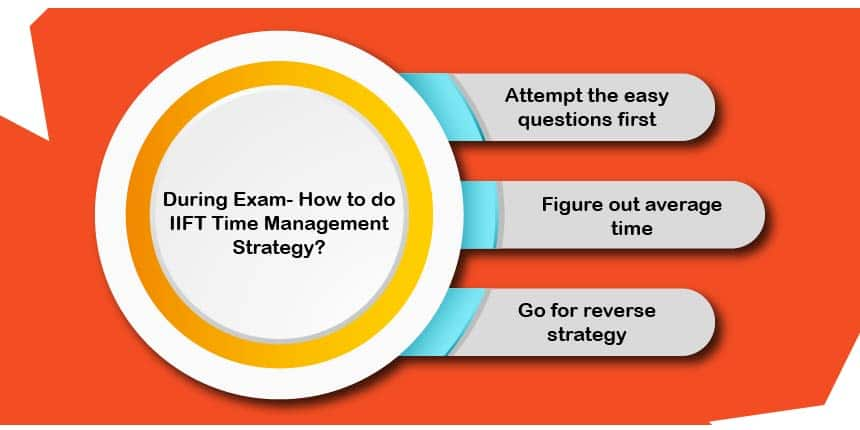 Attempt the easy questions first
Toppers suggest that while attempting the question paper of IIFT, it is better to move with the known questions. Since the time limit of IIFT is two hours, candidates should not waste more than 2-3 minutes on a single question. Questions from the Data Interpretation and Logical Reasoning section could be slightly lengthy as well as difficult hence it is better to attempt this section at last.
Quick Link -
Figure Out Average Time
With regard to the time management strategy of IIFT 2023, candidates should figure out in advance how much time they should devote to each section. Apart from that time given per question also matters. Try to have some add on time to revise or review the questions answered to ensure accuracy. Given below is the suggested time to be allotted in each section of IIFT as per IMS Learning on IIFT. The same can be followed for IIFT 2023.
Sectional Time Allotment:
| | | |
| --- | --- | --- |
| Sections (4) | Questions (Likely to be asked) | Suggested time |
| Quantitative Ability | 25 | 30-35 |
| Verbal Ability and Reading Comprehension | 30 | 30-35 |
| Data Interpretation and Logical Reasoning | 35 | 35-40 |
| General Awareness | 20 | 5-10 |
Go for Reverse Strategy
At the time of solving multiple-choice questions in IIFT 2023, if at any point candidates feel that they are confused between one or two choices, or the question is lengthy, or cannot understand the question then in such a case, the reverse strategy can be applied to do time management and save time. In this strategy, the choices are read first and then the question. This sometimes helps in simplifying the question.
Above all, one of the IIFT Time Management strategies is to leave the questions which you do not know. Do not waste a nanosecond about what could be the answer. Giving wrong answers or marking with mere assumptions might leave your result with negative marks.
Questions related to IIFT
Showing 256 out of 256 Questions