CUET Exam Pattern 2022 , Also Known As DU JAT
CUET (DU JAT) Exam Pattern 2022 - National Testing Agency (NTA) prescribes the DU JAT 2022 exam pattern according to which candidates will be able to draw their preparation strategy. DUET exam pattern 2022 includes all the aspects pertaining to the entrance test. DU JAT is now merged with CUET, and so the admissions done through DU JAT earlier will now be done on the basis of CUET. The structure of the exam was as per the CUET 2022 exam pattern. CUET application last date is over. Candidates who wanted to apply could fill out the CUET application form till June 24 up to 11:50 PM. CUET 2022 was conducted on multiple dates, from July 15 through August 30, 2022.
Stay up-to date with DUET News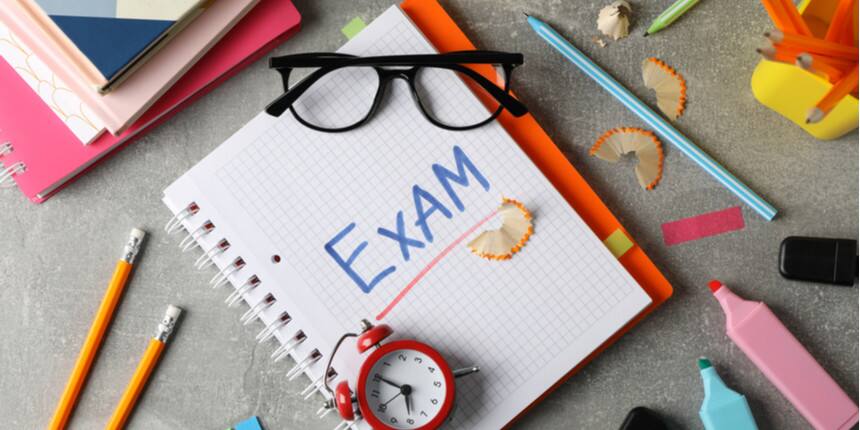 DUET (CUET) 2022 exam pattern specifies all the sections from which questions will be asked in the CUET entrance exam, mode of the test, total time duration, the number of sections, number of questions from each section, marking scheme, etc. National Testing Agency which conducted the exam has also released the detailed CUET exam syllabus 2022. By knowing the exam pattern and syllabus, one can start their CUET preparation with ease. Read the full article by Careers360 to know all the details pertaining to DUET exam pattern 2022 such as the name of all the sections, DUET 2022 marking scheme, syllabus, total time duration, etc.
*- The article has multiple usage of keywords such as DUET, DUJAT and CUET. It must be noted that all are same examinations which is mainly CUET-UG.
CUET Exam Pattern 2022 (Previously DU JAT)
As per the exam pattern of CUET 2022, there are a total of 210 questions in the test for BBA and BMS of Delhi University. The exam was held in two slots - slot 1 and slot 2, and the time duration for each slot varied. For slot 1, the time duration of the test was maximum of 195 minutes. The slot 1 exam was held in the morning session which was conducted from 9 am to 12:15 pm. Whereas slot 2 was for a duration of 225 minutes and it was conducted in afternoon session, from 3 pm to 6:45 pm. NTA conducted CUET 2022 in online mode. Check the detailed exam pattern of DU JAT 2022 through the table which is given below.
Exam Pattern of CUET (DU JAT 2022 for Delhi University BBA/BMS program
Particulars

Details

Total number of questions

210

DU JAT (CUET) 2020 total time duration

195 minutes for slot 1

225 minutes for slot 2

Total number of sections

3

Type of questions

Multiple Choice Questions (MCQs)
Top BBA Entrance Exams
CUET BBA/BMS Exam Pattern 2022- Sectional Division
The question paper of CUET ( DUET) 2022, will be divided into 3 sections such as - Language, Domain Specific and General Test. Candidates should check program-specific eligibility before choosing the domain-specific subject. For example, here for BBA and BMS of DU, candidates will need to choose Mathematics as Domain specific subject. Domain-specific subject may be different for other central universities. So candidates should check the program eligibility of each university they want to apply for. For the language section, candidates should choose any one language from list A of languages.
| | |
| --- | --- |
| Section name | Total number of questions |
| Language | 50 |
| Domain specific subject (Math) | 85 |
| General Test | 75 |
| Total number of questions | 210 |
List A all languages
| | |
| --- | --- |
| English | Assamese |
| Hindi | Bengali |
| Gujarati | Kannada |
| Malayalam | Marathi |
| Punjabi | Odia |
| Tamil | Telugu |
| Urdu | |
CUET Marking Scheme 2022
According to the CUET exam pattern 2022, the marking scheme of CUET 2022 will specify the total number of marks that will be awarded to the candidates for giving the correct response. Check the following marking scheme of DUET DU JAT 2022.
Marking Scheme of CUET 2022
The marking scheme of DUET 2022 is as follows
Five marks (+5) will be awarded for each correct response

One mark (-1) will get deducted for each wrong answer

Unanswered/Marked for Review will be given no mark (0)

If more than one answer is marked, then in such case candidate will get -1

If more than one option is found to be correct then Five marks (+5) will be awarded to only those who have marked any of the correct options.

If all options are found to be correct then Five marks (+5) will be awarded to all those who have attempted the question

If none of the options is found correct or a question is found to be wrong or a question is dropped, then all candidates who have attempted the dropped question will be given five marks(+5) marks.
Top Colleges in India offering Management Programme
DU JAT Syllabus 2022
DUET 2022 syllabus will consist of all the chapters and topics from which questions will be asked in the entrance exam. By knowing the syllabus of CUET 2022, candidates can get an idea about the type of questions that are asked in the entrance test. Candidates can check DUET Sample Paper 2022 and all the topics pertaining to CUET syllabus 2022 and accordingly draw a plan for preparing for the exam.
At the time of CUET 2022 preparation, one should include sample paper, mock test, and previous year question papers. Through this, candidates can know where they are lacking so they can easily discover their weak areas. Apart from that, by solving the CUET 2022 sample paper candidates can also understand the scoring pattern. Also, candidates can self-evaluate their performance.
Top BBA Colleges - Location Wise
Frequently Asked Question (FAQs) - CUET Exam Pattern 2022 , Also Known As DU JAT
Question: What is the exam pattern of CUET 2022?
Answer:
The question paper of DUET 2022 will be divided into3 sections. For BBA, there are total 210. Each question carries five marks. A negative marking scheme will be applicable in CUET 2022.
Question: What is the total time duration for CUET 2022?
Answer:
The total time duration for CUET 2022 was for slot 1- 195 minutes and slot 2 - 225 minutes.
Question: Is CUET held offline?
Answer:
No. CUET was held in Computer Based (Online) mode only.
Question: How many times in a year the DUET exam is conducted?
Answer:
DUET is conducted once a year.
Questions related to B.B.A/ B.M.S
Showing 17 out of 17 Questions