TISSNET Exam: How to prepare for PIT/PI
TISSNET Exam: How to Prepare for PIT/PI- As soon as the TISSNET result is declared, the next step that strikes through your mind for those qualified the exam is how to prepare for PIT/PI for TISSNET exam. The National Eligibility Test conducted by the Tata Institute of Social Sciences (TISSNET), is the first step towards pursuing some of the M. A. programmes which are equivalent to MBA like MA Human Resource Management & Labour Relations (HRM &LR) and MA Organisation Development, Change and Leadership (ODCL). Once the TISSNET 2020 is over, the next stumbling block that you face are the Pre-Interview Test and Personal Interview. The score for TISSMAT will be added to the PIT score of the shortlisted candidates while preparing the final score for the selection. As you have already levelled up, now to seek admission, you need to prepare for these two stages scrupulously. The PIT/PI round for TISSNET qualified candidates is slated to be conducted between March 10 and April 04 at Mumbai, Tuljapur, Guwahati and Hyderabad campuses. The first list of elected candidates will be released on April 21, 2020. Here are all the details that will help you in preparing for personal interview test or group discussion and personal interview for TISSNET 2020.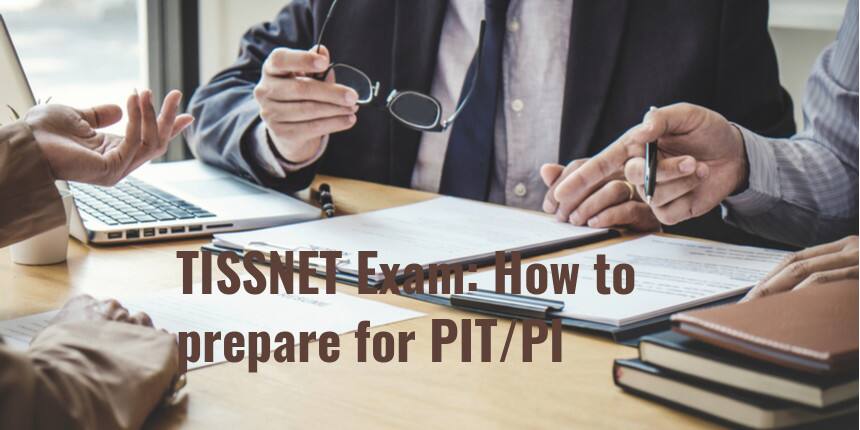 TISSNET 2020 Admission: Exam Dates
The vital information candidates need to know now are the TISSNET 2020 important dates regarding PIT/PI and the announcement of merit list alongwith the commencement of the session. Given below are the details which can prove beneficial to you in context of the same.
Exam Dates
S. No.

Events

Dates

1.

Pre-Interview Test and Personal Interview

Mumbai and BALM, Chennai- March 11, 2020 to March 21, 2020

Tuljapur and Hyderabad - March 23,2020 to March 27,2020

Guwahati - March 31,2020 to April 3, 2020

2.

Announcement of Merit List

April 21, 2020 ( Thursday after 5pm)

3.

Online uploading of documents & payment of fees by the selected candidate

April 23 to May 4, 2020

4.

Announcement of first wait list

May 11, 2020

5.

Online uploading of documents & payment of fees by the selected candidates of wait list 1

May 11, 2020 to May 18, 2020

6.

Physical documents verification and admission confirmation

May 19 - July 07,2020

7.

Commencement of academic session 2020-21

June 08, 2020 for Mumbai campus
Pre-Interview Test: Key elements
The personal interview tests are a great opportunity for candidates to show their ability in terms of thinking skills and public speaking and leadership qualities. The PIT for TISSNET 2020 can be conducted just as Group discussion or essay writing test or both along with the mandatory personal interview. The test is conducted so that the panelists can assess your overall personality. PIT/PI are programme specific and will have variations in mode of conduction across different programmes. Some of the programmes have Group Discussions (GD) or Aptitude Test (AT) as part of PIT. PIT/PI are programme specific and might have variations across different programmes.
Some of the programmes have Group Discussions (GD) or Aptitude Test (AT) as part of PIT. The score of PIT/PI will be aggregated in the ratio of 70:30 for the final selection.
TISSNET 2020 Score for final selection
| | |
| --- | --- |
| Components | Weightage |
| Pre-interview test | 70 |
| Personal Interview | 30 |
| Total | 100 |
In the case of candidates applying for (i) MA HRM & LR and (ii) MA ODCL the scores for TISS-MAT, PIT and PI will be aggregated in the ratio 30:40:30.
TISSMAT 2020 Score for final selection
| | |
| --- | --- |
| Components | Weightage |
| TISSMAT | 30 |
| Pre-interview test | 40 |
| Personal interview | 30 |
There will be an essay writing and group discussion round of 45 minutes duration and of 50 marks. Here you will be gauged on your ability to write on the given topic as crisp as possible that is in not more than 200 words limit. The same topic will be discussed in the group.
Preparation Tips for GD/WAT for TISSNET 2020
TISS is an institute of social sciences so it is necessary you are well plugged into the social sphere as well. According to previous year selected candidates you are divided into groups for group discussion and then given 15 minutes to write on it and then the discussion happens. Some of the important factors to keep in mind for GD/WAT are:
First of all fill out your DAF very carefully with considerable time and effort. It speaks a lot about you. It has subjective questions which reveal your personality. The questions in PI will be asked based on the information you provide in your DAF.

It is very necessary for the candidates to remain calm before entering the GD room as this way you will have multiple ideas flowing in.

Make a list of 10-15 topics in a span of six months focussed basically on the business world, current happenings and social sector.

Read the newspaper on a daily basis and try to be a part of more group discussions.

Your body language and looks do matter a lot. So be cautious while presenting yourself in a group discussion.

Another important tip is that it does not matter how many times you speak in a GD but what matters is what you speak even if you speak one to two times only.

What if you know nothing about the topic?In such a case listen to four to five points of other group members and then use the information to make your point. You can even conclude in this situation.

The last and foremost tip is try to take initiative and conclude the topic with utmost confidence. It will draw special attention towards you from the interviewer side.
TISSNET 2020: How to prepare for PI
The Detailed Application Form(DAF) is the most important thing in the personal interview procedure. Most of the questions in your interview will pop out from the DAF. Tips for filling the DAF and the personal interview are:
Personal Background
Give a brief about yourself and the family background. Mention your strengths and weaknesses. Write about what you did to overcome those weaknesses. Specify the area you have a grip of. Explain about your leadership qualities of how you are a perfect manager. End with some motto or the goal of your life or the beliefs you have.
Academic qualifications and the relevant experience
If you have work experience , the interviewer is likely to ask you about the type of work you have done in your organisation. You can also cite some instances where you have been awarded for certain accomplishments in your previous company. You can also be queried on the graduation course you pursued. So prepare thoroughly about some key concepts of your undergraduate course as you may be asked to explain them.
Why this course
You need to identify your skill set and believe in your answer. Only then will the interviewer believe you. Try to write the take-aways from every committee you worked for, every college fest you organized, your team building and leading skills etc and make the interviewer trust you that this is the reason you chose this course.
Thus overall interview questions can be of different types, like personality-based questions, which focus on strengths, weaknesses, achievements, failures and goals of an individual.
Following this article for the TISSNET exam: How to prepare for PIT/PI will definitely help you in procuring a seat in the desired campus of Tata Institute of Social Sciences.
Questions related to TISSNET
Showing 144 out of 144 Questions