How to crack GD-PI-WAT: I made it a point to practice writing at least 4-5 essays a week", says Tejas Salvi of MDI Gurgaon
How to crack GD-PI-WAT : As GD-PI-WAT session at top B-schools comes closer, Careers360 brings to you the experiences of the students of top-notch management schools in the country. In this interview, Tejas Salvi, a PGPM student at MDI, Gurgaon, shares his experience of attending the GD-PI-WAT rounds at the top B-Schools in the country including IIMs. Tejas believes that the best way to tackle the WAT topic is to practice writing at least 100-150 words about any current affair topic so that you can match up the speed and improve your writing skills. His experience of attending the interviews at IIMs and NITIE helped him to face the different panels he sat in front of.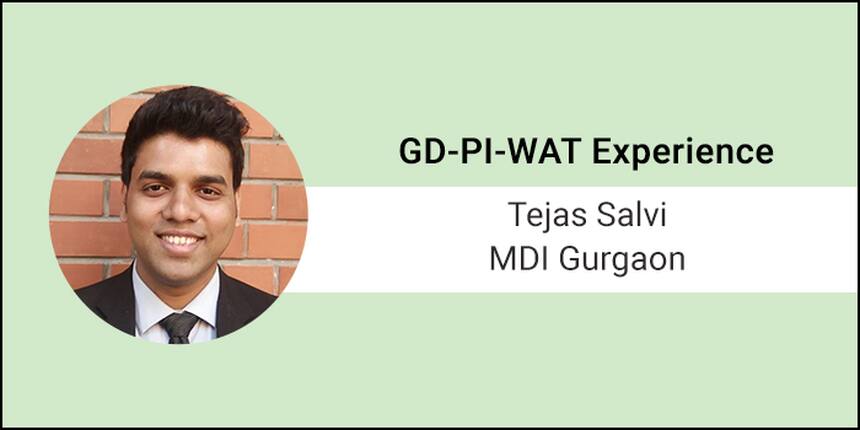 In a chat with Careers360, Tejas discusses the most challenging question he faced at the interview and how he answered them and how he aced the WAT. Read further to learn from his experiences.
Read the full interview here:
Careers360: What is the selection procedure at MDI?
Tejas: It is similar to the procedure of other colleges which include Group Discussion, WAT and Personal Interview. Although CAT percentile is given more weightage in the final selection.
Careers360: What was your overall experience of attending the selection procedure at MDI. Share in detail.
Tejas: It was a very smooth process. First, we were given a topic to write for around 150 words, followed by a group discussion on the same topic.
Careers360: Which other B-Schools' selection procedure did you appear for? How was your experience in other institutes compared to your institute?
Tejas: I attended selection procedure at FMS, IIMs, NITIE. Again, it was a smooth and very much similar procedure.
Careers360: What was your WAT topic and how did you structure it? What was the difficulty level of the topic?
Tejas: My WAT topic was related to Demonetization. I had read a lot and prepared myself on this since I knew it was a trending topic and the chances of it being asked are high. I was also able to structure my thoughts with proper facts and figures due to my prior preparation.
Careers360: Explain your preparation strategy for WAT? When did you start preparing for the PI-WAT rounds?
Tejas: I started preparing for WAT along with my CAT/XAT preparation as XAT required us to write an essay. However, after CAT results, I fueled my preparation by writing 4-5 essays per week.
Careers360: Do you think a separate preparation strategy is required for WAT?
Tejas: Yes, if you are not much into writing/blogging you will need extra coaching for WAT. I was completely out of touch in terms of my writing skills and structuring my thoughts in a proper flow.
Careers360: Please share with us the WAT topics which you were asked during the admission rounds last year?
Tejas: The WAT topics were mostly related to current affairs.
Careers360: How should one tackle a WAT topic, if s/he does not have any idea about it?
Tejas: Practice. I think by writing 100-150 words on any of the current topic, you will get a hang of it.
Careers360: What must be the approach or the possible Dos and Don'ts for WAT?
Tejas: According to me, the best approach to face a WAT is Practice. You should make it a point to practice as much as you can. There are chances that you might not get the same topic for your WAT but, it will surely help you in your GD/PI.
Careers360: Do you think time management skills are required for a student to write a complete structured WAT?
Tejas: I think the basic rule is to think for at least 2-3 minutes about all the points related to the topic and structure it on a rough paper. Further, enhance those points with some figures/examples and ensure that you conclude your essay in the most impressive way.
Careers360: What was your experience at the personal interview session?
Tejas: It started off well but towards the end, they started grilling me by asking me situation based questions. For example, one question was  "As a CEO, what will you do in so and so situation".
Careers360: Among all the interviews you appeared in, which one was the best and why? Share your best PI experience with us.
Tejas: I think the interview at FMS was my best as it revolved more around my job responsibilities.
Careers360: What were the questions which you found most difficult to answer?
Tejas: The most difficult questions according to me was 'Why MBA?'  I was able to answer it by giving few examples from my past organization which led me to think about MBA.
Careers360: What was the interview panel's reaction to the question you had no answer to? How did you handle those questions?
Tejas: When I got a question which I found tough to answer, I politely said that I knew just a few things about the particular topic and apologized for my limited knowledge. The panel was quite easy on me.
Careers360: What were the most interesting questions you were asked? Please share your answers as well.
Tejas: The most interesting question was asked during my MDI interview. They asked me a situational question; If  I was the CEO of Apple, would I expand and start selling flats/apartments. My answer was "No, as Apple positions itself as a company which is into electronics and is known for its innovation. If there is something related to electronics/innovation in real estate then yes, we will surely expand."
Careers360: Could you compare an IIM interview with a Non-IIM yet top B-school?
Tejas: I think all the interviews are different with a few similar questions like "Tell me something about yourself", "Why MBA", etc.
Careers360: How did you prepare yourself for your PI? What were the PI questions that you searched for during your preparations?
Tejas: I started my PI preparation by writing down things about my personality, what I like and dislike, hobbies, what I want to do in my life, etc. Post which, I started reading about current affairs.
Careers360: What factors or qualities, do you think the PI panel looks for in a candidate?
Tejas: The qualities that an interview panel looks for in a candidate are how much he/she knows about him/herself, thought process, how clear your thoughts and concepts are.
Careers360: Has there been an embarrassing moment during your interview? Did you face any difficult questions?  What was your reaction that time?
Tejas: There were 1-2 questions which were difficult to answer. I requested them a 30 secs time to think and then I answered to the best of my knowledge.
Careers360: What was your GD topic?/GA theme?
Tejas: My GD topic was similar to WAT topic which was related to Demonetization. There were around 10 students in my group for GD.
Careers360: What was your approach towards the topic?
Tejas: I was the third person to enter the discussion and my approach was to state something with proper figures.
Careers360: How much did you contribute towards in discussion and what was your overall experience?
Tejas: I contributed about 3-4 times in the discussion. Initially, I was nervous but then, after the first entry, I was able to contribute to the discussion.
Questions related to CAT
Showing 9084 out of 9084 Questions