IMT Nagpur Alumni Interview - Sarthak Sahoo says "Stick to the basics and enjoy the process of learning"
Studying in a renowned B-school is a dream of management aspirants, which leads them to zero down the one that fits their academic goals, personal/professional growth, and networking opportunities. Every MBA aspirant looks for good infrastructure, a rigorous academic routine, experienced faculty, and other facilities that can provide them with a conducive environment and make their years spent in the B-school memorable. Now, who else can better narrate the experience of a B-school and life after than the alumni. Careers360 interviewed Sarthak Sahoo, an alumnus of IMT Nagpur, batch 2017-19, to know his experience, his learnings, his days at the college, facilities there, academic & fun activities, and all about the said institute. Here's an IMT Nagpur alumni interview giving you a sneak peek into the life there and after.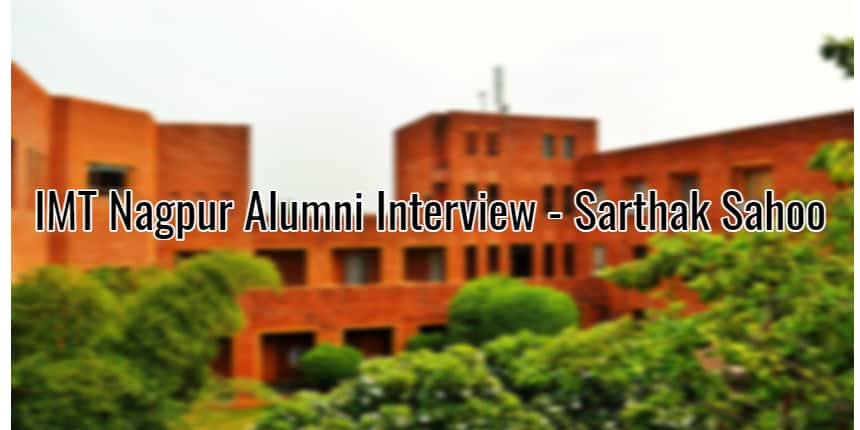 Careers360: Tell us about your domain and work profile. At the professional level, did you pursue the same field you were interested in or you switched?
Sarthak Sahoo: Yes, I pursued the same field in which I was interested. I am a Business Consultant (Financial Services). I worked for EY in the business consulting setup. Before this, I had managed a team of 10 members as a part of Eclerx Services Limited.
Careers360: Does the industry work differently from what you learned at IMT Nagpur?
Sarthak Sahoo: The fundamentals taught at IMT Nagpur stay intact but on a work level, more industrial integration can be done by encouraging students to take different projects relevant to the industry practices.
Careers360: How has your time in college added value to your life, both professionally and personally?
Sarthak Sahoo: On both levels, my time in college has helped me understand the values of people management and learn the different technological aspects relevant to the job market.
Also, it has transformed into a different person.
Careers360: What were your initial thoughts when you joined IMT Nagpur?
Sarthak Sahoo: Initially, I was quite open to the variety of the curriculum that was being taught on campus. My only thought was to absorb as much as I could from what was on offer.
Careers360: Do you miss the time spent at IMT Nagpur? Can you share some memorable experiences?
Sarthak Sahoo: Yes! Student-driven activities, the crowd, celebrations, and intense competition among students still attract me to the campus.
Careers360: Briefly take us through your life at the campus, the activities you used to do and your routine?
Sarthak Sahoo: I followed a routine in terms of campus life with a shift from the usual sometimes. I took part in quizzes, committee-driven activities and other team sports.
Careers360: Apart from academics, what were the other activities you were involved in and how did it enrich your life?
Sarthak Sahoo: Sports and Committees were some of the other activities that I was involved in. Also, in the process of promoting IMT Nagpur in Social Media and worked exclusively in the area of brand management for IMT Nagpur.
Careers360: How did you keep yourself updated with the industry requirement and what was the role of the Institute in it?
Sarthak Sahoo: To keep myself updated with the industry requirements I focused on the various events in Dare2compete.com and took part in every other competition where I felt it was going to add to the whole analytical thinking process needed to develop for the corporate world. Also, internships did help a lot to understand the industry requirements to some extent.
Careers360: You are a proud alum of this college. What is the best part of IMT Nagpur from a student's perspective?
Sarthak Sahoo: The campus, the infrastructure, the faculty, and the diaspora of students. It's tough to choose, I think it is the whole package that makes the experience complete. The platter won't be complete even if we miss one dish.
Careers360: What is your suggestion/guidance for the IMT Nagpur aspirants?
Sarthak Sahoo: You have taken the first step towards a beautiful journey ahead. Stick to the basics and enjoy the process of learning. Take in as much as you can. Make sure you give enough weightage to academics and co-curricular activities. Especially for Finance and BA aspirants, "Acads do matter". Please take it seriously.
IMT Nagpur Updates and Articles
Questions related to IMT Nagpur
Showing 77 out of 77 Questions