Institute of Management Technology IMT Nagpur - Dean Interview - Dr. P. Janaki Ramudu
IMT Nagpur Dean Interview: The Institute of Management Technology (IMT) or commonly known as IMTN is one of the renowned business schools in Nagpur providing quality education and infrastructure to its students. While IMT values academic enrichment, it focuses on the holistic development of the students. IMT Nagpur has achieved 100% internship with a significant stipend and 80% placement with the highest package of 16 lakh. IMT Nagpur offers admission based on CAT/ CMAT/ XAT/ GMAT score followed by the PI round. Careers360 interviewed Dr. P. Janaki Ramudu, Dean of IMT Nagpur to know how their approach of grooming and training management aspirants, facilities, infrastructure, internship, placement, and more.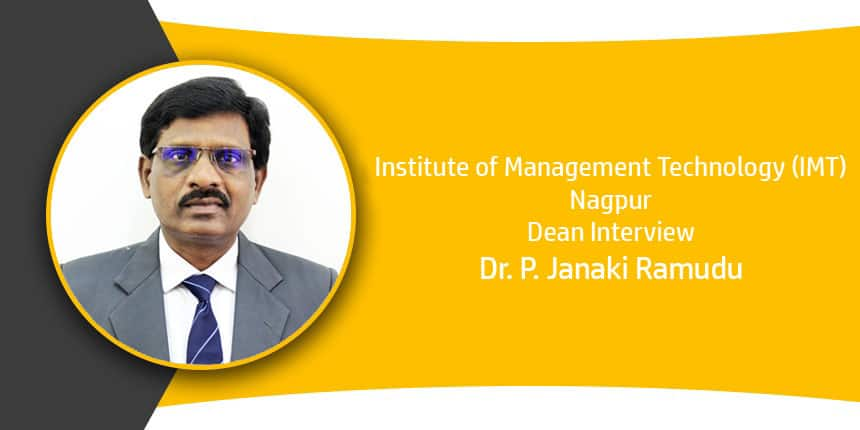 Careers360: Tell us something about the institute; when it was set up, vision and mission
Dr. P. Janaki Ramudu: "Established in 2004, IMT Nagpur is now one of the finest management colleges in India today. Our programs are approved and accredited by AICTE and AIU. We highly value integrity and sensitivity to sustainability in our approach. With our array of programs and expert faculties, we at IMT Nagpur aim to be recognized as a key contributor to innovative management education in India. We have a unique amalgamation of faculty, technology, curriculum, and diverse cultural environment, which equip its students to deal with challenges and opportunities of complex business dynamics.
Vision
To be recognized as a key contributor in innovative management education in India.
Mission
Institute of Management Technology, Nagpur strives to:
Ensure a value-driven and technology-oriented academic environment.

Excel in offering industry-relevant management programs with an innovative and entrepreneurial approach.

Enrich knowledge base through research, consultancy, and collaborative studies with corporate on business practices.

Engage students and faculty in understanding societal needs and ideating solutions.
Careers360: Tell us something about the admission process?
Dr. P. Janaki Ramudu: The admission process at IMT Nagpur is rigorous and competitive. While we value academic scholarship, we adopt a holistic approach to admit the candidates. Given the current Pandemic situation, we have been following the online admission process without compromising the aspect. IMT Nagpur considers CAT/ XAT/ GMAT/ CMAT as one of the admissions criteria, followed by the Personal Interview (PI) round. During the PI round, we focus more on the candidate's character traits and interpersonal skills. We try our level best to ensure diversity in terms of gender, academic background, and work experience.
Careers360: What kind of infrastructure can students expect at the institute? Please elaborate?
Dr. P. Janaki Ramudu: Being located in the center of India, IMT Nagpur boasts of its lush green 25-acre sprawling campus. It is a fully residential campus. It scores excellent on our academic infrastructure consisting of tiered smart classrooms equipped with the latest Information Technology. Learning Resource Center on the campus is the hallmark of academic learning that stacks a huge collection of titles, volumes, journals, magazines, and the latest databases like JSTOR, Emerald, Prowess-IQ, Industrial Outlook, Economic Outlook, Capitaline, etc. Apart from this, the Institute has state-of-the-art facilities that include an Incubation center, Sports, etc. We were very quick in adapting to Covid responsible measures and behavior from March 2020.
Careers360: There is a lot of stress that is being made with regard to interaction with the industry as well as companies that recruit. What are the steps being taken by the institute in this direction?
Dr. P. Janaki Ramudu: IMT Nagpur engages corporates in the domains of curriculum development and delivery, research, consultancy, and placement activities. Insights about contemporary management challenges and practices shared by corporate experts complement classroom learning. The Institute also provides learning opportunities to the corporate executives through various management development programs regularly conducted on and off the campus. The Institute established an empowered Industry Interaction Cell that takes care of ongoing engagement and intervention with the corporate world.
Following are the policy guidelines for corporate engagement. To be precise, the Institute engages the corporate leaders in curriculum revision, delivery, guest sessions, workshops, conferences, MDPs, etc.
Careers360: Internships are now mandatory as per AICTE guidelines. Does the institute help students with this? If yes how?
Dr. P. Janaki Ramudu: We provide full support to the students in terms of securing their SIP in various companies. When the placement season starts in October we invite companies and a full pledge recruitment process takes place for SIP. We have been able to achieve a 100% internship with a significant stipend. As a part of the SIP process, our E-Cell organizes a startup fair called "Voyage" wherein a good number of startups participate and recruit the students.
Careers360: Can you please share details if there is any collaboration with universities abroad?
International Relations at IMT Nagpur
Dr. P. Janaki Ramudu: We have signed MoU with 27 universities across the world for student and faculty exchange programs. The partner institutions spanning six continents are the University of Newcastle and Charles Darwin University from Australia, COPPEAD Graduate School of Business from Brazil, Université du Québec à Montréal from Canada, Shanxi University from China, Paris School of Business, EM Strasbourg Business School, SKEMA Business School, Universite Paris Dauphine, Kedge Business School, and Neoma Business School from France to name a few. IMT Nagpur along with their partner institutes attempt to promote the exchange of qualified students according to the entry regulations of the host institution, promote the exchange of faculty for teaching and joint research, and organize joint international conferences, seminars, and workshops.
Careers360: Please share placement statistics with information on the average package, highest and lowest package, number of students placed, and details of companies that have recruited.
Dr. P. Janaki Ramudu: 80% of students are placed with the average package of 7.80 LPA. The highest package offered was 16 LPA and the lowest package offered was 5 LPA. The major companies that came to hire are Bain & Company, CRISIL, TATA AIG, Deloitte, ICICI Lombard, FactSet, SBI Life, Bajaj Allianz General Insurance, eClerx, Hexaware Technologies Ltd., Wipro Limited, VE Commercial Vehicles Ltd., Global Data Research Centre, Tech Mahindra, Barclays India, KPMG, Schneider Electric, BYJU's The Learning App, Scaler Academy, Berger Paints, Great Learning, Cars24, TCS, Atomberg Technologies, TTk Healthcare, Nielsen, NoPaperForms, CEIPAL Corp., Sitel India Pvt. Ltd., Orient Electric Ltd., Aakash Institute, Verity Knowledge Solutions, Orient Cement Limited, Sutherland, Goldman Sachs, Adani Wilmar Limited, Darashaw, Blue Star to name a few.
IMT Nagpur Updates and Articles
Questions related to IMT Nagpur
Showing 77 out of 77 Questions