Careers360 Live Chat: Q&A session with Snehal, Sr. Manager- Academic Office at Institute of Management Technology, Nagpur
MBA aspirants seeking admission in IMT Nagpur posed various questions to Ms Snehal, Senior Manager- Academic Office at Institute of Management Technology, Nagpur in the Careers360 Live Chat. She addressed queries from prospective students on different aspects related to admissions and courses of IMT Nagpur. Careers360 formulated all the Q&A from the live chat session with the Sr. Manager- Academic Office at Institute of Management Technology, Nagpur.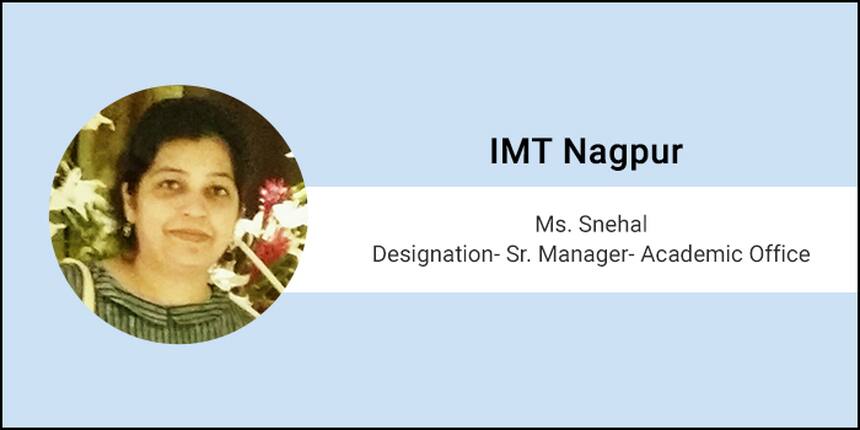 Excerpts from the Careers360 Live Chat with Snehal of IMT Nagpur
Hari: Can you tell the different locations of IMT campuses? Do I need to fill separate college forms for each location? Is it a mandate to stay on the campus during the course tenure?
Snehal: IMT is in Ghaziabad, Nagpur, Hyderabad and Dubai. You do not have to fill four different admission forms but a common form which is considered by all the four campuses.
Yes, it a full-time residential programme and it is mandatory to stay in hostels within college premises.
Pooja: Most of the colleges concentrate on Marketing and Finance, but my interest lies in Operations. How good is IMT Nagpur in terms of Operations Management?
Snehal: In case you get PGDM core, you will be able to specialise in Operations. Alternately, in case you get PGDM (Finance) or PGDM (Marketing), you can opt Operations as your second area of specialisation. Last year, our placements of pass out batch were 90 percent.
Tarun: Can I opt or get transferred to other IMT campuses like Hyderabad, Ghaziabad or even Dubai? Please throw some light on student exchange programme? 
Snehal: No, Tarun. Neither do we accept transfer request nor do we transfer students to other IMT campuses.
Anyone can opt for exchange program irrespective of your Majors.
Susmita: As per your pedagogy, Harvard case studies are used at your institute. Are these case studies directly taken from Harvard? Do you have any collaboration with Harvard University? Is there an opportunity for an international placement, especially in FMCG industry?
Snehal: Of course! We have a collaboration with Harvard University and take the case studies directly from the university.
Yes, much depends on how you perform in your academics and the placement interview. 91 percent placements happened in 2014 and 96 percent students were placed in 2015. The rest nine percent and four percent students respectively, have started their own ventures or had family business, so didn't opt for placements at all.
Ritu: What is the approximate fee structure for a 2 year MBA in Finance at IMT Nagpur? Do u provide international placements to students?
Snehal: The total expenditure for 2 years' MBA course is Rs. 12 lakh which is inclusive of food and single occupancy accommodation.
Regarding the international placement- We generally do not offer international placement but much depends on the placement scenario for particular batches.
Ankita: Do u offer part-time MBA course in MIM (MASTER IN INFORMATION MANAGEMENT)?
Snehal: Sorry. We do not offer Masters in Information Management and also do not offer distance programme at IMT Nagpur.
Rahul: May I know the courses that IMT Nagpur offers and what are the CAT/CMAT/XAT/GMAT cutoff percentiles one must score to be a part of IMT Nagpur? Do you have a reservation for differently abled candidates, in terms of CAT cutoff percentile?
Snehal: In IMT Nagpur, we offer the following management programmes:-
Post Graduate Diploma in Management, Post Graduate Diploma in Management (Finance), Post Graduate Diploma in Management (Marketing).

Last year, the CMAT cutoff was 80 percentile. No, we do not discriminate students in terms of physical disabilities.
Anshu: Do I need to fill separate forms for all three programmes (PGDM- Full Time, PGDM- Marketing and PGDM- Finance)? Which are the entrance exams one must clear to get admission in your institute?
Snehal: You have to fill only one form but may fill your preferences in the same. The entrance exams that are accepted during the admission process are- CAT/ XAT/ CMAT/ GMAT.
Anshu: When does the recruitment/placement programme start? Is the programme, session-based or round-the-year? If someone applies during, say, between March and July?
Snehal: The placement programme commences from the end of September. This starts in the second year of your programme and continues till the end of April/ May. Maximum students get placed by the month of March.
Tarik: Do you charge for internships? Do you have stipends during internship programme?
Snehal: We don't charge any fees for internships. Moreover, we have a practice of rendering stipends to students which varies from zero to Rs. 35,000 per month.
Tarik: Do you guarantee 100 percent placement to students? What is the average package of IMT Nagpur?
Snehal: To start with the placement statistics, last year it was 90 percent. The average package that was offered last year was Rs. 7.5 LPA (Lakh per annum).
Arun: What was the highest salary offered in previous year's campus placement?
Snehal: Last year, the highest salary offered was Rs. 17.8 LPA to a PGDM candidate. However, this may vary from batch to batch.
Arun: I do not have work experience and according to my research, experienced students get into cream companies with a good package. Is there a chance for me to get placed with zero work experience?
Snehal: Once you join an MBA programme, all students are equal in the eyes of the institute. Therefore, you definitely stand a chance. To be precise, we have seen freshers getting placed in good companies with a hefty package. Just check your eligibility and go for it.
Kripa: If I opt for PGDM, when will I get to choose my subjects during the second year? Heard about 75 percent mandatory rule to get eligible for placements? Is it true?
Snehal: You are required to choose your subject towards the end of the first year of the programme itself.
We have kept the criteria of 6.5 CGPA to appear for the placements. However, this is only to encourage the students to perform consistently well in academics throughout the study tenure.
Girish: In terms of ROI, how would you rate MBA Operations. Did you have enough students who opted for the same as their Major? Overall, how are placements in your college?
Snehal: Yes companies do come for Operations and is considered as one of the major profiles during placement. To name a few companies - GATI, Future Group, DHL, Orient Cement. Approximately 15 students opted for Operations. Few profiles that the students were hired for were Product Managers and Logistics. Overall, the pass out batch had 90 percent placements across domains.
IMT Nagpur Updates and Articles
Questions related to IMT Nagpur
Showing 74 out of 74 Questions