IMT Nagpur campus life, facilities and faculties - Praggya Chakravorty, MBA student
At present, there are more than 2000 B-Schools across the country which offer MBA program and specialization. Due to the increase in the number of management schools, it is hard to find the best B-school which provides quality education. Before taking admission into a B-school, students usually head over to Google to find answers to their questions such as how is the campus, extra-curricular activities, faculties, placement, etc. So, Careers360 spoke to Praggya Chakravorty, a management student at IMT Nagpur to know all about the campus life and her experience as the students of this institute. We believe that this interview can answer the common questions arising in the minds of the students planning to take admission in IMT Nagpur.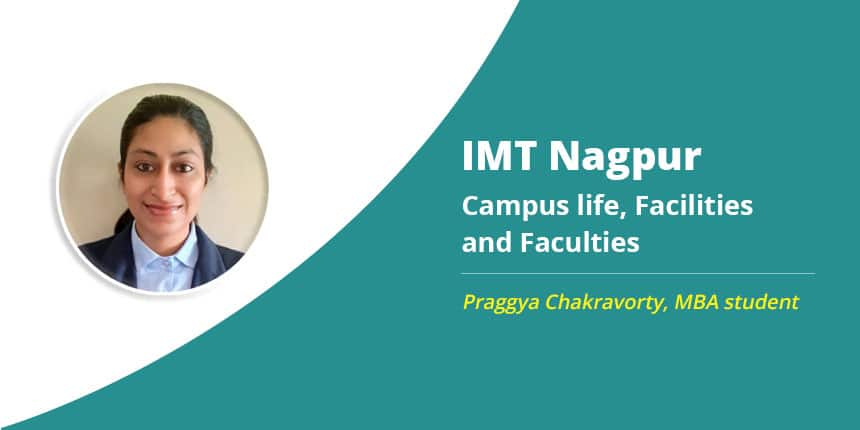 All about IMT Nagpur Campus Life
Careers360- Tell us something about yourself.
Praggya Chakravorty- My name is Pragghya Chakravorty. I am from Noida and currently pursuing PGDM Finance with BAIT as my minor from IMT Nagpur. I am currently in 1st year.
Careers360- Did you face any difficulty in the initial months when you joined the institute?
Praggya Chakravorty- The only difficulty I faced was interacting with people. With time even that went away. Today I know many people and have a good network.
Careers360- What activities are offered in the institute? Are there any clubs etc for the various extracurricular activities? Which ones have you taken up and are a part of?
Praggya Chakravorty- IMT Nagpur offers many extra-curricular activities ranging from sports to dance to acting. Yes, there are many clubs and societies that support and uplift students and allow them to pursue their passion.
Careers360- Describe a typical day at your institute – what do you do from the time you wake up till you go to sleep?
Praggya Chakravorty- A typical day at the institute consists of me waking up, followed by freshening up. Then I go to the mess to eat breakfast and begin my classes for the day. At 1 PM, We get a lunch break which consists of 45 minutes. After the break, we continue our classes. We get hi-tea at 5 PM during which student managers take a rest and talk to their friends. In the evening, we usually play some sport like badminton and volleyball. After that, it is time to study. The next break is for dinner which starts at 9 PM. After dinner, I talk to my parents and then start doing any assignments, projects or self-study that are lined up. Sleep follows the study session and we retire for the day. Some days, we have meetings to attend our committees, forums or clubs, which can happen at any time after our classes.
Also read- Top B-schools in India offering affordable MBA
Careers360- Tell us about the faculty-student ratio here and about the teacher-student relationship in your understanding.
Praggya Chakravorty- The faculty-student ratio is average. Not too low, due to which professors do give appropriate attention to everyone.
Careers360- What all facilities do you have on the campus? What do you like here the most which you feel is unique and differentiating?
Praggya Chakravorty- We have all sorts of facilities available on the campus. We have a departmental store, dispensary, food ventures and library. The hostels are very comfortable with proper cleanliness and hygiene. The most unique facility is that we do not have a time curfew for our hostels. This allows us to sit and work together, for a longer period.
The medical facilities at our college are of superior amazing and equipped with all the required medical equipment like wheelchairs, masks, medicines, RT-PCR test etc. The college management takes good care in keeping the college clean and hygienic so that we all stay healthy.
Careers360- How do you balance your studies, projects, exams and other activities?
Praggya Chakravorty- Balancing between work and academics is easily manageable. For example, all the forums or clubs do not have meetings every day so there is plenty of time to balance both the aspects of our lives.
Careers360- Tell us about the clubs and societies at the campus and how significant are they from your point of view or students point of view?
Praggya Chakravorty- There are many committees, clubs and forums in our institute. Core committees include committees for placement, corporate interaction, alumni relations, entrepreneurship cell etc. We also have many academic forums in our institute dedicated to particular disciplines like Finance, Economics, Marketing, BA-IT ETC.
Careers360- Is there any in-house magazine or journal for the latest events or happenings at the institute?
Praggya Chakravorty- Not any that I know of.
Careers360- What are the popular hangouts at the institute? What, according to you, are the most-visited places nearby?
Praggya Chakravorty- Popular hangout spots include FnF which is a student venture which sells Indian delicacies and snacks, prayatna/ m square, which is in the centre of the college where everyone hangs out and a food court, which is another popular food joint.
Careers360- How do you spend your leisure time at the campus?
Praggya Chakravorty- Leisure time is spent by playing sports, taking a walk on the campus and hanging out with friends.
Careers360- Do you have any Facebook page of your campus where the students express their views, jokes or ideas, or maybe even a blog where they write about their experience of life at campus?
Praggya Chakravorty- Yes, we have official social media handles, unofficial meme pages and other social media accounts which not only gives us an outlet to talk and discuss things but we also laugh our heart out there.
Careers360- What type of companies come for campus recruitment and what percentage of students get placed every year? How is the recruitment process here?
Praggya Chakravorty- Companies from various fields come and recruit students from our institute every year and almost 100% of students get placed every year. The college prepares us for the recruitment process by conducting mock interviews and aptitude tests.
Quick links-
MBA in e-Commerce Management: New Avenues in Digital Enterprises
IMT Nagpur Updates and Articles
Questions related to IMT Nagpur
Showing 77 out of 77 Questions