IIFM, Bhopal: Interview with Dr. Pankaj Srivastava, Director on Admissions, Placement, Cutoff
Established in 1982, the Indian Institute of Forest Management, Bhopal, was set up with the aim to inculcate the art and profession of management of forestry development. IIFM Bhopal is ranked 62nd by NIRF India Rankings 2020 for Management. While IIFM offers a total of five programmesat the doctoral and postgraduate levels, its flagship programmes are the PGDM courses in Forest Management and Sustainability Management. Other courses include an M. Phil course, a PhD course, and a fellowship programme. Careers360 engaged with Dr. Pankaj Srivastava, Director of Admission of IIFM, Bhopal, about the institute's mission, legacy, admissions, courses and placements. Read the full interview with Dr. Pankaj Srivastava, Director of Indian Institute of Forest Management, Bhopal, below.
For IIFM admission, click here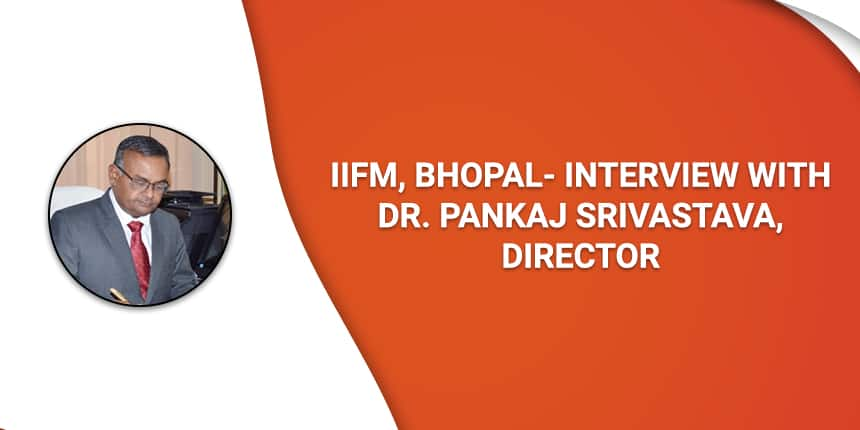 Watch the full interview of Dr. Pankaj Srivastava here.
Careers360: Tell us about IIFM, Bhopal.
Dr. Pankaj Srivastava: The institute started four decades back. It aims to inculcate in its students the sense of balance between nature and this development has been acknowledged by the world today. It is recognized by AICTE: is NBA - accredited and AIU approved for equivalence. This management institute is unique in the country not only in the forestry sector but also in the entire management sector. We are unique since we are not only restricted to forestry management but also sustainability and various other dimensions of development.
Careers360: What are the programs and specialization offered by IIFM?
Dr. Pankaj Srivastava: Two years back, we had started a program on Sustainability Management. There is a phenomenal growth in these two years considering that the course witnessed 180% growth in its second year of existence. This program was introduced after looking at the industrial needs of sustainability reporting and various kinds of regulatory compliances regarding environmental related aspects. The institute offers PG Diploma in Sustainability Management which has been acknowledged around the globe. Many CEOs and CSOs participate to come as a guest faculty to the institute.
Careers360: What are the admission criteria and the required cutoffs for the admission in IIFM?
Dr. Pankaj Srivastava: We consider only CAT and XAT aspirants as of now. As far as cutoff is concerned, last year we had a cutoff of 70%. Earlier it used to be 80% to 85% but we deliberately brought it down to enhance the diversity. Since this program is different from other mainstream MBA programs, we need the students to have some inclination towards nature and forestry. Cutting down the cutoff also gave us a broader group to select from.
Careers360:What is the diversity ratios at IIFM campus?
Dr. Pankaj Srivastava: We totally believe that a diversified classroom, college enhances learning. Students coming from different economic, geographic backgrounds and having industry experiences really make the discussions in the classroom multifaceted. We want students to come from arts, medicine and commerce. As far as gender diversity is concerned, there are 30% to 35% girls in every classroom and the number is increasing every passing year. I am also proud to say that we have students hailing from about 23 states of the country.
Careers360: What are the placements criteria at IIFM?
Dr. Pankaj Srivastava: We have a lot of big companies coming to the campus for recruitment. The reputation of IIFM plays a huge role in driving the companies to the campus. As for IIFM placements, we have had an average salary of 7.8 LPA and the highest one has gone up to 14 Lakhs.
Careers360: Are there any hostel facilities available for the students?
Dr. Pankaj Srivastava: Yes, there are separate hostel buildings for girls and boys. Single accommodation is also available for our students on the campus. We are also constructing some new hostel buildings. Infrastructure development in the hostel department is in the pipeline since the number of students getting enrolled is increasing and we need to accommodate them.
Careers360: Does the IIFM have any internships criteria?
Dr. Pankaj Srivastava: Yes, the students are expected to do their internships as stipulated. Many students go to different environmental sectors to pursue their internships.
Careers360: What kind of students should be joining IIFM?
Dr. Pankaj Srivastava: We are in search of students who are inclined towards nature and forestry. We aim at grooming them as future leading managers. We teach them the value of conservation, conflict between society, development and conservation related issues; those are the essential parts of our programs.
IIFM Bhopal Updates and Articles
Questions related to IIFM Bhopal
Showing 34 out of 34 Questions