IIFM Bhopal Alumni Gayatri says, " Life is all about being a good manager"
Gayatri, alumni of Indian Institute of Forest Management (IIFM), Bhopal currently works as a financial inclusion consultant in a global boutique consulting firm. She completed her PGDFM in 2019 and joined as an Associate and a year later was promoted to Assistant Manager. She says that choosing IIFM Bhopal was a well thought decision of her life. She says that the curriculum at IIFM Bhopal is designed in such a way that it has given a very smooth start to her career. She advises future aspirants to be flexible and adaptive in the learning process. In an interview with Careers360, Gayatri shares her overall experience at IIFM Bhopal and shares some helpful tips for future aspirants.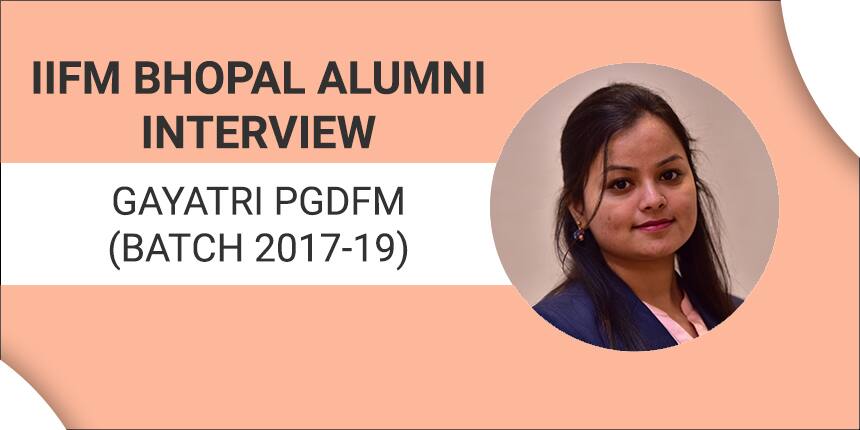 Careers360: Tell us about your domain and your work profile. At the professional level, did you pursue the same field you were interested in or you switched?
Gayatri: Thanks to the student-managed placement process at IIFM, I got placed in a global boutique consulting firm working towards meaningful financial, social, and economic inclusion. I work as a financial inclusion consultant. My job is to offer strategic and operational advice and help implement programs, using field insights rooted in understanding of clients, their needs and behavior.
Yes, I was always interested in this field and I am glad I got placed here from IIFM. I always wanted the right mix of on and off-field work.
Careers360: Can you briefly tell us about your career path so far?
Gayatri: I joined my current organisation in April 2019, just a week after my IIFM convocation. It has almost been two years and the journey is full of learnings. I joined as an Associate and a year later, I was promoted to Assistant Manager. I have got opportunities to be in the remotest villages and the biggest cities of the country. It is a totally different experience when you set foot on the ground to study the real India. The thought that our strategic and operational advice to different stakeholders in the development sector can make a change, is really very satisfying.
Careers360: Is the Industry work different from what you learnt at IIFM?
Gayatri: Not really. Anyone who has been to IIFM can vouch for the course curriculum for being a perfect blend of theory and practical learning! The assignments given during the programme as a part of academic evaluation are based on practical implementation of the theoretical concepts. The field work is the most important component in the two-year programme. We were made to dirty our hands on the field to apply frameworks that we are taught in comfy AC classrooms.
From research methodology to report writing, everything that I learnt at IIFM has given a very smooth start to my career.
Careers360: How do you think your time in college has added value to your life, both professional and personal?
Gayatri: Indian Institute of Forest Management is located on a lush-green hill-top covering 230 acres of land. The campus has a huge patch of grassland and is surrounded by water-bodies on three sides. The sighting of different birds, snakes and other wild animals makes the campus life even more exciting. This brought me closer to nature and made me more empathetic towards the other beings on this planet.
Back in IIFM, I was a part of a few clubs and committees. While exploring our talents, academic rigour was never compromised. I not only managed to involve myself in all the possible events, but also secured a merit scholarship for both years. This is what I have learnt from my life at IIFM - to strike a work-life balance. I continue to explore my artistic side even today, after my 8 hours work schedule or on weekends.
Life is all about being a good manager – you have to manage your time between home and office, your responsibilities between family and work.
IIFM has always emphasised on enriching the learning experience through responsibilities and that is why the students of IIFM run the mess, ideate and implement the plans to organise events
Careers360: What was your initial thought process when you joined IIFM?
Gayatri: Joining IIFM was a well-thought of decision in my life. At IIFM, we are taught all important courses of general management, along with the expertise in niche sectors of development, wildlife and natural resource management. The idea of sustainable development, i.e., the convergence of People, Profit and Planet always grabbed my attention. IIFM allowed me to choose from a basket of very different electives like Social Impact Assessment, Environmental Impact Assessment, International Business, Corporate Social Responsibility etc., all at one place. It suitably aligned with my idea of exploring the concept of "sustainable" business, and I feel very proud of this decision.
Careers360: You must have spent a memorable time at IIFM. Do you miss being a part of it? Share a few good memories.
Gayatri: Oh yes, it still gives me nostalgia! I have already visited the campus twice after I graduated, because there are so many wonderful memories and it feels nothing less than a family back there. Being a small batch, the most wonderful thing there was that everyone knew everyone, right from batch mates, to seniors and juniors, to faculty and to staff members.
I would not be exaggerating if I say that I miss everything about being at IIFM.
The most beautiful thing is that we have shared good memories with every creature at IIFM, from struggling to memorize Tectona grandis and Shorea robusta (scientific names of trees) to being parents to the hostel dogs, from eating together with friends to sharing pain and smiles with them, and from hosting grand feasts for the professors to visiting them on Holi to have our favourite coffee, pani puri and brownies, everything still seems very fresh in my mind!
Careers360: Briefly take us through your life at the campus, the activities you used to do and your routine life.
Gayatri: A typical day at IIFM used to begin with a run to the mess for breakfast, a hurried bite and a jog to class. I used to remain all charged up throughout the day. In the evening, if not assignments, then I would be engaged in some or the other club activity, or playing badminton or exploring the non-academic literature in the library.
The hostel life was very exciting. The wilderness of the campus is an added attribute and it was really beautiful to wake up to peacocks dancing outside the window. My hostel's terrace provided a wonderful scenery of the city of hillocks and lakes. The grassland in the campus when in its full green lush is the most popular hangout spot.
Going down to Nehru Nagar for a cup of 'tandoori chai' was a ritual I followed almost every evening.
Careers360: Apart from academics, what were the other activities you were involved in and how did it enrich your life?
Gayatri: The campus life at IIFM strikes a good balance between fun and studies. The academic schedule has been prepared in such a way that each one of us gets substantial time to spend on our hobbies or to explore new things. I regularly contributed to cultural events, be it dancing, singing, rangoli-making, nukkad natak or stage plays. I was also one of the female vocalists for Dhwani, the in-house music band of IIFM.
I was an active member of the Internship Committee, Umang- the cultural club, Alumni Network Committee and the Climate Change & Environment Core Competency Cell (C2EC3). I was also the coordinator of the Literary Club.
Careers360: How did you keep updated with the industrial requirements and what was the role of the institute in it?
Gayatri: Oh all credits to the faculty members for this! All the lectures were very much updated and included recent industry examples to make it more relevant. Along with the wide range of literature available at the huge library, we had the access to a number of newspapers, online journals and scientific publications.
Careers360: You are a proud alumnus of this top college. What is the best part of IIFM from a student's perspective?
Gayatri: Very proud indeed! I think all the experiences have been very useful in my life, so it is difficult to name one. But I would reiterate on how the curriculum is very well designed to include both theoretical and practical aspects of the course. The field immersion component is definitely the best part, because it does not only give us a different travel experience from visiting the remotest of villages, national parks and wildlife sanctuaries, and prestigious industries, but also gives us an opportunity to understand different stakeholder perspectives.
Careers360: What is your suggestion/guidance for the course aspirants?
Gayatri: Any management degree is not only about the academic lessons you learn, but also about the way you spend the two years of your life exploring new arenas. IIFM in its green-setting provides one of the most sustainable ways of learning by being sensitive to the other parts of nature while studying business. The cultural diversity is unmatchable as students come from over 23 Indian states which itself becomes a great source of learning. IIFM has subject experts as faculty members and the huge library is always an add-on. The only message I want to leave for my juniors who would be joining IIFM is that keep your objectives clear and yourself flexible and adaptive in the learning process. IIFM gives you ample opportunities to explore your hidden potential and to develop yourself into a responsible green manager!
IIFM Updates and Articles
Questions related to IIFM
Showing 33 out of 33 Questions