MBA Experience Interview: Gayatri Pandey shares glimpses on IIFM Bhopal Campus Life
Gayatri Pandey, a Zoology graduate chose to broaden her career scope by joining Indian Institute of Forest Management, Bhopal, and opting for Forestry Management as her PGD programme. A vocalist and merit scholarship holder at IIFM, Gayatri states that the academic programme at IIFM has been designed to keep a good mix of theory and practical exposure of the concepts. The unique industry-academia sync comprising visits to some of the renowned industries ar regular intervals have helped learn about the practical implementations of the regulations and standards of environment management. Gayatri has been placed with a global financial inclusion consultancy with an annual package of 9.96 LPA.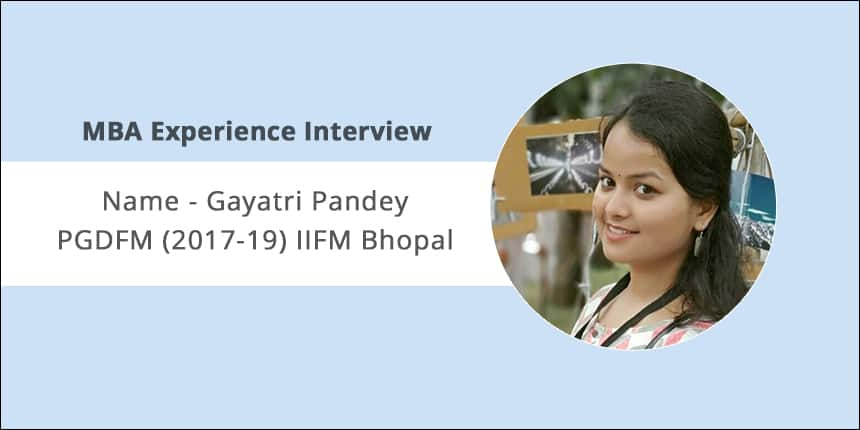 In this interview with Careers360, Gayatri provides a virtual tour about the institute's ambiance, campus life, student engagement activities, and other related details. She suggests all her juniors to engage themselves in events and clubs within the Indian Institute of Forest Management (IIFM), Bhopal campus. She suggests all to have clarity on their objectives; be flexible and adaptive in the learning process to attain the desired success.
Read the excerpts below to know about Gayatri Pandey's IIFM experience-
Careers360: What are the factors that led you to join IIFM Bhopal and pursue PGD in Forestry Management?
Gayatri Pandey: At IIFM, we are taught all important courses of general management, along with the expertise in niche sectors of wildlife, natural resource management, CSR and rural development. The idea of sustainable development always grabbed my attention especially the convergence of Profits and the Planet. Therefore, I chose to pursue my specialisation in Environment Management from IIFM as it suitably aligns with my idea of exploring the concept of "sustainable" business.
Careers360: How is the campus and campus life at IIFM? Is it all packed up in a routine or equally divided between fun and study? What is the best thing about the campus, something that differentiates it from the rest?
Gayatri Pandey:  Indian Institute of Forest Management is located on a lush-green hill-top covering 230 acres of land. The campus has a huge patch of grassland and is surrounded by water-bodies on three sides.The sighting of different birds, snakes and other wild animals makes the campus life even more exciting. The campus life at IIFM strikes a good balance between fun and studies. The academic schedule has been prepared in such a way that each one of us gets substantial time to spend on our hobbies or to explore new things. 
I have regularly contributed in cultural events, be it dancing, singing or rangoli-making. Being a vocalist, I enrolled my name in Dhwani, the music band of IIFM. While exploring our talents, academic rigour is never compromised. A typical day at IIFM begins with a run to the mess for breakfast, a hurried bite and a jog to class. The best of this lot is that IIFM has always emphasised on enriching the learning experience through responsibilities and that is why the students of IIFM run the mess, ideate and implement the plans to organise events. 

Careers360: Along with the theories or studying inside the classroom, what are the practical aspects that are included in the curriculum? Share some insights.
Gayatri Pandey: The course plan is a perfect blend of theory and practical learning! The assignments given during the programme as a part of academic evaluation are based on practical implementation of the theoretical concepts. For an assignment in the course of Project Management, my group chose to plan for a solid waste disposal system project based on the Logical Framework Analysis (LFA). We used this tool to prepare the logical flow of our activities and also used the Workbench software to decide on our Work Breakdown Structure and to meet the deadlines. In courses like Basic Computing & Data Handling, Quantitative Techniques, Data Analytics and Geo-informatics, a major part of the learning process is lab-based. Besides this, the field work components are also executed in the two-year programme. 

Careers360: How is the industry-academia sync maintained at your institute? Are you taken to field visits etc.? Share your experience of the same.
Gayatri Pandey: The programme includes two field immersion components. In first year, there is 21 days of extensive exposure to the areas of rural development, environment, forestry and wildlife management. The second field work is of 12 days specially designed on the basis of the students' specialisation. As a student of EM, I got the opportunity not only to know about the present technological innovations in the field of environment, but also to visit some of the renowned industries and learn about the practical implementations of the regulations and standards of environment management including health and safety issues of employees.

Careers360: Tell us something about IIFM's cultural fests, business/sports competitions. 
Gayatri Pandey: We host a plethora of cultural, literary and sports activities throughout the year, but Kalpataru, the annual cultural fest of IIFM is the most awaited function for all IIFMites, right from students to all the teaching and non-teaching staff. Dance, music, drama, poetry, letter writing, fashion shows, multiple sports clubbed with fun is what Kalpataru is all about!  Along with this, we also have Reminiscence, the annual alumni meet of IIFM, where we host our alumni from different batches and to make it more special we celebrate the silver jubilee of graduation for a batch. Finally, Coalescence, the all-India business conclave of IIFM is another sought-after event. This year in 2018, under the theme of Triple Bottom Line and Beyond, we had a set of wonderful expert speakers working in the area of sustainability. Some of the eminent speakers were Padma Shri Dr. Janak Palta, Dr. Ravi Chopra, Dr. Rahul Banerjee, Dr. Raghu Chundawat to name a few. We also hosted participants from all over India in ABHIPSA- a case study competition, PRAKRUT- paper presentation and DAKSH- a B-Plan competition.

Careers360: What are the different committees or clubs at IIFM? Are you a part of any such club or committee?
Gayatri Pandey: Oh, yes! Overall, there are 12 clubs, cells, and committees at IIFM. We have cultural, literary, sports, adventure, drama & movie, nature & photography clubs. Three eminent cells of IIFM are Communication cell, Entrepreneurship Development cell and Climate Change & Environment Core Competency cell (C2EC3). Other than this we have three core committees- Mess committee, Alumni Network Committee (ANC) and Internship/Placement Committee.  
I was a member of the Internship Committee in first year and currently an active member of Umang- the cultural club, ANC and C2EC3. I am the coordinator of Literary Club at IIFM as well.

Careers360: What are some of the popular hangout spots of the IIFM students? What do you do when you are not studying or not attending the classes?

Gayatri Pandey: Bhopal being the city of lakes provides some beautiful and serene hangout spots like Upper Lake view point and Shahpura Lake side. The city and "chai" are so closely related that one cannot do without visiting Indian Tea House and the famous Raju tea stall. 
Moreover, specifically for IIFM students, the grassland in the campus when in its full green lush is the most popular hangout spot.
During the leisure hours,I either indulge in playing badminton or explore the non-academic literature in the library. Going down to Nehru Nagar for a cup of 'kulhad' chai is a ritual I follow almost every evening.

Careers360: Tell us something about the hostel life? What makes it special from other hostels?
Gayatri Pandey: The hostel life at IIFM is truly exciting. The wilderness of the campus is an added attribute and it is really beautiful to wake up to peacocks dancing outside the window. When I came to IIFM, I was not so dog-friendly, but now the times I have spent with Pinka, Chiku, Garry, Sheru would be one of the finest memories of IIFM. My hostel's terrace provides a wonderful scenery of the city of hillocks and lakes. 
Being a small batch, the most wonderful thing here is that everyone knows everyone, right from batch mates, to seniors and juniors, to faculty and to staff members. It is like a small family which we make here at IIFM. 
Careers360: What is the placement process followed in your institute? How does IIFM prepare you for it? Which company and profile have you been placed?

Gayatri Pandey: It gives me immense pleasure to share that the placement process of IIFM is completely student driven. With commendable contribution of the whole batch, over 70 percent of the 2019 batch was already placed in the placement week itself. The director, the faculty chairperson of the Placement Committee and the Placement Officer were a constant support to all the students. A skill development session is organised a month before the placement season to prepare the students with CVs and for GDs and PIs through exposure to multiple mocks. Additionally, IIFM also provides counselling facilities to the students if needed. IIFM holds an expertise in the form of its faculty members and the practical exposures in field works prepare a student for practical implementation at workplace. 
I was placed on Day 0 of the placement week with a global financial inclusion consultancy called MicroSave as an Associate Consultant at 9.96 LPA. 
Careers360: What are your career plans after completing the programme? Which sector and function would you like to pursue? Do you have any dream company in mind?
Gayatri Pandey: Consulting as a career has always been an exciting thought for me and I really look forward to work in MicroSave for next few years. Developmental consultancy is the sector which I am looking forward to right now, but I have always kept myself flexible enough to explore different areas. 
As of now, working in one of the BIG 4 consulting firms is my dream, but I would like to give my best to the present organisation and learn the required professional skills before I take the leap.
Careers360: The batch of 2019-21 will join soon. What would be your message for your juniors?
Gayatri Pandey: Any management degree is not only about the academic lessons you learn, but also about the way you spend the two years of your life exploring new arenas. IIFM in its green-setting provides one of the most sustainable ways of learning by being sensitive to the other parts of the nature while studying business. The cultural diversity is unmatchable as students come from over 23 Indian states which itself becomes a great source of learning. IIFM has subject experts as faculty members and the huge library is always an add-on. The only message I want to leave for my juniors who would be joining IIFM is that keep your objectives clear and yourself flexible and adaptive in the learning process. IIFM gives you ample of opportunities to explore your hidden potential and to develop yourself into a responsible green manager!
IIFM Updates and Articles
Questions related to IIFM
Showing 32 out of 32 Questions