We aim to evolve managers with nature conservation skills: Dr. Pankaj Srivastava, Director, IIFM Bhopal
Dr. Pankaj Srivastava, Director of Indian Institute of Forest Management, Bhopal, believes in the vision of the institute, which is 'To Provide Leadership in Professional Forestry Management Aimed at Environmental Conservation and Sustainable Development of Ecosystems'. In this interview with Careers360, Dr. Srivastava talks about the institute's USP, admission process, placement and other details.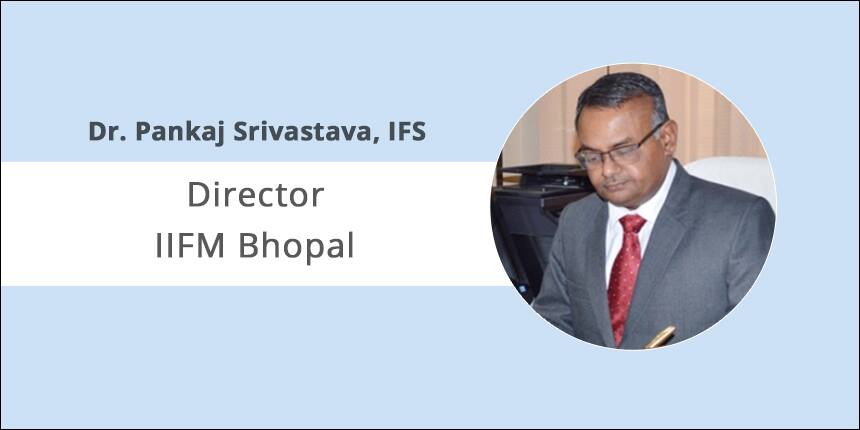 Dr. Srivastava is an officer of 1987 batch from M.P. cadre of Indian Forest Service, serving in the state for last 30 years. Apart from the experience in the field of forestry and wildlife management, Dr. Srivastava has also worked in World Bank aided M.P. Forestry Project and the Lok Vaniki Mission launched in Madhya Pradesh to facilitate scientific management of private forests. He has also authored various books like Jungle Rahe Taki Narmada Bahe!, which has been honoured with Medini Award by Government of India. He is an alumnus of Devi Ahilaya University, Indore, from where he has also pursued doctorate in Forestry.
Excerpts from the interview with IIFM Bhopal Director Dr. Pankaj Srivastava.
Careers360: How is IIFM Bhopal different from other B-schools?
Dr. Srivastava: The Indian Institute of Forest Management is a sectoral management institute, which constantly endeavours to evolve knowledge useful for the managers in the area of Forest, Environment and Natural Resources Management and allied sectors. The B-School was established in the year 1982 and is an autonomous institution under the Ministry of Environment, Forest and Climate Change, Govt. of India. It disseminates such knowledge in ways that promote its application by individuals and organisations. The mandate of IIFM is appropriately reflected in its vision statement "To Provide Leadership in Professional Forestry Management Aimed at Environmental Conservation and Sustainable Development of Ecosystems".
Careers360: What are the programmes and how is the admission process conducted?
Dr. Srivastava: The admission to both the programmes viz. Post Graduate Diploma in Forestry management (PGDFM) and Post Graduate Diploma in Sustainability management (PGDSM) is through CAT and XAT. Candidates desirous of taking admission to IIFM in either of the courses will have to take CAT 2018 or XAT 2019 conducted by IIMs and XLRI respectively. IIFM uses CAT and XAT Scores only for shortlisting of candidates for Written Aptitude Test (WAT) and Personal Interviews (PI) which are conducted at six centres across the country namely Bhopal, Delhi, Kolkata, Bengaluru, Guwahati and Kochi. Candidates interested in applying to IIFM shall have to apply online at the Institutes admission portal.
Careers360: What are the steps being taken by IIFM in order to strengthen the industry academia sync?
Dr. Srivastava: International Paper, India, and the Indian Institute of Forest Management (IIFM), Bhopal under the agreement, the IIFM–IP Centre of Excellence (CoE) has been set up at IIFM to facilitate and anchor activities in the areas of applied forestry research, forestry, fiber sustainability, supply chain management, safety in the forestry and paper industry, dependence of vulnerable communities on natural ecosystems for livelihood and subsistence, and economic valuation of services provided by natural ecosystems, among other issues.
IIFM recently set up an Incubation Unit under the Centre of IIFM-Industry Interface, in line with the best practices at universities worldwide. The Incubation Cell seeks to nurture invention-based and other entrepreneurship with a keen eye on the current and emerging needs of the Economy, Environment and the Natural Resources.
Apart from these students are also taken to several industries as part of field exposure visits twice during the programme to gain first-hand experience of processes and sustainability issues associated with the industries.
Careers360: What is the significance of the Summer Internships for management students? How does IIFM conduct its Summer Placement process?
Dr. Srivastava: The academic programme of IIFM has a well laid down framework for internships as a part of the course curriculum. Internship projects are invited by the Internship & placement cell of the Institute and through a well-defined process, students are selected by the host organisation where they spend 10 weeks to work on live internship projects.
The concept of first-hand learning makes Summer Internship an integral part of the academic programmes. While classroom lectures, quizzes and assignments groom the students, the opportunity to have a first-hand industrial experience comes only through practical learning.
Thus, the Summer Internship (SI) Programme provides our students an opportunity to develop critical thinking, the ability to work in a team, excel in business and effective communication skills and above all, gives the students real-world experience in a sector of their choice.
Careers360: Please share some highlights of the final placement statistics of 2018 batch.
Dr. Srivastava: This is one thing that I can say with immense pride that IIFM has always received 100 per cent placements since its inception. All the students of the batch of 2016-18 were placed from the campus. 
The average package was Rs. 6.97 lakh per annum (LPA) and the highest package was Rs. 11.15 LPA. A total of 27 students, i.e. 26.73 per cent of the batch were placed with salaries over Rs. 8 LPA. As many as 32 students, constituting 31.68 per cent of the class were placed in various government agencies. There were seven pre placement offers.
The placement of the batch in various sectors accounts for the following output metrics: 42 per cent in Banks and Microfinance (IDFC, Axis Bank, Kotak Mahindra, ICICI Prudential Life Insurance, Spandana Sphoorty, Samasta Microfinance, Bharat Financial Inclusion Ltd., Svatantra Microfinance, BASIX Sub-K); 19 per cent in the State Rural Livelihood Missions (MPSRLM, Jeevika, Odisha Livelihood Mission); 14 per cent in the development sector (Pradan, CARE India, Swades Foundation and Dr. Reddy's Foundation); nine per cent in Research and Consultancy (Ernst and Young, Sambodhi, Kantar Public, Microsave and Technoserve); nine per cent in other governmental agencies (RURBAN) and seven per cent in Forest Departments, Wildlife and allied sectors (Jungle Lodges and Resorts, MP Rajya Van Vikas Nigam Ltd.).
Careers360: What kind of infrastructure can students expect at the institute? Please elaborate?
Dr. Srivastava: IIFM being a national Institute is endowed with state of the art infrastructure. We have fully air-conditioned classrooms with WiFi and all teaching enabled systems. The Computer Centre has hardware and software resources that are capable of providing support for diverse computing requirements. It has a number of desktops in Local Area Network (LAN) and has state-of-the-art Geographic Information System (GIS) and Image Processing facilities. Computing support is provided to students twenty-four hours a day. The campus is WiFi enabled and internet facilities are available in all rooms in the hostel.
IIFM has multi-storeyed air-conditioned library with a wide range of literature. The Online Public Access Catalogue (OPAC) facility is available on all terminals connected through LAN. More than 41,177 volumes and subscription to more than 207 National & International periodicals. A number of CDs and DVDs on varied topics of academic interests. IIFM subscribes to a number of international e-journals and online databases.
Hostel complex consists of three hostels namely, Nilgiri, Vindhyachal and Aravalli, all together have fully furnished 112 rooms with a separate block for girls (Aravalli Hostel). All the hostels are provided with solar/geyser facility for hot water facility round the year. The hostels have common rooms with TV and DTH Connection, gym and indoor games etc. 
Doctors are visiting the IIFM Campus on every alternate day. Students can consult them free of cost. In case of medical emergency, students are provided Institute's vehicle to consult doctors outside the campus.
Sports complex consists of Volley Ball, Basket Ball, Lawn Tennis and Badminton Courts. TT Table is also placed in the Badminton Hall and in girl's hostel. A playground is also available for football and cricket. Hostel complex has three air-conditioned rooms for providing accommodation for parents visiting their wards at nominal charges.
A fully air-conditioned mess is run by the student mess committee (elected term-wise) on a cooperative basis. Basic infrastructure and partial workforce are provided by the Institute as a subsidy. The Mess is equipped with automated and semi-automated equipment and cooking systems. It is capable of serving about 300 people at a time.
IIFM Updates and Articles
Questions related to IIFM
Showing 32 out of 32 Questions