MBA Experience Interview: Rishabh Jha shares experience at IIFM Bhopal Campus
Rishabh Jha pursued his studies in earth and environmental sciences prior to joining Indian Institute of Forest Management, Bhopal. He chose Forestry Management as his PGD programme (PGDFM). A student from the batch of 2017-19 and an ardent lover of nature and photography, Rishabh states that IIFM, being a sectoral management institute, instils in its students the requisite skills and knowledge for identifying and addressing the intricacies arising from social, environmental and economic constraints.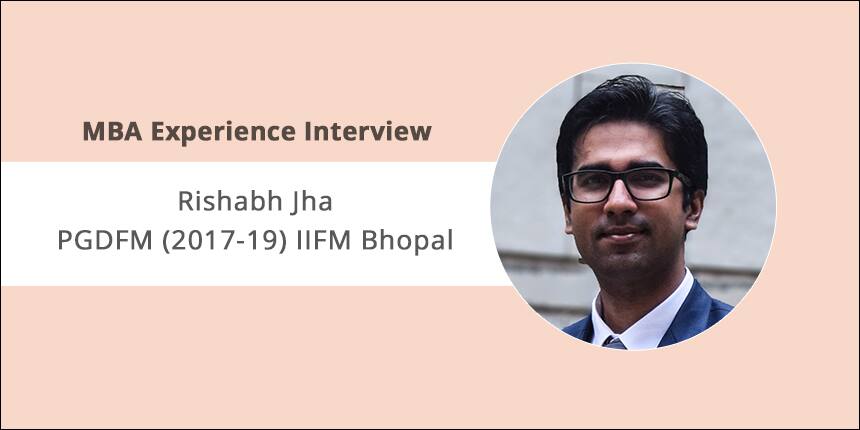 Rishabh, in this interview with Careers360, portrays a vivid picture of IIFM Bhopal campus life, ambiance, student engagement activities, social clubs, and other campus related details. He suggests his juniors to wisely utilise the opportunities rendered by Indian Institute of Forest Management, Bhopal so that they can build their potential to make a difference. Rishabh has been placed at Kantar Public as Associate Research Manager.


Read the excerpts below to know about Rishabh Jha's IIFM experience-


Careers360: What are the factors that led you to join IIFM Bhopal or pursue Forest Management as a specialisation?
Rishabh Jha: Contrary to the popular belief, IIFM does not restrict itself to forest management but goes much beyond –the academic curriculum at IIFM is an amalgam of courses from the spheres of general management, conservation & livelihood management, developmental management and environmental management. Having studied earth and environmental sciences from research perspective prior to coming to IIFM, a proclivity toward understanding the practices aiding in planning, community engagement, impact assessments along with relevant government and corporate activities was generated, and IIFM was the choice I made.

Careers360: How is the campus life at IIFM? Is it all packed up in a routine or equally divided between fun and study? What is the best thing about your campus, something that differentiates it from the others?
Rishabh Jha: Life at IIFM campus is quite balanced with equal measures of fun and study; day-time is devoted for attending lectures while evenings are kept for leisure time activities. The campus accommodates no greater than 250 students who bring the campus alive with their sheer energy. IIFM has a number of student-managed clubs that actively utilise the evenings for organizing various events ranging from cultural nights to colloquiums to festive celebrations. Also, it's heartening to see how caring the students here are towards animals – that rubs off on others as well.

There is an expanse of grassland, besides the lush greenery that the campus has to offer, that makes an ideal place to view and capture the sunrise in one's camera or to simply hangout with friends. Its close proximity to the national park nearby has its own perks – birding enthusiasts can discover a range of birds in the campus itself!

Careers360: Along with the theories or studying inside the classroom, what are the practical aspects that are included in the PGDFM curriculum. Share some insights.
Rishabh Jha: Students are routinely encouraged to visit sites, as part of their assignments, to understand, assess and develop likely recommendations in response to real-life challenges in pertinent areas of conflicts.
Precisely, the flagship PGDFM programme has two field-trips, one each year, that also deliver the students the immersive experience of interacting with rural communities by letting the students stay among the community members for a brief time. 
Careers360: How is the industry-academia sync maintained at your institute? Are you taken to field visits etc.? Share your experience of the same.
Rishabh Jha: Not only does the institute collaborate with relevant organisations and bodies to organise field visits to keep us updated with current trends and needs, renowned and experienced personalities apropos to pertinent areas are invited to interact with us either in the form of colloquiums, classroom lectures or workshops. The growing alumni of IIFM also play a pivotal role in this regard.

Careers360: Tell us something about the campus of IIFM. How is the ambience or environment different from other B-schools?
Rishabh Jha: The natural environment here gives a very positive vibe. The campus is surrounded by water-bodies on three sides, is atop a hill, and is within the city's perimeter. It is very rare to have this large area with such peculiar natural setting so close to the urban-scape. 
Students regularly organise competitions and drives focused at environmental awareness. Sustainable practices are not limited to books and lectures but are realised here, the students-managed mess uses a biogas generator utilizing food-wastes to meet its cooking fuel demands. Along with a number of clubs and cells that are managed by students, summer internships and placements too are managed entirely by students, helping us become better managers of tomorrow. 

Careers360: Tell us something about IIFM's cultural fests, business/sports competitions. 
Rishabh Jha: Four major events are hosted at the campus every academic year:

Coalescence – a conclave that provides an opportunity to its participants to meet and interact with experts from social and environmental sectors through keynote addresses, panel discussions and competitions. 

Environmental Literacy Campaign – a campaign aimed at bringing stakeholders from different strata of the society to think, understand and act for a sustainable future
Kalpataru – the annual gala event that hosts various activities - cultural, sports, literary, etc.

Reminiscence – an annual event organized by the alumni cell of IIFM. Alumni revisit and reunite with their former batchmates to cherish the good old times lived at the IIFM campus.

Careers360: What are the different committees or clubs at IIFM? Are you a part of any such club or committee?
Rishabh Jha: I have been part of Summer Internship Committee, Climate Change and Environment Core Competency Cell, Movie and Photography Club and Nature Club.

Following are the clubs, committees and cells at IIFM:
Adventure Club

Dramatics Club

Movies and Photography Club

Summer Internship Committee




Climate Change and Environment Core Competency Cell (C2EC3)

Nature Club

 Literary Club

Mess Committee

Placements Committee

Sports Club

Cultural Club

Alumni Network Committee

Communication Cell


Careers360: What do you do when you are not studying or not attending the classes? What are some of the popular hangout spots of the IIFM students?
Rishabh Jha: I indulge in outdoor photography, watch movies or go out with friends. 
Besides the regular spots inside the campus, IIFM students hangout at diverse locations – from Indian Tea House in the old city area to DB Mall in MP Nagar to 10 No. market among others.
Careers360: Tell us something about the hostel life? What makes it special from other hostels?
Rishabh Jha: There are three hostels for male students and one for female students. The hostel life has brought us, from 27 states, at one location and has created this feeling of bonhomie that we share among us. Strolls to the grassland, all of us working nights to bring events to fruition, going on a nature trail inside our very campus happen to be few of many experiences that have made the hostel life at IIFM memorable.

Careers360: The placement process at your institute has been concluded. Which company and profile have you been placed?
Rishabh Jha: Yes. The final placement programme (2018) has been successfully conducted by IIFM Bhopal. I have been placed at Kantar Public as Associate Research Manager.

Careers360: What are your career plans after completing the programme? Which sector and function would you like to pursue? Do you have any dream company in mind?
Rishabh Jha: As of now I have been offered a position in Kantar Public, and I would want to keep my focus on  getting to know the role and responsibilities better, and build a credible expertise to better my career growth. 

Careers360: What is the placement process followed in your institute? How does IIFM prepare you for it?
Rishabh Jha: Students can apply to any of the companies that the placement committee brings to their notice. Should an organisation select a student, he/she is expected to accept the offer and withdraw from the placement process. If a student sits for more than one organisation at a time, the organisation that selects the student first would be the one that the student will have to go with. 
To begin with, IIFM prepares its students for the placement process by imparting domain relevant knowledge along with instilling in them leadership and managerial qualities by allowing them to manage committees, clubs and cells entirely on their own. The annual field trips, too, contribute significantly by enhancing the theoretical knowledge with on-ground applications. In addition, mock interviews and group discussions are organized for students to evaluate themselves. 

Careers360: The batch of 2019-21 will join soon. What would be your message for your juniors?
Rishabh Jha: They have come to an institute unlike any, and the next two years are going to be a rollercoaster ride for them. They are going to have this opportunity to tread on a career path that very few choose in the country, and if used wisely then by the end of the programme they will have the potential to make a difference. IIFM will make them connect with people, nature and environment.
IIFM Updates and Articles
Questions related to IIFM
Showing 32 out of 32 Questions