IIFT 2023: Last Month Preparation Strategy
IIFT 2023: Last Month Preparation Strategy - Getting abashed regarding how to prepare when the exams are nearby is common amongst candidates and especially when clearing the exam can bag you a position in one of the IIFTs. When IIFT 2023 is around the corner, candidates are required to be explicit with their IIFT last month's preparation strategy for 2023 and should focus only on what is significant. It is indispensable for candidates to think of a dynamic IIFT 2023 last month's preparation strategy that can help them in reaching the merit list and ace IIFT 2023.
Stay up-to date with IIFT News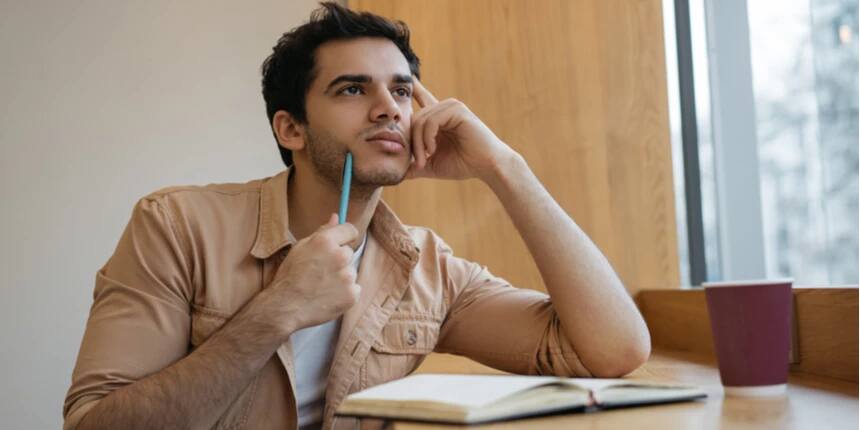 In this article on IIFT last month preparation strategy, Careers360 will help you formulate your preparation plan for cracking the IIFT entrance exam, and the pattern of the exam. Complete details related to the sectional preparation guidelines are also provided. IIFT is a national-level entrance test that is conducted by the National Testing Agency in computer-based mode.
Ongoing MBA Admission
Basics of IIFT 2023
More than 100 questions will be asked in IIFT 2023

Differential marking scheme, allocating marks according to the type of questions in each section

IIFT offers two years full-time MBA programme in International Business (IB) for IIFT campuses located in Delhi, Kolkata, and Kakinada. Every year more than 50,000 candidates register themselves to give IIFT
IIFT 2023: Last Month Preparation Strategy:
Practice What is Already Covered

Focus on Sectional Preparation

Attempt Mocks

Solve Question/Sample papers

Use FlashCards/Sticky Notes
Let us look at each IIFT 2023: Last Month Preparation Strategy one by one to understand it in a better way.
Practice What is Already Covered
For all sections, practice is the key. Just because you have only one month left for final preparation, begin your revision. Revise all the topics which you have already covered. Do not forget the exam pattern of IIFT 2023 and practice the topics based on the timing you will get in the exam. Most of the CAT candidates also appear for IIFT simultaneously as both exams are held in almost nearby months.
Henceforth, candidates can practice for both concurrently. As per the IIFT 2023 exam pattern, it is similar to other MBA entrance exams. Multiple choice questions will be part of the IIFT question paper and candidates will be given limited time i.e. 120 minutes to solve the question paper.
Important Guidelines -
Leave those topics which are not been covered till now

Revise what you have studied

Do not waste time trying to solve questions in different ways. This is possible when you have ample of time left
IIFT will be held across various IIFT exam centre 2023. Let us begin by knowing other major aspects of the IIFT 2023: Last month's preparation strategy.
Focus on Sectional preparation
As per the exam pattern of IIFT 2023, there will be majorly four sections i.e. General Knowledge & Current Affairs, Data Interpretation and Logical Reasoning, Verbal Ability & Reading Comprehension, and Quantitative Ability. Get the right study material for IIFT 2023.
Candidates must check out the topics covered under each section based on past trends as NTA does not provide any official syllabus of IIFT 2023. Preparing uniformly for each section is important, as IIFT 2023 will also have a sectional cutoff. You need to set your preparation plan in such a way that it covers sectional strategy, which will guide you on how to attempt each section while writing the exam.
General Knowledge & Current Affairs - Unlike CAT, IIFT 2023 will have one separate section which will be dedicated to GK questions.
For this General Knowledge & Current Affairs section, keep yourself updated about current events

Read as many newspapers, general knowledge books, digital news, journals, and current affairs magazines and watch business news, etc.,

Try to focus on business and trade-related content as most of the questions are based on that

Question range could be from topics like current affairs, business policies of India with other countries, the punch lines of companies, details related to top officials of major Indian companies, dominant corporate events, books and authors, science, trade policies of India, BOP, etc.,

Questions from static GK could be prepared using the yearly Manorama and Competition Success Review

Toppers consider it to be easiest and hence advise others to attempt it at the end
Abhishek Agarwal who scored 99.85 percentile in the IIFT exam shares his insights and preparation strategy. "For GK, I used to read newspapers and kept myself updated with the current affairs. Simultaneously I worked on building my own opinions about things with sound reasoning. During the test, just devote 10 minutes to the GK section and divide the left out time equally amongst the other three sections," he says.
Data Interpretation and Logical Reasoning - For this section, practice is the key in order to enable speed of reading actively, comprehending the caselets, and answering correctly. Sharing his preparation strategy, another IIFT topper Mohit Sharma said, "As far as LR & DI goes, practice is the key. I made it a habit to solve at least five caselets every day of different types so that I felt comfortable with the topic."
Data Interpretation and Logical Reasoning will generally contain questions based on logic. However, there could be some calculation intensive questions as well

Devote some extra time to understanding the concepts and formulas

Practice from previous years IIFT question papers and mock test series in order to expose yourself to a variety of data interpretation and logical reasoning questions. While practicing candidates can divide questions into tough, tricky, lengthy, and easy.

If confused, try taking help from an online study group or friend's circle to discover tricks and shortcut methods of solving questions

Revise all the concepts and formulas once you are done with the syllabus
Quantitative Ability - As per the IIFT 2023: last month's preparation strategy for this section, candidates need to bring concept clarity.
Know the important topics like Mensuration, Time, Distance, Work and Heights, Permutation and Combination, Logarithms, etc., and practice them as much as you can

This section is moderately difficult as candidates are expected to solve questions with heavy calculations

Be thorough with formulas and theorems of various topics like a binomial theorem, Equations Ratio Proportion Variation, etc.,

If you think you can start with the basics, then buy an NCERT maths book and practice questions and revise theorems on a regular basis

Pay extra attention to topics like Algebra, Arithmetic, and Geometry but don't overlook mensuration

Remember that there is negative marking in the IIFT exam always, so while practicing try choosing only those QA questions which you can solve with 100 percent accuracy
Verbal Ability & Reading Comprehension - The best strategy for this section would be reading. Read articles over the web and try making notes of what you find could be useful during the exam. Improve your vocabulary by adding at least 10 words to it daily along with its synonyms and antonyms.
10 new words each day for 30 days will be equal to 300 new vocabulary added. If you find any information misleading, try contacting some of your friends who are preparing for IIFT and try to confirm the same. This will allow you to discard the unnecessary information

Develop reading speed and focus on strengthening your grammar part

Read newspaper editorials, online blogs, novels & short stories, business reports, etc.

Practice more reading comprehension passages. If you are short on time, try to choose the tough and tricky ones

For verbal ability focus on revising English grammar. Refer to Wren & Martin grammar book

Solve sample papers and mock questions to strengthen your grip on this part
Shikhar Mahalwala, who secured 99.77 percentile in IIFT said, "For English Comprehension, I read a lot. Having a good vocabulary base really helped me out. Even the questions which were not directly vocabulary-based become easier to solve. Along with that, I also practiced a lot of RC's using help from both online and offline sources. Attempting only those questions which I was sure of really helped me a lot."
Quick Link -
Attempt Mocks
To get a gist of the exam day scenario, candidates are advised to attempt a mock test of IIFT. NTA does not provide any specific mock test series for the IIFT entrance exam. But there are other options available over the internet whereby candidates can get a hold of the IIFT mock test. Benefits associated with the mock test of IIFT are given below -
Speed and accuracy can be assessed

Familiarity with the exam pattern and syllabus

Discovery of new tricks/shortcuts for solving questions in lesser time

Selecting the right set of questions becomes clear

The strengths and weaknesses of each section could be analyzed
Quick Link - IIFT 2023 Result - Road beyond IIFT Shortlist
Solve question/sample papers
As a part of IIFT 2023: Last Month Preparation Strategy, candidates are advised to solve the previous year's question papers of IIFT to get hold of the type of questions that were asked and are expected to appear in IIFT 2023. Just in case, candidates are unable to find the previous year's question papers or are done solving them, they also have the option to solve some of the IIFT sample papers.
Solving more and more question/sample papers will help candidates know their capabilities of solving questions within the specified time limit. Try to solve one set of questions/ sample papers on a daily basis, and after a few days, candidates will realize that there is no new type of question in any section.
Use FlashCards/Sticky Notes
One of the best IIFT 2023: Last Month Preparation Strategies would be to use flashcards and sticky notes. Make notes of what you think is essential and necessary. Stick them in the forefront so that these flashcards or sticky notes are visible. This technique will help you remember the tricky content easily and accurately.
Try to use attractive colors which can grab your attention and make sure to stick them at a place whereby they are more visible. Do not write long lines/paragraphs. Just mention the points and while making the notes just read about that point so you can understand what you are reading later.
Top Colleges in India offering MBA
Questions related to IIFT
Showing 205 out of 205 Questions