CMR University Alumni Interview with Divya Brigson - Life at B-school, Life Afterward and Career Goals
Alumni of a B-school is always the safest bet to learn all about the college. While picking up a college, we all take a sneak peek into the alumni of that college, and without a doubt, if that list has names of eminent people then the inclination towards it enhances. We at Careers360 reach out to alumni of renowned B-schools from time to time to know their experiences at the college and about their life afterward. We believe such alumni interviews always help in making the right choice. Here we spoke to Divya Brigson, an alumna of CMR University to know her journey at this B-school, her afterlife that includes working with the Risks & Investigation department with Custodian Bank, and her career goals.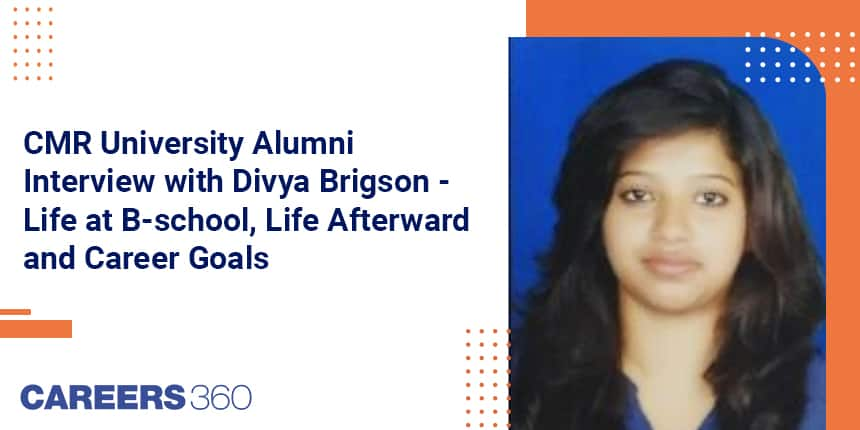 CMR University Alumni Interview Divya Brigson
Careers360 - Tell us about your domain and your work profile. At the professional level, did you pursue the same field you were interested in or you switched?
Divya Brigson- I work in a custodian bank , State street Corporation. I work for State street organization in the Risks & Investigation department. We investigate the funds we receive from different organisations. On a professional level I am looking into finding a new job role in the same Banking & Finance field.
Careers360 - Can you briefly tell us about your career path so far?
Divya Brigson - I have worked in State Street for about 1 year & 9 months as an Associate 2.
Careers360 - Is the Industry work different from what you learnt at CMR University?
Divya Brigson - Yes, in the industry, work is definitely different from what we learnt in college. We go through more practical problems & solutions than theory.
Careers360 - How do you think your time in college has added value to your life, both professional and personal?
Divya Brigson - The time in college has added ample value to life, both professional & personal. College is where we learnt Brainstorming for solutions, team work , work ethics etc which is very helpful in leading a healthy corporate life.
Careers360 - What was your initial thought process when you joined CMR University?
Divya Brigson - I was excited to join the college, to meet new people. Since I was from a science background I had concerns about how well I would do in the finance classes. But teachers here made the effort. The friends I made here were also very helpful.
Careers360 - You must have had a memorable time at CMR University. Do you miss being a part of it? Share a few good memories.
Divya Brigson - Yes I miss being a part of the college, meeting friends everyday, the assignments, having group study sessions before the exams, the rush of performing on stage, organising events.
Careers360 - Briefly take us through your life at the campus, the activities you used to do and your routine life.
Divya Brigson - As a student who lived in the campus for the initial few months the struggle was to maintain the curfew of 7pm. Managing with whatever money is being provided by the parents and living on a budget. Cooking for yourself and balancing your studies once you move out of hostel is a challenge.
In college, mostly organizing & taking part in events was the best thing to do. I would always be on the dance team. As a member of bizzy heights we would organize events and encourage students to participate. Ethnic day would be a blast. As a member of the college choir I would be there in all the events in college, Christmas competition where we represented our college.
Careers360 - Apart from academics, what were the other activities you were involved in and how did it enrich your life?
Divya Brigson- Apart from Academics , I was actively involved in the Bizzy heights team , Vibration team , Dance team , The Choir.
Careers360 - How did you keep updated with the industrial requirements and what was the role of the institute in it?
Divya Brigson- I mostly do my research online now about the updates in the Industry. College placed an important role too as we would go for Industrial Visits, were acquired to take different courses & had mandatory internships.
Careers360 - You are a proud alumnus of this top College. What is the best part of CMR University from a student's perspective?
Divya Brigson - As a proud alumnus I would say the teachers. They can make you teach you a lot of things starting from attention to detail to the value of time.
Careers360 - What is your suggestion/guidance for the CMR University aspirants?
Divya Brigson - I suggest the aspirants to not only try to do the best in academics but also take part in all the extra-curricular activities that have been organised. Good memories always come from having fun. This is your college life and as you would have heard many people say - " time spent in college doesn't come back, all you're left with is the memories
CMR University, Bangalore Updates and Articles
CMR University MBA Admission 2021 - CMR University has begun o...
21 Apr 2021
Questions related to CMR University, Bangalore
Showing 2 out of 2 Questions
28 Views
Is college buses available for transportation?
Some colleges can provide buses for transport but the number of those kind of colleges are very low.
If you have mentioned the name of the college in respective of which you are asking the question then it would be more helpful.
Have a great eve!
64 Views
Do you have B.Sc in Aeronautical - Avionics?
Hello, Arjun!
CMR University Bangalore does not offers B.Sc in Aeronautics/Avionics.
But, there are many colleges in Bangalore which offers B.Sc in Aeronautics/Aviation.
All the best!
Hope this helps!