Careers360 Live Chat: Q&A session with Dr. Aditya Jadhav, Admissions-Chairman, TAPMI


Dr. Aditya Jadhav, Admissions-Chairman at TA Pai Management Institute (TAPMI), Manipal addresses queries from prospective management aspirants on different aspects related to admissions, course structure and placement of TA Pai Management Institute (TAPMI), Manipal. Careers360 formulated all the Q&A from the live chat with the Admissions Manager at TA Pai Management Institute (TAPMI), Manipal.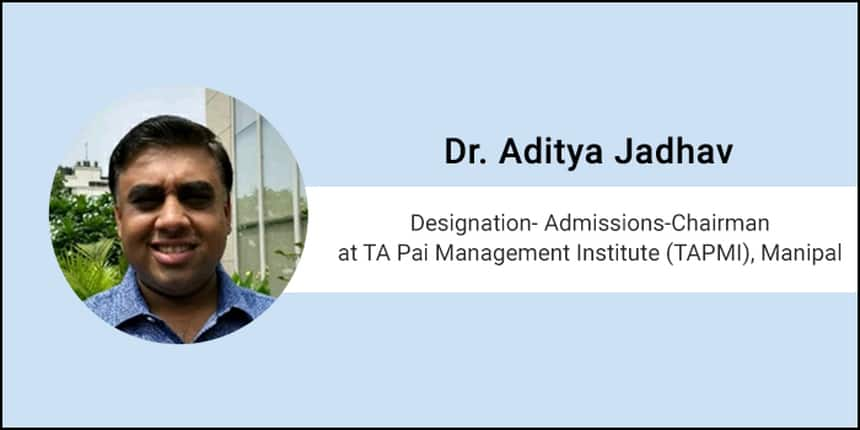 Excerpts from the Live Chat:
Tarun: Which are the entrance exams and their respective cutoff percentiles/scores you accept for the admissions at TAPMI, Manipal? What are the other admission requirements post entrance exams?
Dr. Aditya Jadhav: TAPMI accepts CAT XAT or GMAT exams for the admission procedure. The percentiles for each is- CAT- 85 percentile (for a fresher)
                                     XAT- 85 percentile (for a fresher)
                                     GMAT- 650 score
If you have work experience, the percentile required for CAT/XAT would be 80. After you get shortlisted on the basis of your CAT/XAT or GMAT score, you need to appear for Group Discussion (GD), Personal Interview(PI) and Writing Ability Test (WAT) rounds.
Please note that we do not have our own entrance exam but only consider the above-mentioned entrance tests.
Tarun: Do you accept SNAP score?
Dr. Aditya Jadhav: No. We do not accept SNAP score.
Rohan Arya: How many students do you have in PGDM? Also, help me understand the cutoff percentile based on work experience.
Dr. Aditya Jadhav: Rohan, we enroll 470 students in the three programmes. For PGDM alone, we have 360 students.
Regarding the cutoff percentile for the respective courses, please check the table below-
| | | | | |
| --- | --- | --- | --- | --- |
| Test | Experience | PGDM | BKFS | HR |
| | < 12 months | 85 percentile | 90 percentile | 85 percentile |
| CAT 2017 | > = 12 months | Profile based | Profile based | Profile based |
| | < 12 months | 85 percentile | 90 percentile | 85 percentile |
| XAT 2018 | > = 12 months | Profile based | Profile based | Profile based |
| GMAT | < 12 months | 650 | 650 | 650 |
| GMAT | > = 12 months | Profile based | Profile based | Profile based |
Sonakhi: Do you offer MBA programmes? Do placements vary with respect to a fresher and an experienced candidate? Does this parameter also affect the admissions as well?
Dr. Aditya Jadhav: TAPMI is an autonomous school, so we offer govt. recognised PGDM similar to IIMs. It is equivalent to MBA according to AICTE and UGC.
Yes, it does vary. Generally, an experienced person gets on an average Rs. 3 lakhs more than a fresher. Yes again. AICTE recommends 10 marks more to an experienced candidate.
Raj: How good is Operation Management at TAPMI? Also, how is the campus placement in terms of core Ops Role?
Dr. Aditya Jadhav: Campus placement is 100 percent across all specialisations. To be precise, Microsoft and Deloitte pick for Ops consulting with a package of around Rs. 20 LPA. We had 35 students specialising in Ops last year and around 12 to 15 companies visit TAPMI for selecting candidates pertaining to Operations profile.
Sujata Chopra: TAPMI offers a course in healthcare. What does it actually deal with?
Dr. Aditya Jadhav: Sujata, we did have PGDM Healthcare program but have stopped the same from this year. However, we have students from the previous batch still completing the program but the admissions have been ceased.
Sujata Chopra: Which course would you recommend in your institute? I have completed Applied Psychology.
Dr. Aditya Jadhav: We are launching PGDM HR program which is in association with SHRM Society, The launch is on November 3 and you will not regret considering it. We also have a great Leadership Assessment and Development Centre. You can choose the one best for you.
Rohtika: I am interested in pursuing MBA airline program. Do you offer the same at your institute? If, not, what are the MBA programmes you offer to MBA aspirants?
Dr. Aditya Jadhav: We do not offer MBA in airline & airport management. We have three programmes, namely PGDM General, PGDM Banking and Finance and PGDM HR.
Vinayak: Do you share administration with TSB Jaipur Campus?
Dr. Aditya Jadhav: Not at all. TSB Jaipur and TAPMI Manipal are independent entities. We have independent administration.
Karuna: My ultimate aim is to obtain PhD or DBA. Should I consider MBA or other business master degrees for that matter?
Dr. Aditya Jadhav: Certainly. Being a BE, MBA and PhD holder, I personally think an MBA is a good idea for continuing higher education. So, if you are aspiring to obtain a doctorate degree, go ahead with MBA.
Fatima: How many students come to TAPMI, Manipal apart from the South Indian states? Do you have reservation for SC/ST/OBC pertaining to cutoff?
Dr. Aditya Jadhav: We have students from 26 states with largest contingents from Bengal, Assam and Maharashtra. On the contrary, we have less than five percent students from Karnataka. Around 70 percent students are from East, West and North India.
We do not encourage any kind of reservation. All are equal in terms of admission cutoff scores.
Jitendra: I am interested in PGDM. I have nine months of work experience in BPO sector and six months as a data entry operator. Last year, I secured 75 percentile in CAT. Do I see any chance to seek admissions in your institution?
Dr. Aditya Jadhav: Not really. Did you appear for this year's CAT exam? You can try XAT or GMAT as well. We consider all three. But the primary shortlisting will be done considering your CAT/XAT or GMAT scores only. To avail the relaxation, you need to have work experience of at least one year.
Payal: I came to know that your college has stringent rules and regulations. Is that true? How is the hostel life and student crowd in TAPMI, Manipal? Do you have any dress code within premises? Any sports facility?
Dr. Aditya Jadhav: We believe in discipline on only three particular aspects, namely timelines, cell phone usage in class and drinking and smoking regulations within the campus. We expect all students to be on the campus by 11.30 pm but once on campus, they can stay out of the hostel without any problem.
To talk about the hostel life, we have students from 26 states and it is a fully residential programme. We do not have a dress code; as long as what you wear is decent, we don't object. TAPMI has planned to offer a world-class gym covering three floors and an indoor jogging track for students to rejuvenate themselves. By the time you join us, the gym should be ready.
Rashika: Which are the most lucrative domains/specialisations at TAPMI?
Dr. Aditya Jadhav: I can certainly say that TAPMI is the place to be if you are looking for Marketing or Finance domains.
Rashika: What is the fee structure at your institute? Can you please provide the placement statistics at your institute?
Dr. Aditya Jadhav: The batch of 2017 had a fee of Rs.13.5 lakhs for 2 years including hostel charges.
TAPMI has a legacy of 36 years, 100 percent unbroken placement record for 30 years, 5000+ alumni, the biggest finance lab with 16 Bloomberg and seven Reuters terminals.
Parveen: According to you, which B-School is better in terms of course content and ROI? TAPMI Manipal or ISB Hyderabad?
Dr. Aditya Jadhav: ISB Hyderabad provides an executive MBA of 15 months whereas TAPMI provides a full-time MBA of 2 years. Moreover, if you are a fresher, then you are not eligible for ISB Hyderabad. They only take admissions for aspirants who have work experience.
Shivay: Do u have management reservation for BTech Graduates? I have 1.5 years experience in BTech IT. Will it be of any help?
Dr. Aditya Jadhav: Firstly, we do not have any management quota in terms of admissions. Our selection process is strictly based on merit. Secondly, I would suggest you to have at least two years of experience before you join the college.
Pradeep: As mentioned on your website, do you offer any exchange program during the course tenure?
Dr. Aditya Jadhav: Sorry to inform that we do not offer any exchange programs to MBA students. The exchange programme is offered to PhD students only.
MBA exchange activities clash with the placement season so we had to stop the exchange programme for the MBA students.
Richa: Do you have any committees? Can you brief me on the events hosted by the college during the course tenure? How many students take part in the same? Any outdoor activities conducted within the premises?
Dr. Aditya Jadhav: We have approximately 200 students involved in various committees out of 400 students. For your information, we have seven events completely managed by the students.
Manipal has a fantastic seaside location and jungles around for outdoor activities including trekking and jogging. We encourage our students to take part in all the activities conducted in college.
Surbhi: May I expect 12+ LPA salary after completing PGDM from TAPMI? Which is the average package that was offered to Batch of 2015-17?
Dr. Aditya Jadhav: Certainly. If you take up the course with utmost sincerity, you are bound to crack a high package with an esteemed company. For your information, the average package offered for the Batch of 2015-17 was Rs. 10.25 LPA, highest and lowest package offered were Rs. 20 LPA and Rs. 8 LPA respectively.
Maria: How many companies visit the campus for placement programme?
Dr. Aditya Jadhav: Last year, we had 136 companies who recruited from TAPMI.
TA Pai Management Institute, Manipal Updates and Articles
Questions related to TA Pai Management Institute, Manipal
Showing 145 out of 145 Questions