Which One is a Better Option for your Career: BBA or B.Com?
BBA or B.Com - With the board results about to be declared or announced, many students across the world will begin with the new academic year and new path. With the admission season about to begin many of the students must be preparing for various entrance exams or some of them might be still confused as which career to follow after completing their schooling. Of Course, this time is scary, exciting and full of confusion and other emotions that make your stomach turn. This phase is crucial for future aspects. Everyone needs assistance and guidance while making a call about their careers, and every bit of help is appreciated. In case you want to pursue something in the field of commerce and are confused about choosing between BBA (Bachelors of Business Administration) or B.Com (Bachelors of Commerce), read the article ahead.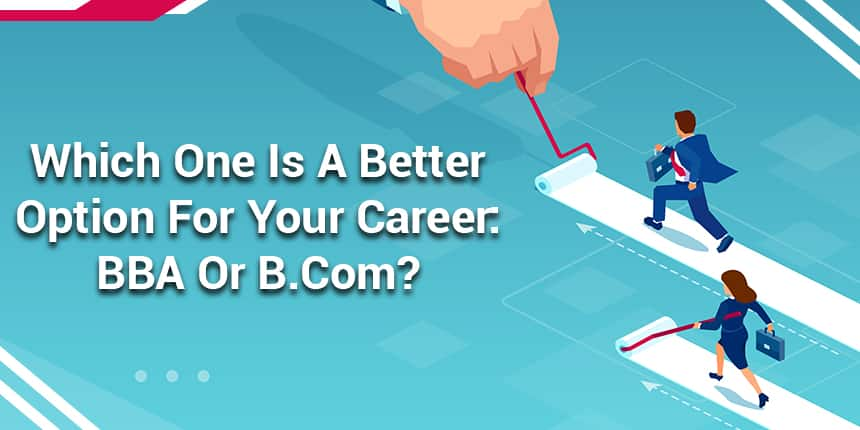 Both the course programmes, BBA and BCom, expose you as a student to different curriculums which lead to a variety of career avenues for you to pursue. The courses come with their own individual courses and curriculum as well. The option you choose will depend entirely on what you are inclined towards and what your preferences are, along with your aptitude. The programmes are both three years long.
What Course Should You Pursue, BBA or B.Com?
The people who finish and graduate with a BCom degree are usually the ones who become financial number crunchers and they stay in the finance sector. Even if they choose to pursue an MBA after their undergraduate degree, they choose finance in their area of specialization. Besides an MBA, BCom graduates also have the option to pursue their postgraduate degree in M.Com, CA, or ICWA.
Once they are done with their studies, BCom graduates can also take up working in the accounts department of different companies across industries, or they can also choose to work at banks or other financial and tax consultancies.
When it comes to pursuing a degree in BBA, it is considered to be a more comprehensive course. The main objective for this is to better equip the students who are enrolled in the programme with other aspects of business, which are more than just finance-based such as Human Resource, Marketing, Operations, Supply Chain Management, Systems and more. As a graduate, you are now equipped with requisite managerial skills.
When you are a BBA graduate, you can specialize in finance or any other stream as well, which can include Productions, Materials Management, HR, Operations, and Marketing.
Career Options For BCom Graduates
These are the most commonly pursued career options after you finish your undergraduate in Commerce:
CA (Chartered Accountant)
Chartered Accountants audit financial statements for companies as well as fill up corporate taxes and give financial advice, among other job roles. They deal with taxation and accounting, auditing, applied finances, management accounting and more. The course is very difficult and takes around 4 years to complete.
CS (Company Secretary)
Being a company secretary means you are responsible for running the company. The main job role is to look after the daily operations that take place in the company. They are responsible for overseeing all the legal matters, administrative issues, among other functions in a company.
ICWA (Institute of Cost and Management Accounts)
Cost and Management Accountants frame business strategies to generate value for the company. CMAs draft and implement everything that is related to the financial conservation of the company.
Financial Management
A Financial Manager manages the finances of the company and ensures funds are available and are spent properly, affecting the profits and losses of the company.
Career Options After a BBA
HR Manager
HR managers work with recruitment, salaries and payroll, all employee-related issues, and are responsible for creating a healthy working environment for all the employees.
Operations Team Leader(OTL)
The OTLs deal with delivering the best services to the company's customers as well as maintenance of the office space and all the equipment used by the company.
Project Manager
The Project Manager acts as the middleman between higher authorities and working staff and is responsible for the team they manage. All the reports, functioning and progress of the projects are their responsibility.
Business Development Executive
Business Development Executives analyze the market and business trends and create plans that will boost the business by providing the costing measures and investing the finances in various profitable projects.
GIBS Bangalore Updates and Articles
Questions related to GIBS Bangalore
Showing 50 out of 50 Questions