Global Institute of Business Studies Campus Life - Interview with MBA student Binamrata Pradhan
Going to B-School is nothing less than achieving a milestone in life. It helps you get closer to realizing your career goals and developing the key management skills needed to become a business leader. The B-School campus plays an important role in providing a conducive environment for career growth and personal well-being. Global Institute of Business Studies (GIBS) is one such B-school that is committed to providing its students a unique MBA experience and a personalized environment on campus aiding in building a great bond with their peers and professors. Careers360 spoke to Binamrata Pradhan, a second-year MBA student at GIBS, about her experience at the institution and to know all about campus life at GIBS, Bangalore.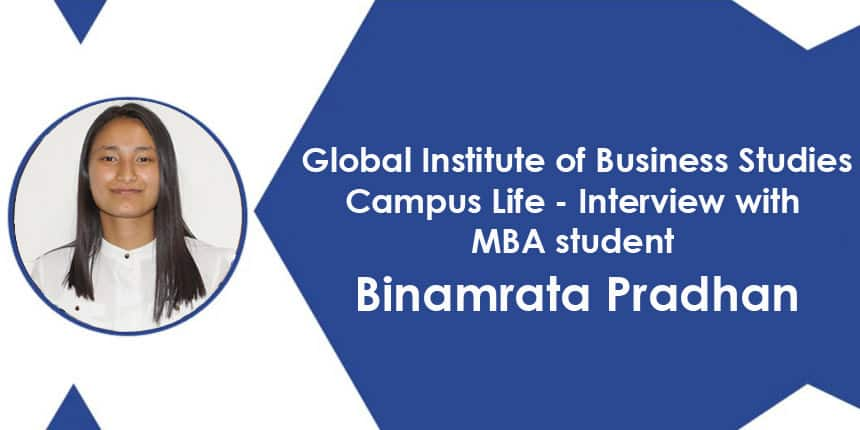 Careers360: Tell us something about yourself such as from which place are you from?
Binamrata Pradhan: I am Binamrata Pradhan. I am from Darjeeling, West Bengal.
Careers360: Presently which course are you pursuing and in which year are you?
Binamrata Pradhan: Currently, I am pursuing my master's degree from the Global Institute of Business Studies (GIBS) and I am in the 3rd Semester opting for Marketing and HR as my specialization.
Careers360: Did you face any difficulty in the initial months when you joined the institute?
Binamrata Pradhan: No, I did not face difficulty in the initial months after joining the institution as at every step there were faculties, management team extending the helping hands.
Careers360: What activities are offered in the institute? Are there any clubs, etc for the various extracurricular activities? Which ones have you taken up and are a part of?
Binamrata Pradhan: Aside from learning, there is an openness to various activities i.e., inbound, outbound activities, occasions. There are various clubs such as Finance club, Marketing club, HR club, Communication Club, Sports Club, etc.
Each club conducts programs, activities every month that are fun, and activities you get to learn new things. I have participated in all the activities conducted by the club and I was assigned as the Head executive of the Finance Club.
Careers360: Describe a typical day at your institute - what do you do from the time you wake up till you go to sleep?
Binamrata Pradhan: From morning till the time we go to sleep, at GIBS every day is a learning day. Usually, our class starts at 9:00 a.m, and from every class, there is always a takeaway, and the day continues with classes, preparing presentations, enjoying activities conducted by the faculties, C2C classes, outbound activities, training classes. The best part is lunchtime where we sit in the cafeteria area and have our lunch and chit-chat with friends.
Careers360: Tell us about the faculty-student ratio here and the teacher-student relationship in your understanding.
Binamrata Pradhan: The faculty-student ratio here is 15:1 where the students will be having 1 mentor. Each month there will be mentoring sessions where all the doubts, queries will be addressed. According to my understanding in GIBS the teachers are experts in their respective fields and the teachers have been the incredible support throughout my course. Faculties are friendly and they extend their helping hands beyond academics.
Careers360: What all facilities do you have on the campus? What do you like here the most which you feel is unique and differentiating?
Binamrata Pradhan: There are various facilities on the campus such as a cafeteria, yoga room, dance room, indoor games, gym. The unique factor of GIBS is there is diversity and from every region there are students and you learn a new culture and grow.
Careers360: How comfortable are your hostels and how about the cleanliness factor over there?
Binamrata Pradhan: Hostel facilities for girls are in-house and for boys, it is walkable distance from the college but there is a transportation facility provided by the college. Every day the hostel and washrooms are cleaned by the workers and the hygiene factor is taken care of. The food and accommodation here are good and gives a homely feeling.
Careers360: What about the medical facilities? Can you avail requisite medical attention if needed in an emergency?
Binamrata Pradhan: The medical facilities are provided by the college and in case of emergency, proper medical attention is given to the students.
Careers360: How do you balance your studies, projects, exams, and other activities?
Binamrata Pradhan: All the classes, exams, and activities are balanced and the students are provided with the schedule. If we work according to the schedule and stay organized we can balance all the activities, studies, and project work. As such for project works and other activities prior information is provided to the students.
Careers360: Tell us about the clubs and societies at the campus and how significant they are from your perspective or students' point of view?
Binamrata Pradhan: There are various clubs and societies in GIBS. The societies are significant and helpful to the students because behind every activity conducted by the societies there is some learning and every month from every society you get to learn.
From students' point of view, it is fun and it helps you gain knowledge and upskill yourself in a fun and enjoyable way.
Careers360: Is there any in-house magazine or journal for the latest events or happenings at the institute?
Binamrata Pradhan: Recently, as the societies have been started and the NEWSLETTER SOCIETY provides us with the latest events or events in the magazine or journal. The magazines or journals are launched every month.
Careers360: What are the popular hangouts at the institute? What, according to you, are the most visited places nearby?
Binamrata Pradhan: The popular hangout place at the institute is the cafeteria area, where all the chit-chat, laughter, and enjoyments are done. The most visited places nearby are Banarghatta zoo, Vega Mall, Royal Meenakshi Mall, and many more places.
Careers360: How do you spend your leisure time at the campus?
Binamrata Pradhan: During the time, we usually spent it sitting in the amphitheater with friends or sitting in the cafeteria area.
Careers360: Do you have any Facebook page of your campus where the students express their views, jokes, or ideas, or maybe even a blog where they write about their experience of life at campus?
Binamrata Pradhan: Yes, GIBS is active in all the social media accounts and the students are free to express their views, jokes, and ideas. All the ideas and views expressed by the students are given high priority and are taken into consideration.
Careers360: What type of companies come for campus recruitment and what percentage of students get placed every year? How is the recruitment process here?
Binamrata Pradhan: GIBS is tied up with more than 600+ companies and with all the sectors. GIBS provides 100% placements with renowned companies and the highest package internationally is 18 lakhs and domestic is 12.13 lakhs. GIBS ensures every prospective student is placed and is given proper attention beforehand for the preparation of GD, Aptitude test, Mock interviews.
The Placement Cell looks after the recruitment process and the requirements go according to the companies visiting the campus.
GIBS Bangalore Updates and Articles
Questions related to GIBS Bangalore
Showing 50 out of 50 Questions