Campus life at GIBS Bangalore- Experience it with Sanjay Reddy D
Choosing the right B-school to pursue a post-graduate program is definitely a tough task because there are many in numbers. Prior to admission into a B-school, students often want to know about the faculty, facilities, placement of a college to make a decision whether they should opt for that particular college or not but they are unable to find all the data on their own. Careers360 conducts different campus life interviews of various B-schools in order to help the candidates in making a decision. Continuing the same trail, Careers360 conducted an interview with Sanjay Reddy D, a 2nd year PGDM student at GIBS Bangalore to know about the faculty, infrastructure, facilities, and much more. Read the full interview to know all about GIBS Bangalore.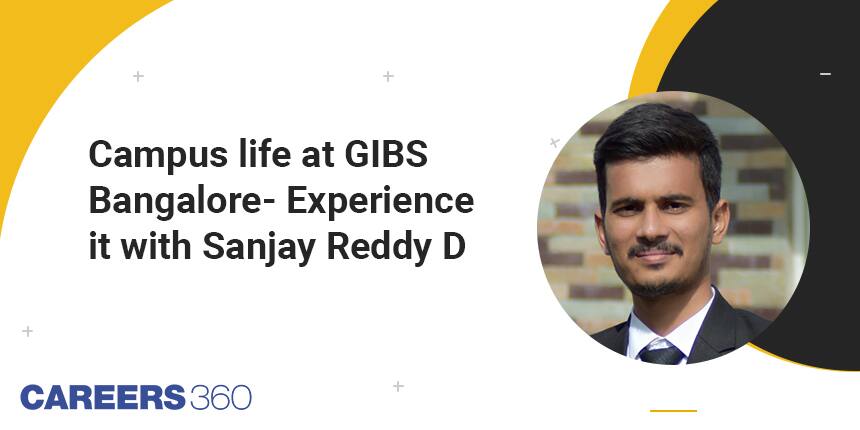 Careers360- Tell us something about yourself such as from which place are you from?
Sanjay Reddy D- I'm Sanjay Reddy D from Pulivendula, Andhra Pradesh. Completed my under graduation from Andhra Loyola College, Vijayawada, Andhra Pradesh.
Careers360- Presently which course are you pursuing and in which year are you?
Sanjay Reddy D- Presently I'm pursuing PGDM (Supply Chain Management and Marketing Management) second year, Batch 2019-21.
Careers360- Did you face any difficulty in the initial months when you joined the institute?
Sanjay Reddy D- Yes, since I'm from a Science background I faced some difficulty in some subjects and even I'm new to staying in the hostel, so I missed my family and I felt very low. But my faculty members are very supportive; they supported me, motivated me, and helped me in understanding new subjects. Because of my faculties, I forgot that I'm away from my mother. They became my second family in GIBS with whom I can share anything and can get support.
Careers360- What activities are offered in the institute? Are there any clubs etc for the various extracurricular activities? Which ones have you taken up and are a part of?
Sanjay Reddy D- Our college offered many activities to provide practical knowledge to students especially SMEs, workshops, various projects, the Happiness and Success Program, and many more. Yes, there are many clubs (now called societies) in our college which students will be running. By running these societies we are gaining good managerial knowledge and experience. I'm a part of The CSR Society. I have taken this Society because I love doing Social activities.
Careers360- Describe a typical day at your institute – what do you do from the time you wake up till you go to sleep?
Sanjay Reddy D- Early morning I'll wake up at 6:00 am and fresh up. Then I'll go to the gym which is there in the ground floor of our hostel. After the gym, I'll complete breakfast and attend classes from 9:00-11:00 and after that, we have a HAPPINESS AND SUCCESS PROGRAM in the auditorium which we really love a lot. In this program, we'll do Meditation followed by Laughter yoga. Because of this program, we really feel relaxed. After this, we have classes till 12:30 followed by the lunch break.
After the lunch break, we have practical sessions where we have webinars, SMEs, and many practical activities related to subjects. We really enjoy doing these activities. After college, I'll go to the indoor games room to play carroms and table tennis. If we have any team activities or cultural competitions, we'll sit in our Amphitheater and complete our works and go back to our hostel rooms.
After that, we'll fresh up and relax by chit-chatting with friends in the hostel, complete assignments and then complete our dinner and go to sleep.
Careers360- Tell us about the faculty-student ratio here and about the teacher-student relationship in your understanding.
Sanjay Reddy D- Faculty-student ratio is 1:15 and I like the Mentorship program in our college. My college started this Mentoring program for our benefit. For every 15 students there will be one faculty member as a Mentor who will take care of Students and Students also share their problems related to anything, be it academics, a hostel, or anything. Mentors know the mother tongue of his/her mentees, so we feel comfortable talking to our mentors in our regional languages.
Teacher-Student relationship:
The best part of my college is Faculty members, I simply tell them they are not only our teachers they are our family too. Faculties treat every student as their kids and support them.
Careers360- What all facilities do you have on the campus? What do you like here the most which you feel is unique and differentiating?
Sanjay Reddy D- We have various facilities on the campus like Library, Gym, Games room, Dance room, Good hostel, Creativity room, and many more. There is one unique thing in my college i.e GCS Placement executive.
Here our college selects some students as a student executive for the Placement department and those Students work with the Placement department. I'm very happy to be one of the student executives of the Placement Dept. Here I got practical experience of how work culture will be and how to manage a team. I like this concept the most.
Careers360- How comfortable are your hostels and how about the cleanliness factor over there?
Sanjay Reddy D- Hostels are very comfortable, we have 2sharing rooms with good ventilation and the hostels are very clean. Maids will come every two days and clean our rooms. Hostels mean firstly we remember Food. Here we can taste different states food in our Hostel mess. Through Hostel society we can select a Good Menu and give to the cooking team and they'll prepare those items and serve us.
Careers360- What about the medical facilities? Can you avail requisite medical attention if needed in an emergency?
Sanjay Reddy D- Yes, if we have any emergency health issues we have a hostel van. Our hostel warden will take us to the hospital whenever it is needed.
Careers360- How do you balance your studies, projects, exams, and other activities?
Sanjay Reddy D- It's all about time management. It's easy to manage everything if we have an interest. Even my Mentors and guides help us in managing all these works. Separate times are allotted for every Activity, so it's easy to balance everything.
Careers360- Tell us about the clubs and societies at the campus and how significant are they from your point of view or students' point of view?
Sanjay Reddy D- There are many Societies in my college like CSR Society, Cultural Society, Marketing, Finance, and HR society, networking society, etc. Every society will conduct activities every month and all Students take part in these activities. These societies are important for us because by this we get good managerial experience and knowledge. By participating in social activities we can get diversified knowledge.
Careers360- Is there any in-house magazine or journal for the latest events or happenings at the institute?
Sanjay Reddy D- Yes, we have a society named Newsletter and Magazine society. The members of this Society write monthly magazines covering all the events or happenings at the institute. This Society encourages us to write magazines and articles by providing good guidance and developing us in this aspect also.
Careers360- What are the popular hangouts at the institute? What, according to you, are the most visited places nearby?
Sanjay Reddy D- The popular hangout places at the Institute are Amphi Theatre. From here we have a nice view of the Nice road. We can sit in Amphitheater – chit-chat with friends, play and do many cultural activities, and can complete our works happily. Bangalore is the best place to explore, the nearby places are Malls in Bangalore, Nandi Hills, Coorg, and many more.
Careers360- How do you spend your leisure time at the campus?
Sanjay Reddy D- I spend my leisure time in the amphitheater with friends, sometimes I'll do activities of my society and my management will support us in doing these activities.
Careers360- Do you have any Facebook page of your campus where the students express their views, jokes, or ideas, or maybe even a blog where they write about their experience of life at campus?
Sanjay Reddy D- Yes, GIBS is active on all social media platforms and all Students are free to share their views, ideas, jokes, and experiences.
Careers360- What type of companies come for campus recruitment and what percentage of students get placed every year? How is the recruitment process here?
Sanjay Reddy D- GIBS is tied up with many companies. They'll bring companies related to various sectors and especially sectors related to students' specializations. Placement department provides training to students for Aptitude test, GDs, Mock interviews and many more and make students ready for Interview. GIBS ensures that every student is placed and 100% Placement opportunities and assistance will be provided by the Placement department.
GIBS Bangalore Updates and Articles
Questions related to GIBS Bangalore
Showing 50 out of 50 Questions