GIBS Business School - Interview with Hari Prakash Karcherla, Sr. Director
GIBS Business School (GIBS), Bangalore is an AICTE approved institute established in 2014. Located in a campus spread across 2 acres of land in Bengaluru, GIBS offers PGDM programmes in various specializations. In a tete-a-tetewith Hari Prakash Karcherla, Sr. Director, GIBS Business School, Careers360 discussesthe legacy of the institute, selection process, courses offered, placement records, etc. B-school aspirants seeking to pursue MBA can read the article to get more insights about GIBS Business School.
Latest - Application open now, click here to apply.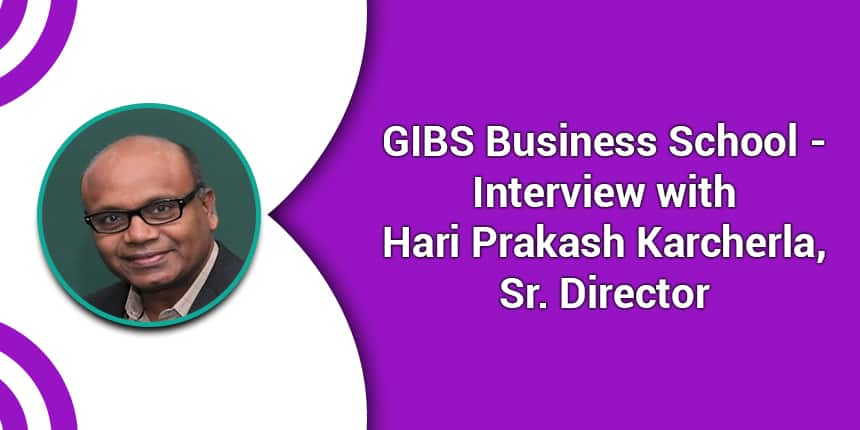 Careers360:Please throw some light on the mission of the college and its legacy.
Hari Prakash Karcherla:We are a business school with 5 years of history and the space is enormous for management education. There is an advantage of being located in Bengaluru as it is coming up with so many start-upsand IT hubs. We aim to give a quality education and what is promised is to be given.
Careers360:What are the programs and specializations offered at GIBS?
Hari Prakash Karcherla:Around 80 percent jobs offered by the well renowned companies are pure sales jobs, frontline sales jobs. They ask the management students to come and start selling the products/ services/ packages. Marketing, Human Resources, Finance, Supply Chain are the evergreen courses. We have all these specializations. And it would be no surprise to know that 90 percent of students take Marketing and HR.
Careers360:What is the CAT cutoff for GIBS admissions?
Hari Prakash Karcherla:For admissions to the programmes at GIBS,CAT scores are considered. In addition, we also consider XAT scores.This year as an exception, we have considered students with good academics on the basis of the advice from the Governmenton account of COVID-19.
Watch the interaction with Hari Prakash Karcherla, Sr. Director, GIBS Business School below
Careers360: Please share details about the diversity in terms of gender, region and stream at GIBS.
Hari Prakash Karcherla: We have students from not just Karnataka, Andhra Pradesh but from Meghalaya and other places in the North east. The big numbers however come from Maharashtra, Andhra Pradesh and Karnataka. We also have students from Jammu, Gujarat, Delhi, Rajasthan, UP, Bihar and even Nepal. It is a really good mix of students that we have here.
Careers360:Please brief us about the placements at GIBS?
Hari Prakash Karcherla: In this not so pleasant environment on account of COVID, we are blessed that all our students got placed. We had a record 130 companies coming this year like Ashok Leyland, international banks, hi tech companies like Byju's to name a few. Even consulting companies have come for placements.
Careers360: What is the expected salary offered to a GIBS student?
Hari Prakash Karcherla: The average salary last year was 5.7 or 5.8 lakhs but the highest salary has been 12.8 lakhs. But we are happy that the number of companies visiting our are increasing.
Careers360: Please brief us about the clubs and activities.
Hari Prakash Karcherla: We stress a lot on Emotional and Spiritual Quotient. To help students tackle the anxiety and stressful hours of their jobs, there is a need for business schools to consider that aspect and look to making students mentally strong. We have been having sessions almost every day for 30 years. These are called Happiness and Joy sessions and include Yoga and meditation. We also have Marketing clubs, HR clubs etc.
Careers360: Please tell us about Global Immersions and Entrepreneurial Management.
Hari Prakash Karcherla: One of the important things we have seen from our small family of alumni is that they are becoming successful entrepreneurs. We have a program called IRE (Innovation Research and Entrepreneurship) and most Fridays are specifically reserved for IRE sessions. So, students have the opportunity to work one day in a week specifically on entrepreneurship skills.
Careers360: What kind of students should be choosing GIBS?
Hari Prakash Karcherla: We are a young business school but the quality of the students we have got over the last few years is very good. We welcome students from any background. I can say for sure that the values they will get here would be promising enough. Our preferred student would be middle class and who would grab a good placement.
Careers360: Please share some advice for B-school aspirants.
Hari Prakash Karcherla: CAT is a good test for assessment but the result does not show who they are. So much more lies beyond the CAT results and it is not the end of opportunities. Institutes like GIBS and many more with good intent aim at providing good business education.
GIBS Bangalore Updates and Articles
Questions related to GIBS Bangalore
Showing 52 out of 52 Questions