Masters' Union, Gurugram- Interview with Rupesh Bisht, CEO
Masters' Union is a new age business school, established in the year 2020 and emerging as first of its kind institute. The groundbreaking feature of the institute is its 16-month intensive Post Graduate Programme in Technology and Business Management (PGP-TBM) that is taught by CXOs, MDs and eminent public leaders apart from the faculty from top B-schools in India. The admission in Masters' Union, Gurugram is granted on the basis of MU-BAAT, or the Masters' Union - Business Aptitude and Admissions Test, which is an online proctored test followed by the personal interview. In an interaction with Careers360, Rupesh Bisht, CEO of Masters' Union talks about the admission process of the institute, the legacy it holds, its mission, courses offered, and more. Read the interview here.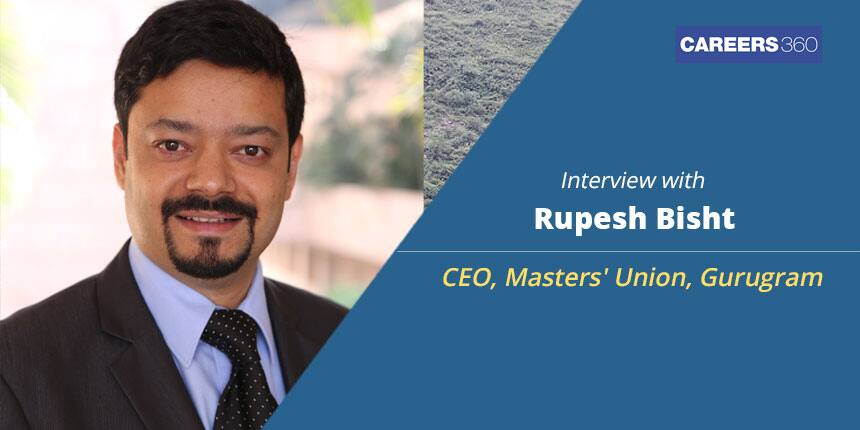 Read More-
How to prepare for PI-WAT rounds of top B-schools
Careers360: Tell us something about the institute; when it was set up, vision and mission?
Rupesh Bisht: Masters' Union was established in the year 2020, and the inaugural cohort of our flagship Post Graduate Programme in Technology and Business Management was welcomed into the campus in September of the same year. The founding Masters were inspired by the vision of setting up a practitioner-led business school, where eminent corporate leaders and veterans bring their rich industry experience into the classroom, grooming the next crop of corporate achievers in a highly experiential and immersive pedagogical environment. The technology-focused approach to management education was meant to prepare the students for the future of work, the way we see it taking shape in the new economy. Placing the business school in the heart of Gurugram's prolific business district was a well-thought-out move, neatly complementing the hands-on, industry-immersive curricular framework, augmenting the active involvement of practising Masters who are often working next door.
Careers360: Tell us something about the admission process?
Rupesh Bisht: Following a policy of holistic assessment, we invite all interested applicants to fill out our detailed application form, which is structured to accommodate several aspects of their candidature, including academic track record, professional achievements, extracurriculars and hobbies as well as awareness and learnability. The submission of this online application form is followed by a mandatory second step, which is taking the MU-BAAT, or the Masters' Union - Business Aptitude and Admissions Test, which is an online proctored test. The collective evaluation of the application form and performance in MU-BAAT helps us shortlist an applicant for a personal interview, where an eminent panel of Masters assess them further, based on their fit, aptitude and intellectual receptivity for the curriculum offered at Masters' Union.
Careers360: What kind of infrastructure can students expect at the institute? Please elaborate?
Rupesh Bisht: As I have described earlier, the Masters' Union campus is located at DLF Cyberpark, in the very heart of the business district in Gurugram, which is home to scores of Fortune 500 companies and other leading corporate brands. The location facilitates a highly immersive learning experience for students while being a part of the corporate ecosystem. The rare physical proximity to the industry translates into relatively easy access to the Masters, which strengthens the operational model both ways, presenting rich possibilities for activities like industry immersion, CXO guest lessons and one-on-one mentorship meetings, all of which sustains a symbiotic relationship with the industry. The campus has been designed to have the feel of a co-working space, with a mix of spacious, state-of-the-art classrooms, lively coworking corners and well-resourced meeting rooms.
Careers360: There is a lot of stress being made with regards to interaction with the industry as well as companies that recruit. What are the steps being taken by the institute in this direction?
Rupesh Bisht: For starters, it's the proactive involvement of practising Masters that makes the programme quite industry-immersive. Most of them have committed to teaching full 20-hour courses, through which they try to distil their vast corporate experience and make it accessible to students in an experiential academic setup. Their knowledge and perspective become the window to the corporate domain for the cohort. Alongside this, many modules are co-delivered with industry partners who contribute live consulting projects that take the curricular narrative from theory to application. The learning experience is further augmented by initiatives like the one-on-one mentorship programme, bootcamps focused on emerging technology like blockchain, machine learning and advanced data analytics and the CXO lesson series. We also have the Masters' Union Investment Fund, with a corpus of Rs 5 crores managed by a team of students passionate about investment banking. Our Startup School, part of the Masters' Union Innovation Lab, nurtures the entrepreneurial aspirations of our students, with active support from the industry. Finally, the 3-month Industry Immersion Programme presents a plethora of options to choose from, including corporate internships, CXO shadow modules, academic fellowships and the Venture Initiation Programme (VIP).
Careers360: Internships are now mandatory as per AICTE guidelines. Does the institute help students with this? If yes, how?
Rupesh Bisht: Yes, we do. As discussed earlier, what we offer is a far wider proposition, which we call the Industry Immersion Programme. It has four major categories. The first is a corporate internship with leading brands. The second is a CXO shadow module, where a student follows a corporate leader into their work environment, assuming the temporary role of a chief of staff or an entrepreneur-in-residence. Next, we have the Venture Initiation Programme, where aspiring entrepreneurs receive an equity-free grant to launch and grow a startup. Lastly, we have deep fellowships, where students keen on building their academic understanding of concepts like blockchain or platform economics attach themselves to our resident faculty for a research-based project. These diversified and highly customised interventions ensure in-depth industry exposure and augment our core pedagogical focus.
Careers360: Can you please share details if there is any collaboration with universities abroad?
Rupesh Bisht: Many such partnerships are in the pipeline. We did not expedite it because there was practically no demand for it from within the cohort, which is one of the fallouts of the global pandemic we are living through. Gradually, more details will reflect on our website over the months, as these partnerships take concrete shape.
However, we have academic Masters from top global B-schools like Wharton, Harvard, Oxford etc. teaching courses at Masters' Union, which indirectly contributes to providing global exposure to the students.
Careers360: Please share placement statistics with information on the average package, highest and lowest package, number of students placed and details of companies that have recruited.
Rupesh Bisht: The first phase of the industry immersion programme, with corporate internships falling within its scope, was initiated just last fortnight. The corresponding report is available on our website, on the Careers page. To share a few highlights, for a class of 64 students, as many as 80 offers from 40 eminent companies have been made. We are glad to share that several marquee companies, such as McKinsey, BCG, BMW, PwC and SoftBank have offered a range of engagements to our students, at par with established B-schools in the country. The companies cover a vast spectrum of domains, from consulting and PE/VC, to fintech and startups. Most of the students are expecting these engagements to yield significant PPOs. The highest stipend that was offered is Rs 3.75 Lakh. This has added to an exciting build-up towards the eventual placement season.
Quick Links-
Top MBA Entrance Exams in India
MBA admissions 2021-23

Masters' Union, Gurugram Updates and Articles