MU BAAT 2021: Exam Dates, Registration, Eligibility, Syllabus, Results
MU BAAT 2021 (Masters' Union conducts MU )- Business Aptitude and Admissions Test (MU BAAT) as an integral part of the selection process for admission to Post Graduate Programme in Technology and Business Management (PGP-TBM). It is mandatory for the students applying for admission to PGP-TBM to appear for the MU BAAT as the cutoff score will be used to shortlist the candidates for personal interview round. Masters' Union will conduct the MU - Business Aptitude and Admissions Test (MU BAAT) 2021 on May 23 in computer-based mode. Go through the article to know the details of MU BAAT 2021.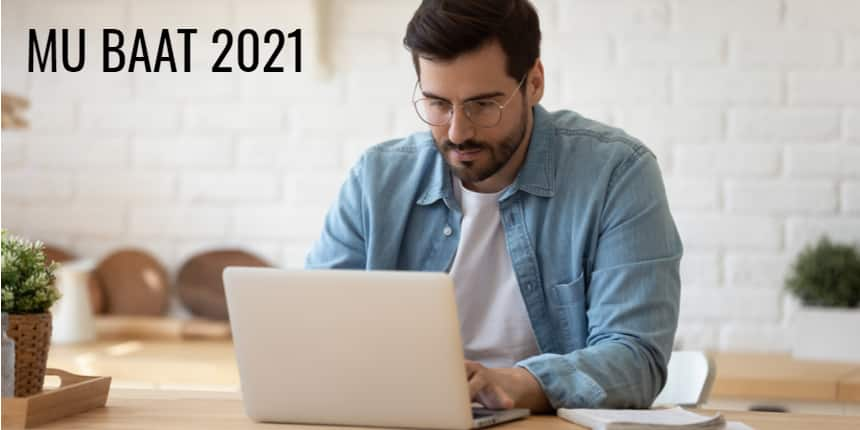 Masters' Union MU BAAT 2021
MU BAAT is a 90 minutes test consisting of 4 sections namely Data Interpretation and Reasoning, Verbal Ability, Quantitative Aptitude and Caselet Assessment. It is a highly competitive exam which includes both subjective and objective questions. According to the MU BAAT 2021 exam pattern, there is no negative mark for incorrect response. The in-depth exam pattern of MU BAAT 2021 is listed below.
MU BAAT Exam Pattern 2021
Particulars

Details

Mode of the exam

Online

Duration of the exam

90 minute

Type of the question

Both objective and subjective

Maximum number of question

36

Number of question section wise

Name of the section

Number of the question

Data Interpretation and Reasoning

10

Quantitative Ability

10

Verbal Skills

15

Caselet Assessment

1

Maximum mark

45

Sectional wise mark

Name of the section

Mark allotted

Data Interpretation and Reasoning

10 (1 mark each question)

Quantitative Ability

10 (1 mark each question)

Verbal Skills

15 (1 mark each question)

Caselet Assessment

15
Masters' Union MU BAAT - Sectional Wise Details
MU BAAT is conducted to evaluate students ability of data interpretation, critical thinking, problem solving and verbal communication. MU BAAT has 36 questions splitting into 4 sections. Students must keep in mind that they are not allowed to skip or revisit the questions during the entrance test. Therefore, it is advisable for the candidates to choose their answer carefully. Students are recommended to devote 20 minutes each to the first three sections and spare 30 minutes for the last section. The following are the four sections of MU BAAT.
Data Interpretation and Reasoning Thinking - This section is meant to judge the candidates ability to work with data sets and numbers and apply basic reasoning to resolve the problem.

Quantitative Aptitude - This section consists of mathematical questions from various topics such as geometry, profit and loss, average and mensuration.

Verbal Ability - The Verbal Ability test section will not test not only students' linguistic prowess but also their analytical and deductive skills.

Caselet Assessment - This section is only the subjective component of the test which includes case-study. Candidates are required to react to an analytical prompt, yielding crucial insights into their critical thinking and problem - solving skills in the bargains. Caselet assessment section will cover generic scenarios and do not require any prior domain knowledge.
How to prepare for MU BAAT?
It is significant for the students to have a well feasible exam strategy to ace MU BAAT. Candidates must keep in mind that their consistent effort may go awry if they fall into any test-taking trap. One main mistake to avoid during the entrance test is to get anxious and remain calm. The preparation strategy for MU BAAT is as follows.
Brush up all the key intermediate mathematical concepts.

Develop reading habits.

Students should read well - acclaimed literary text, along with editorials and opinion pieces from reputed newspapers and news websites.

Reading newspapers or brochures regularly will help students to expose them to high-quality linguistic usage as well as hone their capacity to traverse through intricate ideas and arguments.
About Masters' Union MU BAAT
MU-BAAT is a proctored test. Candidates' behavior will be closely tracked during the entrance test by accessing their laptop's webcam and microphone. All other applications such as web browsers, messaging platforms etc are required to be forced shut and access to them is denied once the software for MU BAAT has launched. Using a calculator is neither allowed nor required, but candidates can use 2-3 plain sheets of paper to solve the test. After successfully registering for MU BAAT, students will receive detailed instruction on how to download and access the test.
MU BAAT is organised on two distinct slots over two days. Students can select the slot of their choice through the application dashboard shortly after the registration deadline.
Masters' Union Selection process
Students will be selected for admission based on their academic record, work experience, their performance in MU BAAT and personal interview round. It is important for the candidates to secure good marks in the qualifying test as the cutoff score will be used to shortlist applicants for the personal interview round. Only the shortlisted candidates will be invited for a panel interview and case analysis round.
Masters' Union, Gurugram Updates and Articles