Masters' Union campus life, facilities and infrastructure- Prashasti Singh, PGP Student
A college campus plays a vital role in the grooming and development of the students. A sound, safe and well-equipped campus attracting positive vibes is all that a students need for staying there and studying for long hours building their skills, learning from the best faculty, getting practical know-how by practically applying the leanings, getting opportunities to interact with the industry leaders who are invited to take guest lecture at the campus. In the life of a student, the college campus adds on many colorful pages of memories. The campus of Masters' Union is a great example of how college campuses should be. It's a renowned B-school offering quality education, decent infrastructure, and a conducive environment at the campus crucial for the growth of students. Careers360 spoke to Prashasti Singh, a postgraduate student at Masters' Union to know her experience at the campus of this college, activities that happen there, facilities, and much more. Scroll down to read the Masters' Union campus life interview.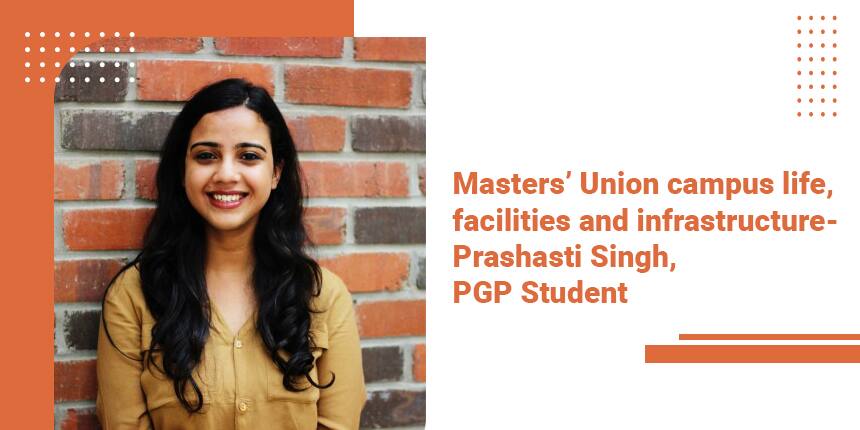 Careers360- Tell us something about yourself such as from which place are you from?
Prashasti Singh- My name is Prashasti Singh. I hail from Lucknow. I completed my Bachelor's Degree in Business Studies from University of Delhi in 2017 post which I went on to be a part of the Young India Fellowship (YIF) at Ashoka University. After graduating from YIF in 2018, I joined a digital NBFC called Clix Capital and worked there for 2 years. In my last role, I was part of the CEO's office working across corporate strategy, marketing & PR. Currently, I am a student at Masters' Union.
Careers360- Presently which course are you pursuing and in which year are you?
Prashasti Singh- I am currently pursuing the Post Graduate Programme in Technology and Business Management (PGP-TBM) at Masters' Union. It is a 16-month long, industry immersive programme, currently in its inaugural year.
Careers360- Did you face any difficulty in the initial months when you joined the institute?
Prashasti Singh- Ours was perhaps the only institution in India which was able to hold in-person classes while the rest of the country was working/studying from home in the middle of a pandemic. Our classes kick-started in September 2020 and the overall commencement of the Programme was pretty smooth. I can't recall any major hiccups at the start of the Programme.
Careers360- What activities are offered in the institute? Are there any clubs etc for the various extracurricular activities? Which ones have you taken up and are a part of?
Prashasti Singh- There are a host of activities that keep us occupied at college. We have various student-run clubs like Product Management Club, Music Club, Sports Club, FinTech Club, Consulting Club, Marketing Club, Wellness Club etc In addition to Club Activities, we have several other initiatives being owned and run by students under the mentorship of industry leaders like the 5 Crore Investment Fund (MUIF) to give hands-on investing experience to students and the Masters' Union Start-up School to ignite and nurture the entrepreneurial drive among students etc.
I am the elected Student Representative of the Academic Affairs Committee and I play an active role in ensuring a wholesome academic experience for students by interfacing with management, faculty and students.
Careers360- Tell us about the faculty-student ratio here and about the teacher-student relationship in your understanding.
Prashasti Singh- Our current batch comprises 64 students-14 women and 50 men. We have 6 permanent in-house faculty who are experts in the fields of Quantitative Methods & Data Science, Economics & Public Policy, Marketing, Operations, Finance and Information Systems who are always accessible to the students on campus. Most of the Core & Elective Subjects are taught by industry practitioners and visiting educators who are available in-person on-campus for the duration of the course. Students are free to connect with all the visiting faculty on a virtual basis even after the course is over. We have Whatsapp Groups with many of our 'Masters' (that's how we refer to Professors here) that are quite active and keep buzzing with discussions and debates.
Careers360- What all facilities do you have on the campus? What do you like here the most which you feel is unique and differentiating?
Prashasti Singh- The Campus, honestly, feels more like an office space with its plush classrooms and meeting rooms. I am personally a lover of old school campuses so I kind of miss that here. In terms of facilities, the campus is very well provided for but it does lack the charm of greens and gardens and the comfort of living and studying within the same compound.
What is unique about the campus, however, is its location—flanked by corporate offices, as opposed to most of the other colleges that are usually located in remote locations, on the outskirts of the city. The biggest advantage of the location, which unfortunately our Cohort was not able to avail to the fullest because of the ongoing pandemic, is the easy accessibility to Masters and Mentors operating from offices very close by. The college shares the campus with several Fortune500 companies which will open up easy networking opportunities for future MU Students.
Careers360- How comfortable are your hostels and how about the cleanliness factor over there?
Prashasti Singh- The hostel where we are housed is a nice property located in a residential area of Gurgaon, roughly 7-8 kms from Campus. We have a bus service that shuttles between college and hostel. Think of our hostel as a small hotel property. There is an option of single and double occupancy rooms both, with a difference in cost, of course. Most of the rooms have an attached balcony. Staff is really courteous and friendly and they take great care of us. Cleanliness and hygiene are also up-to-the-mark and the cleaning staff is available for service at a phone call whenever there is a need outside the schedule.
Careers360- What about the medical facilities? Can you avail requisite medical attention if needed in an emergency?
Prashasti Singh- We don't have a dedicated doctor at the hostel but the Director of Student Affairs is literally a call away in case of medical emergencies to make arrangements. There have been two instances when there was an immediate need for hospitalization and the Director of Student Affairs made all necessary arrangements very quickly as soon as he was notified.
Careers360- How do you balance your studies, projects, exams and other activities?
Prashasti Singh- We put our Management education to use. (Haha! Just kidding) But on a serious note, given that it's a 16-month long programme, we are constantly battling against time. The first term, kind of hits real hard but then everyone finds their own way of coping and balancing the various commitments. For me, what has worked is following a healthy routine- get your sleep, eat healthy and exercise whenever possible. That keeps me active throughout the day and I don't feel sluggish- which is enough to keep me at my productive best on most days.
Careers360- Tell us about the clubs and societies at the campus and how significant are they from your point of view or students' point of view?
Prashasti Singh- As the Founding batch, the responsibility of setting up Clubs and Societies fell on us. We have done the groundwork but our eyes are on our Juniors to take them forward. Clubs and Societies are a major platform for peer-learning at any institution so their importance can't be emphasized more. We currently have 11 active clubs around Business & Recreation.
Careers360- Is there any in-house magazine or journal for the latest events or happenings at the institute?
Prashasti Singh- Yes, we are in the process of launching our monthly College magazine, 'Hypothesis', which will be encompassing information, views, opinions and articles on everything that's trending and makes for interesting reads. The first issue speaks about startups and the cover of the magazine features one of MU's own home-grown startups.
Careers360- What are the popular hangouts at the institute? What, according to you, are the most-visited places nearby?
Prashasti Singh- This is one of the downsides of being located in the middle of a Corporate Hub. We do have so me franchise-based eateries in the Campus and Cyber Hub and Ambience Mall are a 10 minute cab-ride away; but we do miss those classic hangout spots like tea-shops and dosa corners that colleges with exclusive campuses are flooded with.
Careers360- How do you spend your leisure time at the campus?
Prashasti Singh- Haha! I don't think we have anything like leisure time on Campus. Our schedules are usually very very packed. But if you mean, what do we do to take a break…well, we often play table-tennis, foosball and pool at the hostel. Sometimes, we also have impromptu jamming sessions and poker nights.
Careers360- Do you have any Facebook page of your campus where the students express their views, jokes or ideas, or maybe even a blog where they write about their experience of life at Campus?
Prashasti Singh- We have 2 fun pages on Instagram run by students- memerssunion & further_by_musb.
Careers360- What type of companies come for campus recruitment and what percentage of students get placed every year? How is the recruitment process here?
Prashasti Singh- Since we are in our inaugural year, it would be a little premature for me to comment on the final placement figures. The final placement process will most likely kick in after September 2021. However, I can throw some light on our summer internships. We had a pretty impressive run- Right from big names like McKinsey, BCG, EY, KPMG, PWC, TATA IQ, Bosch and BMW to fast-growing startups like Razorpay, Park+, Mobiqwik, Juspay to VCs like Antler, Orios VP and Softbank- we saw quite an assortment of companies recruiting from our Campus this summer.
Masters' Union, Gurugram Updates and Articles