Our foremost agenda is to prepare industry ready management professionals, says Dr. Pawan Gupta, Director, JIMS Rohini
Management education in India is observing a negative graph as many B-schools are moving towards closure and the number of collective seats in all the management schools is reducing every year. There is a huge gap in demand and supply of management graduates with relevant competencies. Addressing all these major concerns, Dr. Pawan Gupta, Director, Jagan Institute of Management Studies (JIMS), says that we plan to build a robust model in association with industry where the skill requirement gap is bridged and JIMS is able to match industry expectations.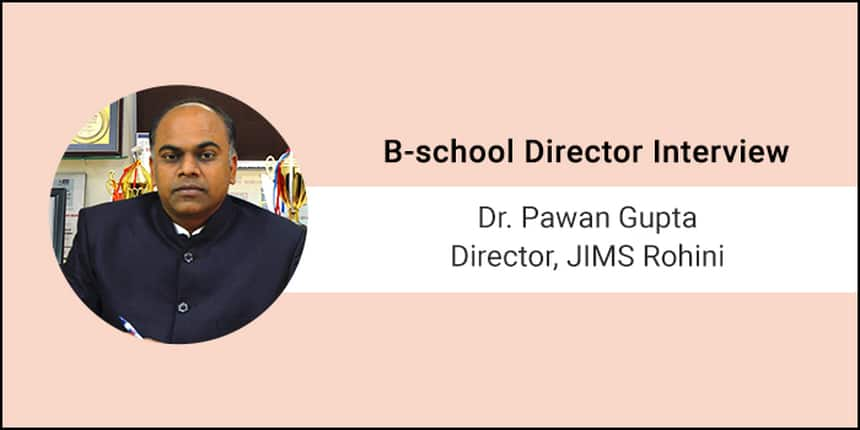 Dr. Gupta, who joined JIMS as the Director in December 2017, believes that we need to bring Indian values into our management education. Under his leadership, the institute is planning to start some courses on social sensitisation and issues pertaining to society. With more than 20 years of academic and professional experience in institutional building, teaching and training, he has worked with Indian Oil, Cairn India, UPCL, GAIL India etc. to develop and conduct Management Development Programmes (MDPs). In this interview with Careers360, he talks about the management education in the country and its challenges, and the initiatives taken by JIMS to face those challenges and more.
Excerpts from the interview:
Careers360: Which MBA entrance exam scores do you plan to accept for the admission year 2018? Please share the cutoff percentiles of the exams.
Dr. Gupta: We accept the scores of CAT, XAT, MAT, CMAT and ATMA for our admission process.
| | | | |
| --- | --- | --- | --- |
| Program | PGDM (Intake 180) | PGDM-IB (Intake 60) | PGDM-RM (Intake 60) |
| MAT | 560 Composite Score* | 450 Composite Score* | 450 Composite Score* |
| CAT | 75 Percentile* | 60 Percentile* | 60 Percentile* |
| CMAT | 70 Percentile* | 50 Percentile* | 50 Percentile* |
| XAT | 70 percentile* | 45 percentile* | 45 percentile* |
| ATMA | 60 percentile* | 45 percentile* | 45 percentile* |
Careers360: Please share the intake and fee structure of your flagship programme?
Dr. Gupta: Intake of our PGDM flagship programme is 180. The course fee is Rs. 6,75,000 and additional Rs. 5,000 as security amount.
Careers360: How has been the application trend over the past few years? Also, mention the total intake for the current academic year?
Dr. Gupta: It is heartening to note that in recent years, the number of admission aspirants has been growing at a rate of more than 10 percent per annum in all AICTE approved programmes. The total intake for PGDM is 180 and for sector-specific program i.e. PGDM –IB and PGDM –RM is 60 in each program. All the programmes are AICTE approved, NBA accredited and granted equivalence to MBA degree by AIU. Similarly, in case of IP University affiliated programmes, the preference of JIMS Rohini has been improving in the centralised counselling system of the university.
Careers360: In terms of curriculum and pedagogy, how do you plan to enrich your two-year management programme in the next one to two years?
Dr. Gupta: Curriculum revision and update is a regular feature and every change in the curriculum is an indication that industry requirements have been captured and converted into deliverables. The trends are indicative of newer skill requirements in terms of data analytics, artificial intelligence and entrepreneurship. Additionally, we plan to have some courses on social sensitisation and issues pertaining to society.
Careers360: Concepts like Digital Marketing, Data Analytics and Social Media Marketing have been increasingly gaining grounds over last four to five years. Have you introduced or planning to introduce special course/s in these areas?
Dr. Gupta: Our foremost agenda is to prepare industry ready management professionals and we regularly update our curriculum as per the market trends and industry requirements.
Digitisation has revolutionised the way businesses are managed and the skills required to manage digital platforms are different. Sensing the change, courses related to Digital Marketing, Data Analytics and Social Media Marketing have already found a spot in the curriculum. In addition to this, we also have domain specific courses such as Data Analytics with R, HR Analytics, and Marketing Analytics.
Careers360: How is the current industry-academia sync at your institute?
Dr. Gupta: As already mentioned, JIMS focusses on nurturing managers with relevant competencies be it in Marketing, Finance, IB, HR, Retail and many more. And for this, a close association and interaction with the industry is desired. We work closely with the industry right from involving them in designing and updating curriculum to classroom delivery. Industry professionals join hands with faculty in creating a powerful learning environment in and outside the classroom. There are few industry intensive courses which are delivered by experts from industry. Faculty also develops industry-specific cases and applies it in the classroom learning.  In order to impart hands-on experience to the students, live projects, industrial visits summer internship and industry –oriented projects are arranged where theory can meet practice. We also maintain a close association with JIMS Alumni for strengthening industry- academia ties.
Faculty at JIMS is also involved in providing consultancy support to the industry. Sometimes the corporates also invite faculty to conduct MDPs or training programs.
Careers360: How has been the placement at JIMS Rohini for 2018 batch?
Dr. Gupta: The placement season has been really good. A lot of first-time recruiters took part in the process. Here are the figures.
Number of participating students

233

Number of participating companies

130

Number of first time recruiters

38

Number of offers

375

Number of PPO/PPI

35

Average salary

Rs. 6.15 lakhs

Highest salary

Rs. 15.12 lakhs

Lowest salary

Rs. 4.5 lakhs

Highest recruiting sector

FMCG

Highest recruiting domain/profile/function

Management Trainee

Company making highest offer

Khimji Ramdas

Top recruiting companies

Deloitte, TCS, Nestle, KPMG, Colgate, Airtel, Blue Star, GIC Housing, NIIT Ltd., PWC

 
Careers360: How do you prepare your students for the placement process? Do you have any capsule/crash course for this before placement begins?
Dr. Gupta: Preparation for placement is an ongoing process which starts from the day student joins the programme and keeps continuing till s/he is placed. In case of specialised job offers and sector-specific requirements, special mentoring is done to a select set of students which increases the conversion rate. We organise various guest lectures from various industry experts. Business Stimulation exercises etc. are being done. Virtual live projects and virtual internships are part of the curriculum to provide students practical exposure. Special sessions on personality grooming and communications have been delivered to increase the conversion in interviews. Every student has been assessed from the day s/he joins a PGDM programme so that s/he can work on his areas and can upgrade his employment skills.
Careers360: Does your B-School has an incubation cell or entrepreneurship cell? Please share how it functions.
Dr. Gupta: Yes, our institute has both Entrepreneurship Cell as well as an Incubation Centre. The E-Cell by the name 'Tarkash' is a student-centric club in which activities and events are organised regularly to create awareness and motivate students towards entrepreneurship. Seminars, workshops and training sessions are held to provide relevant information related to business ideas development, start-ups, patents, funding, etc. Activities such as Business plan contests are organised in which students present with their creative ideas.
The Incubation Cell at JIMS, Rohini by the name Jagannath Incubation Centre (JIC) has recently started. Its purpose is to incubate a few start-ups within the campus every year.
JIC activities include:
To train, assist and mentor students to convert their ideas into business ventures

To provide initial seed capital to work on the business idea (subject to conditions)

To arrange and provide training by experts from various areas, including Venture capitalists, Incubators, Government officials, entrepreneurs, Legal experts, etc.

To help in the registration of company and launching of the product

To provide Infrastructure related support to the Start-up incubated
Careers360: How has the management education evolved over the last decade?
Dr. Gupta: In the last decade or so, the business environment has changed drastically and has witnessed a rapid growth of several disruptive technologies and management practices. With the rise of globalisation and international trade, students are now getting global exposure in terms of information and job opportunities. Hence, pedagogy is being upgraded according to the technologies and teaching methods prevailing in some of the best management institutions around the world. Besides, the management education is now focussed more on application aspects and experiential learning through field projects, internships, role plays, etc. compared to what it used to be earlier.
Last decade has witnessed a tremendous surge in the successful start-ups within the country, such as Flipkart, Snapdeal, Paytm and Ola. Many of these new start-up ventures were incubated within the college campuses. The management education over last one decade has evolved considerably and will continue to do so, because of dynamic business and socio-cultural environment.
Careers360: What are the key challenges that management education face today and how do you plan to cope with those challenges?
Dr. Pawan: The management institutions are facing a regular challenge to adapt their course contents according to the current industry requirements vis a vis developing skilled manpower.There is a huge gap in the demand and supply of management graduates with relevant competencies. We plan to build a robust model in association with industry where the skill requirement gap is bridged and JIMS is able to match industry expectations.
With the world becoming one, competition at Global level is inevitable and ever-increasing. We are entering into collaborations and tie-up with universities and institutions abroad to broaden the horizon of learning and expose the students to international experiences. Lastly, looking at the current economic scenario of the country as an emerging economy, we are expected to develop job creators through our incubation cells.
JIMS, Rohini Updates and Articles
Questions related to JIMS, Rohini
Showing 267 out of 267 Questions