JAGSOM, Bangalore: Interview with Dr. Atish Chattopadhyay, Director on Admissions, Placement, Cutoff
Jagdish Sheth School of Management formerly IFIM is one of the 14 institutes in the country accredited by AACSB. It is also one of the few business schools to have made it to the QS World rankings for its PGDM programmes. Careers360 spoke to Dr. Atish Chattopadhyay, Director, JAGSOM (IFIM) to know more about the institute, selection and admission process, cutoffs, placements and more. Read the interview with Dr. Atish Chattopadhyay to know all about IFIM.
Latest: Apply for PGDM and MBA Admissions - Click Here
Careers360: Describe the journey of IFIM since inception. What was the mission?
Dr. Atish Chattopadhyay: Jagdish Sheth School of Management formerly IFIM was founded in 1995 by V.B.Padode with a intention to integrate Indian management education with the international business and markets. In 2003, we shifted to our campus in Bangalore. We celebrated our silver jubilee in 2020.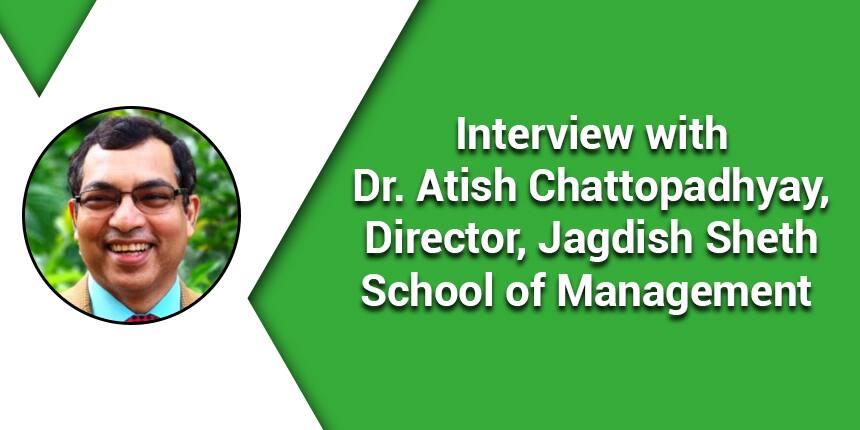 Careers360: Please tell us about the accreditation and rankings of IFIM.
Dr. Atish Chattopadhyay: Our masters programmes have been listed in the QS World Rankings 2020. The PGDM programmes in finance and marketing have made it to the world rankings. We are also one of the 14 institutes in the country to be accredited by AACSB. We were AACSB accredited in 2018 itself.
AACSB is the most respected accreditation. Only 14 institutes in India are AACSB accredited. The degree is internationally accepted and this facilitates credit transfer globally and accords global career opportunities.
In addition, we have the dual degree programmes in collaboration with ESC Rennes School of Business, France, SUNY Albany to name a few, These dual degree options are facilitated by this accreditation.

Watch the interview with Dr. Atish Chattopadhyay, Director, JAGSOM (IFIM)


Careers360: Can you give us details on the change of the institute's name?
Dr. Atish Chattopadhyay: We were earlier IFIM. Now the institute has been renamed asJagdish Sheth School of management. Our ambition is to become an internationally acclaimed business school from India. In this context, we felt that the institute needed to be mentored by a person who was an acclaimed global scholar from India. Jagdish Sheth is a Padma Bhushan recipient and is acclaimed globally. We honored him by naming the school after him. This is probably the first time an academician has beenhonouredlike this with a school named after him.

Careers360: Please elaborate on the programmes offered in IFIM and Vijaybhoomi University?
Dr. Atish Chattopadhyay: Indian education is getting liberalized. This is the right time to combine liberal education with professional education. This is what gave birth to Vijaybhoomi university located inKarjat near Mumbai. JAGSOM operates from both Bangalore and Karjat near Navi Mumbai. Its actually good as with Bangalore we have access to the startup capital Which is Bangalore while the Karjat campus has proximity to the business capital namely Mumbai.
In IFIM Bangalore, we offer 2-year PGDM programmes with specializations in Finance, Analytics, Marketing and there is a general management PGDM also.
In Vijaybhoomi, we offer MBA programmes that are unique. This MBA programme is a combination of liberal and professional education. So, students are exposed to music, arts, humanities etc., along with business administration. BBA is also offered here.
The unique part is that in the initial or, sophomore years, students will have the option to take subjects across streams like music, design, economics, law, humanities, data sciences and not just business. The idea is to have a broader vision than a narrow one. Both our MBA and BBA are in sync with what is proposed.

Careers360: Kindly give details on the IFIM placements? How were the placement and what is the profile of the companies that come for the same to the IFIM campus?
Dr. Atish Chattopadhyay: We achieved 100% placement in January 2021. The highest salary was 16 lakhs per annum while the average salary has been 10.21 LPA (lakhs per annum) andthis is 12% up when compared to the previous placement statistics. If we see the average package as per the specializations, it is 10.79 LPA. Companies that come to the campus are new age ones like Oracle,Arcesium, BNY Mellon, Dell, Grant Thornton, Hexaware Technologies, Numly, KPMG to name a few. Students placed have been offered new age roles ad this is encouraging.

Careers360: Can you elaborate on the journey of a student of IFIM from the date of joining till placements?
Dr. Atish Chattopadhyay: Our students can curate their curriculum. Our aim is to groom the students for these new age roles. So once students join in, we start with the foundation course which aims to bring all students at an even level. This is because they belong to diverse backgrounds. Then we introduce the specializations to them.
Students are exposed to the outbound leadership lab, psychometric tests, team work and then they are given their own development plan to help them chart their course further. Industry leaders at this point also mentor them on how to choose specializations etc.

Careers360: What are the super specializations? Please elaborate.
Dr. Atish Chattopadhyay: Post the first two terms, they can focus on their majors and minors. So, we have specializations called Majors like Marketing, Digital Business, Finance, Human Resource, Analytics. In term 3, students start understanding and researching the company sectors and underlining the kind of roles they desire and components they need to work on. We have also what we call as super specializations. Areas like fintech, sales and service, digital HR, block chain are some of these and students can take them up in addition to their regular specialization.

Careers360: When do the students take up internships? Please give details.
Dr. Atish Chattopadhyay: At the end of the third term, students go for internship. We have an industry internship programme (IIP) for 4.5 months. Research, working with a company and the IIP creates an engagement driven approach to creating career opportunities. That is the clear differentiation between IFIM and other business schools.

Careers360: Who would you consider to be a right fit? What are the IFIM admission criteria and cutoff?
Dr. Atish Chattopadhyay: The kind of person who believes in self and who also feels he/she can make a change in the society are the ones we are looking for. We are more focused on the individual than the scores or background. That's why our selection process is slightly different.
IFIM Admission process consists of an innovation potential test, a group exercise for team work and two rounds of interviews. Now we have a unique concept here. The first round of interview is the interview by the shoulder batch which means the senior students interview the aspirants and would be junior students. The second round is with a three-member panel – an IFIM faculty, an alumnus and one industry representative from our recruiting partners. The cutoff is 70 percentile for PGDM.

Careers360: How are the IFIM facilities? Please give details.
Dr. Atish Chattopadhyay: We have excellent residential facilities at Bangalore with two options single or double rooms. The campus has a gym, sporting facilities, playground etc. The Karjat campus has a swimming pool and the regular facilities. It also has a shooting range and facilitates mountaineering because of its location. We encourage learning from our surroundings and living with nature.

Careers360: what about the diversity ratios in terms of region, gender, background etc.?
Dr. Atish Chattopadhyay: We have about 10% local students and 90% from outside the state at the Bangalore campus. Women constitute 46% of our batch and that's a very good figure comparatively. This also means that all facilities have to be right especially the hostel facilities.

As I said earlier, we look at the person and not score. Ours is a selection process and not a rejection process. As for background, its evenly distributed. We have an eclectic mix of students in the batch. We have about 30% engineering graduates while the rest belong to commerce, arts, humanities. We even have fashion and BBA students. This makes the batch diverse.
IFIM BUSINESS SCHOOL Updates and Articles
Questions related to IFIM BUSINESS SCHOOL
Showing 153 out of 153 Questions