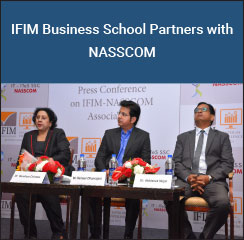 IFIM Business School has partnered with NASSCOM to become their first Licensed Training Partner (LTP) in Karnataka. The programme created through this partnership is designed to train faculty members in Big Data and Business Analytics. The B-School has developed a model, 'Train the Trainer', for three courses - Associate Analytics, Junior Data Analytics and Recruitment Associate. The programme is of Level 7 grade, which is equivalent to Post Graduate level proficiency and intends to skill 10,000 Post Graduate students across the state.

According to IFIM Business School Bangalore, educational institutions can sign up with the institute to avail this training provided by NASSCOM. The faculty members will be trained for a week, and will then go on to train students in their respective colleges. After completing 400 hours of training and the relevant exam processes, the candidates will be awarded certificates.
As per Analytics India Industry Study 2016, 'The Analytics Market in India currently stands at $1.64 Billion annually in terms of revenue, growing at a healthy rate of 28.8% CAGR. Though analytics has been largely considered a part of the broader KPO industry, it is now beginning to be considered as a separate industry of its own'.
Dr. Sandhya Chintala, Vice President and Executive director, NASSCOM, said, "The need of the hour is to holistically enhance the academic and non-academic skills not just in students, but the faculty who guide them as well. With the employment ecosystem changing globally, India has to keep pace with global education standards, where skilling plays a key role. This partnership will provide a platform for sustainable growth of both students and their faculty. The Government of India has been taking a lot of initiatives to train and skill India in various domains. We, along with IFIM Business School, are glad to support this initiative, which would further nurture students towards being job-ready professionals".
Sanjay Padode, Secretary CDE, IFIM Institutions said, "The Indian education ecosystem has been experiencing a continuous shift. In order to meet the industry demands, we have collaborated with NASSCOM to help skill our faculty and students. The Institute has a proven track record of excellence in offering courses on Business Analytics and Big Data. Associating with NASSCOM will help us create a sustainable industry-ready talent pipeline by scaling quality capacity, to enhance employability at all levels".
Earlier in April 2016, IFIM had also signed an MoU with NASSCOM to collaborate on the introduction of Outcome Based Trainings, Assessment and Certification on Quality Packs (QPs) and National Occupational Standards (NOS).
Stay tuned to www.bschool.careers360.com for more news and updates on IFIM Business School.
Get real-time alerts on exam & colleges at your fingertips with Careers360 App!
Click Here to Install or Give a missed call on 08080944727 to get app link.
Compare Colleges
College Comparison based on Courses, Placement, Rank, Fee
Compare Now
Questions related to IFIM B School