JAGSOM Bangalore Placements 2021: 100% Final Placement, Avg Salary up by 12% to 10.21 LPA
Jagdish Sheth School of Management (JAGSOM) has achieved 100 per cent for its 2019-21 PGDM batch. Owing to the COVID-19 pandemic, JAGSOM conducted its placement process virtually this year and witnessed an increase in the number of recruiters and job roles that were offered to the PGDM graduates. Oracle, KPMG, Grant Thornton, Dell, HDFC, BNY Mellon, E&Y, Hexaware that came for recruitment this year; JAGSOM has emerged as a preferred destination for the new-age companies, like Numly, OSG, Arcesium, NoPaperForm, Cuemath, Jaro, MetricStream, Scaler, SmartKnower many of whom are headquartered in the US.
Latest: Apply for PGDM and MBA Admissions - Click Here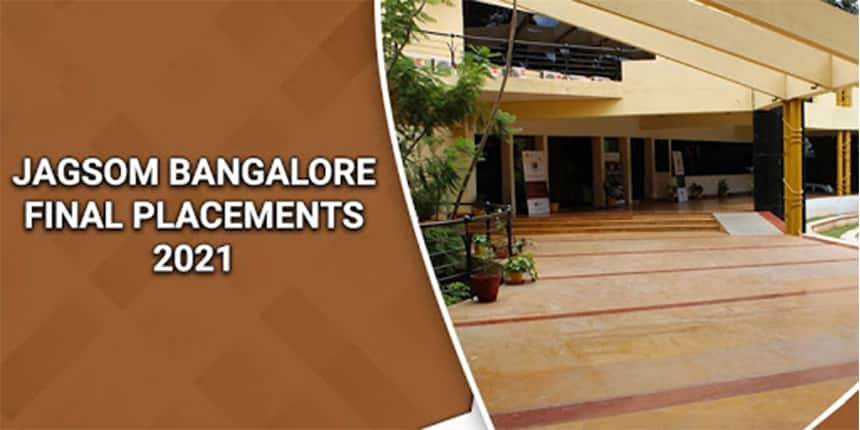 The highest package offered was Rs 1.6 million per annum, with an average salary of more than Rs 1 million per annum. Similarly, the average internship stipend has been Rs 33.50 thousand per month with the highest stipend being Rs 1,33,000 per month. The institute is engaging with an authorized agency to audit the placement report as per the IPRS (Indian Placement Reporting Standards).
Also read:
Top MBA Colleges in India
IIM Placements, Salary Package & Recruiting Companies
Dr Asit K Barma, who is a Professor-Marketing, and a Chairperson, Corporate Relations group said that: "This year's placement highlight is the significant interest shown by the new-age companies in our students. This goes to prove how JAGSOM has leveraged the locational dividend of being in the Silicon Valley of India... This year's placement success stands testimony to the relevance of our engagement-driven pedagogy and curriculum." Along with that, Barma added, "The messianic zeal and efforts of our faculty and leadership made this possible during this tough phase of the year,".
CA Priyanka Saraswat, who is the Head of Student Placement Committee conveyed, "Our super-specialization program sets us apart in the race today. I am a hardcore finance professional and never had any orientation to technology. I specialized in both Capital Market and Business Analytics in our super specialisation program. This helped me crack the interview with Arcesium, a sought-after new age Fintech company. Besides, the institute's personality enhancement program helped us to bring out our best."
JAGSOM Placements: Graduating Batch of 2021
In the table given below, the candidates can check details like the percentage of placements that were achieved in January 2021, the number of companies that participated in the recruitment process, the highest and average salary offered to the candidates and other relevant information.
Watch the interview with Dr. Atish Chattopadhyay, Director, JAGSOM (IFIM)

JAGSOM PGDM 2021 Placement Highlights
| | |
| --- | --- |
| Particulars | Details |
| Percentage of placement achieved in January 2021 | 100% |
| Average Salary | Rs. 10.21 LPA (up 12% over the previous year) |
| Highest Salary | Rs. 16.0 LPA |
| Companies participated in the recruitment drive | More than 70 |
Key Points:
The average salary in placement 2021 goes up to Rs.10.21 LPA.

The average salary for PGDM Marketing is Rs.10.79 LPA

The average salary for PGDM Business Analytics is Rs.11.79 LPA

The highest salary was Rs.16 LPA

Top Recruiters include Oracle, Dell, HDFC among others

Out of all the companies that visited the JAGSOM campus, 70 per cent were new organizations participating for the first time.

An increasing hiring trend was seen in Placement 2021 in IT, Management Consulting, and Edu Tech sectors

Many of the Corporates sought immediate onboarding of graduates
Companies Participated in the Recruitment Process
Following are the companies which participated in the recruitment process of JAGSOM for the academic year 2019-2021. The major recruiters are Dell, Oracle, HDFC, KPMG, and other such companies.
Oracle

Arcesium

BNY Mellon

Dell

Grant Thornton

HDFC

Hexaware Technologies

KPMG

Numly

ANZ
Check out:
Job Roles Offered to the Candidates
This year, the fresh graduates were offered varied job roles leading from customer success to supply chain management. Check out the list given below to know the job roles offered to the candidates from the companies participating in the recruitment drive.
Customer Success

Growth hacking

Digital Marketing/Social Media

Business Process Consultant

Business Analyst

Corporate Strategy

FinTech

Innovation

Product Specialist

HR Analytics

Program Management

Supply Chain Management
Super Specialization to Choose the Right Role
JAGSOM super specialisation program ensures that the students are fielded on the 'horse for the course' model and not follow a common process for all processes where several students compete for a broad range of roles without specifics, like Finance, Marketing, HR.
The students at JAGSOM applied to only the roles that match with their competency in areas like Martech, Sales and Services, Business Analytics, Digital Transformation, Fintech, Capital market, Banking and HR Analytics.
Virtual Placement Process
JAGSOM commenced its campus recruitment from September 2020 in virtual mode and the recruiters also preferred it that way, while the entire support team, staff in the placement office and members of the faculty, and members of the student placement committee attended office in person.
JAGSOM has been extensively using its own learning architecture for many years for hybrid course delivery, which includes the contemporary LMS; collaborative platforms like Impartus, MS Teams, Zoom, Google Meet; and test conducting platform like Mettl.
Jagdish Sheth School of Management (formerly IFIM Business School) is amongst the first 6 Business Schools in India to have been awarded the AACSB accreditation. Recently, IFIM Business School, now Jagdish Sheth School of Management (JAGSOM), has been ranked by QS Masters in Marketing Ranking 2021 amongst the Top 100 such programs (in 51-100 band) in the World for its PGDM Marketing program. It has also been ranked in the 101-150 Band Globally in the QS Masters in Finance Rankings for its PGDM Finance Program.
There are various management programmes offered at JAGSOM including a two-year residential postgraduate diploma in Management (PGDM) with international super-specializations in Martech, Fintech, Big Data Analytics, Digital Transformation & HR; PGDM (Marketing) and PGDM (Finance), the globally ranked specialised masters programme, also called SpecX.
JAGSOM conducts several centres of excellence such as AIM-Parasuraman Centre of Service Excellence. JAGSOM has a set of international academic partners which include leading institutes such as ESCP-London, Darden School of Business (University of Virginia) and McCombs Business School (the University of Texas at Austin).
Quick Links:
Know all about MBA
B.B.A Colleges in India
IIM Placements 2021: Highest Salary Package & Top Recruiting Companies
MBA Entrance Exams 2021-22 in India: Top 13 MBA Entrance Exams you must take
IFIM BUSINESS SCHOOL Updates and Articles
Questions related to IFIM BUSINESS SCHOOL
Showing 153 out of 153 Questions