Careers360 Live Chat: Q&A with Ms. Surekha Shetty, Director- Student Service IFIM, Bangalore


Ms. Surekha Shetty, Director- Student Services from IFIM Bangalore takes queries from prospective MBA students on different aspects of admissions and management course of IFIM. Careers360 brings here all the Q&A from the live chat with the IFIM, Bangalore official.
Excerpts from the Careers360 Live Chat.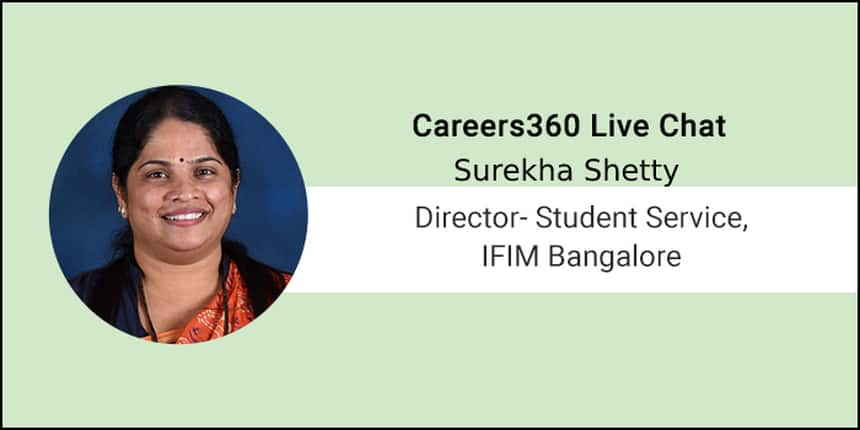 Raman: Can you please give me one good reason why I should join IFIM?
Surekha Shetty: Surely. I can give you more than one-
1) Truly International - IFIM Business School has tie-ups with leading B-Schools and Universities across the globe in countries like USA, Australia, France, Germany, UK, Singapore, etc. for student exchanges and immersions, exposing our students to best practices across the world.
2) Flexible Curriculum Allows Personalization - IFIM is the only institution with a completely flexible PGDM program that empowers the students to create their own learning paths to fit their career aspirations. Patterned on leading international B-schools, the program has been well appreciated by the corporates.
3) Professional Tie-ups - IFIM has tie-ups with professional organizations like CFA Institute of USA, NASSCOM, NSE, Toast Masters International, NEN, LEDMAC, National HRD Network, EDII, etc. allowing our students to regularly interact with corporate companies and get exposed to cutting-edge topics that impact business environment.
Raman: What about Industry ties and research facilities?
Surekha Shetty:  1) Extensive Industry Internship Program (IIP) - IFIM has a unique corporate internship program (with double the standard summer internship) enabling a laboratory experience for the students to learn by doing, in a real corporate work environment. In fact, several corporates have sponsored labs in the campus to train students from day one, including IBM Business Analytics lab, Prabhudas Lilladher Finance lab and Bloomberg Trading Terminals, etc.
2) Dual Mentorship Program - IFIM Business School provides an enriching corporate and faculty mentorship programme for all students to enable them to choose their career path and motivate them to achieve 200% of what they think they are capable of.
3) International Research Publication by Students - IFIM takes pride in being the first Business School where each student is expected to author original research publication based on the research projects that they conduct, to be published in top international journals.
Akash: What is the CAT, XAT or GMAT percentile required to get admission in IFIM business school? Is there any other requirement to fulfill?
Surekha Shetty: You are supposed to score a minimum of 70 percentile and above in CAT, XAT or GMAT. Also need to have a consistent record of 60 percent in 10, 12, Graduation level. However, we do consider lesser score for students with good academic credentials.
Vikas: When do you start the application process?
Surekha Shetty: It has already started from September 4, 2017. It is advisable to apply early.
Rajesh: Hi, I had appeared for MAT 2017 examination held in September 2017 and my composite score is 575.5. Am I eligible to apply in IFIM business school?
Surekha Shetty: Yes you can definitely apply.
Yogesh Kanojia: I am a hotel management student. Can I pursue MBA at IFIM? If yes, what would I take up as specialisation? Any prior experience required for taking admission in MBA? What kind of work experience do you require?
Surekha Shetty: Yes, You can definitely apply. PGDM/ MBA with majors or minors in Marketing, Finance, Human Resources, Entrepreneurship, Business Analytics, Banking & Financial Services and Capital Markets. Yes, Yogesh. work experience is always preferred over freshers. Full-time or part-time employment, family business, or entrepreneurs.
Yogesh Kanojia: Is it mandatory to apply through NMAT by GMAC for applying into MBA courses in all the respective colleges?
Surekha Shetty: This is with respect to IFIM Business School only. However, you can also apply with your valid CAT, XAT or GMAT score.
Brijesh: What is PGCP in global financial markets by NSE?
Surekha Shetty: PGCP is a certificate program along with NSE which provides exposure for both   Singapore and India financial markets.
Astha: Can you explain me the registration process of MBA programme in IFIM?
Surekha Shetty: You need to first fill the online application form. Then you will need to go through eligibility check. Post which, you can attend the admission selection process which includes English Aptitude Test (Essay Writing) and Personal Interview. In PI you will be judged separately for Technical Knowledge, English Speaking and Soft Skills.
Chrislyn Benitta: Does IFIM B-school provide the specialization in Business Analytics? Will IFIM accept MAT exam score?
Surekha Shetty: Yes, we do. In fact, IFIM Business School was awarded and recognised by IBM for being one of the top pioneering institutes for Business Analytics. Yes, but you need to at least have appeared in CAT, XAT or GMAT examinations
Chrislyn Benitta: I am preparing for CAT exam. Should I take up Business Analytics? Other than B-schools...Can you suggest some other names of colleges in South India?
Surekha Shetty: Yes, it is one of the top majors to go for. In South India, you can try for IFIM, TAPMI, Christ. They are good for management.
Varun: I have 94% in X, 89% in class XII and currently 69% in graduation (up to the 2nd year). I am expecting 90+ percentile in CAT as well.
Surekha Shetty: Yes, you can definitely apply. In fact, you can even apply for upto 100 percent Scholarship. IFIM offers three types of scholarships - All are upto 100 percent. For information related to scholarship, please go through the given link.
https://www.ifimbschool.com/full-time-programs.html#scholarships
Mohit: Which are the best specialisation in IFIM?
Surekha Shetty: We have majors in Marketing, Finance, Human Resources, Entrepreneurship,  Business Analytics, Banking & Financial Services and Capital Markets.
 Mohit: My interest lies in Marketing and HR so which specialisation should I opt for? What about the placement ratio in Marketing and HR domain?
Surekha Shetty: You can take Major in Marketing with Minor in HR. Be rest assured as the placement ratio is 100 percent. Rs. 7.5 LPA (Lakh per annum) is the average CTC while Rs. 15 LPA is the highest CTC offered to candidates.
Ramnit: Hi, I have completed B. Sc in Computer Science. Am I eligible to join IFIM to pursue MBA? If yes, what would be the criteria?
Surekha Shetty: Yes. You can definitely join if you are interested in taking up management as your career option and meet the eligibility criteria.
Rohit: Which B-school, according to you would be a better choice? IIM Kozhikode or IFIM? In what aspects do you think so?
Surekha Shetty: IFIM Business School Bangalore. Besides being ranked as one of the top Business Schools in India, it is No 26 in India and Top 3 in Bangalore. Moreover, it has a distinct advantage of being a pioneering premier management institute housed in the hub of the IT industry "in Electronics City", Bangalore. Our association with the industry is therefore, strong, varied and deep-rooted. PGDM is our flagship program, two years fully residential, and we leave no stone unturned to make it rigorous, industry-oriented and knowledge-driven. The curriculum is constantly updated with the help of renowned in-house academicians and top-notch industry experts. We have a strong connect with our alumni, as an institution that is more than 23 years old and most of our graduated students are in high positions in the corporate world.
Students at IFIM Business School are regularly exposed to corporate mentoring, industry visits, weekly industry guest lectures and industry-academia events like Ascent Transformation Series in association with Times Ascent. Furthermore, activities like Industry Internship Programme and case-studies ensure that the students are developed with a holistic aptitude with the knowledge and understanding of the industry. With an industry connect which brings together classroom learning and practical experience, the management graduates receive excellent placement offers from the best companies.
Rohit: IIM Kozhikode also gives the exposure to industry and students are offered much higher package than your institute.
Surekha Shetty: IFIM Business School has been awarded for Industry - Academia Interface by ASSOCHAM. Moreover, for Fees of Rs. 11,00,000/- and an average package of 7,50,000/- the ROI and experience of living in the heart of Electronics City Bangalore is incomparable.
Shanky: Do IFIM provide hostel facilitates to students? Are hostel rooms single occupancy or on sharing basis? Are they gender specific?
Surekha Shetty: Yes. There are various options – Dual Sharing and we have separate hostel for boys and girls.
Shanky: What are the charges for hostel and food? Do we have an option for Non-Vegetarian food?
Surekha Shetty: It is Rs 1,20,000/- per year all inclusive. Regarding non-veg food, fish, chicken and Egg is offered once in a week.
Rakhi: Do you have international placements as well? If yes, for which countries?
Surekha Shetty: Yes, we do facilitate International placements in Europe and UAE.
Sapna: I am interested to pursue MBA in Finance. Do you offer Correspondence programme for the same? If yes, then what is the procedure? Do you provide placement also for this programme as well?
Surekha Shetty: Yes. We offer Executive Education but you need to attend weekend classes. You can avail the online option as well. We provide Placement Assistance.
Himanshu: My interest is more in Finance. I have two years of work experience in BPO sector. Which course should I join in IFIM?
Surekha Shetty: You can opt for PGDM as PGDM Core Finance is our flagship program. If you are interested in finance specifically you can go for PGDM - WP with major in Finance and minor in any subject of your choice.
Shankar: Please tell me the names of the top finance companies that come for campus placement at IFIM?
Surekha Shetty: The top companies that visit for Finance profiles are Amazon, SBI, Axis Bank, Yes Bank, Deloitte, Thomson Reuters.
Kamlesh: Can you share the placement statistics of IFIM in recent years? Which specialisations have given the maximum placement in respect of numbers?
Surekha Shetty: The placements for 2018 batch have already started. In IFIM we have Bespoke Management Programmes, which means you get majors and minors instead of specialisations. So you can custom create your curriculum as per your desired career path. Since the Placement Record is 100 per cent all the majors get equal opportunities.
Suresh: How many campuses do you have in IFIM?
Surekha Shetty: Only one. It is a highly specialised academic programme with a strong focus on learning and career goals.
Animesh: When do you collect the programme fee?
Surekha Shetty: We do not collect money during the Admission Process. Also, IFIM is a cashless campus for the past four years. The programme fee is paid only after Admission Offer letter is given and after the student joins the programme
Vimal: Do you provide direct admission?
Surekha Shetty: We do not have management seats, all admissions are completely merit-based. Admission is now open for the PGDM batch of 2018-20 through the Admission Selection Process.
IFIM B School Updates and Articles
Questions related to IFIM B School
Showing 150 out of 150 Questions