IFMR GSB Alumni, Arun Ramnath says, " Follow your heart and do what you love"
IFMR GSB Alumni Interview- Arun Ramnath, who is currently the Chief Business Officer at CARE Risk Solutions Pvt. Ltd. is an alumnus of IFMR Graduate School of Business, Krea University. In an exclusive interview with Careers360, he shares his career path and the role that IFMR GSB institute played in his professional life. He says his learnings at IFMR GSB played an instrumental role in setting a strong foundation, based on which he managed to build his corporate career. According to him PGDM aspirants must not be driven by the placement offer. Instead what they should look for is what is the wealth of knowledge they can get from joining a particular company. Let us read in detail what Arun Ramnath has to say on his B-school learnings and future management aspirants.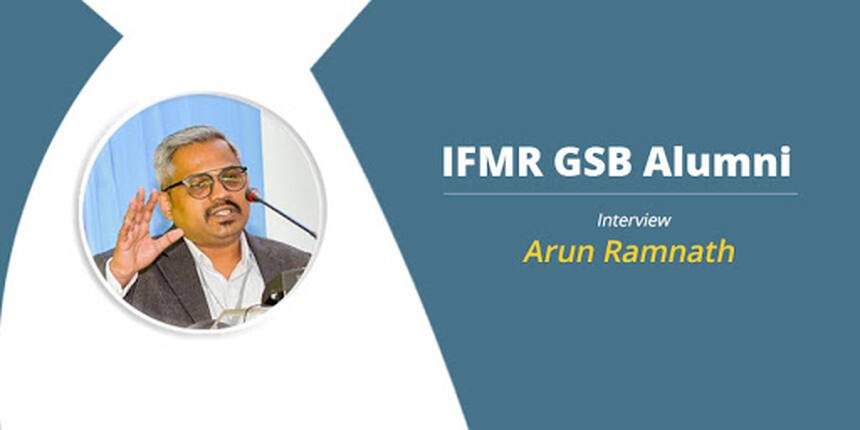 Careers360: Tell us about your domain and your work profile. At the professional level, did you pursue the same field you were interested in or did you switch fields?
Arun Ramnath: My corporate sojourn began in the banking technology domain. Two decades later, I am glad to report that I continue to explore various avenues within the same domain.
Careers360: Could you briefly share your career path thus far?
Arun Ramnath: I began my career as a Business Analyst in the banking technology domain and was presented with one of the most prestigious projects in the banking technology space - the SBI core banking project. I am grateful for this great opportunity because I got to interact with some of the most seasoned bankers in the country. The experience was so enriching that it equipped me with a broad understanding of the overall banking domain.
I recognised that I had a flair for making presentations and learning a lot from people, therefore I thought that a move to banking technology sales would be apt for me. It was challenging as I had to attend a number of job fairs for the same. However, a serendipitous meeting with someone who also happened to share the same first name as me changed things significantly. I owe it to Mr Arun Changrani for giving me the opportunity; if it weren't for him, my career path wouldn't have felt the same. I worked at Aplab Ltd. focusing on hardware sales such as selling ATMs, Scanners et al, whilst representing Aplab for the Cheque Truncation System (CTS) pilot being conducted by the RBI in the Delhi-NCR region.
Within a year of working with Aplab, I got an opportunity from a competitor company to handle the West zone and I seized the opportunity! It was like a dream run, escalating to the position of zonal manager and also having the privilege of working on the prestigious Cheque Truncation project.
As luck would have, I managed to expand my base with added responsibilities and promotions. I kept myself updated with several short courses, constantly keeping track of what's new in the industry. I took up a keen interest in risk management, too.
This dream run continued even after I got an opportunity to work in the risk management domain which was beginning to take shape with the regulations like BASEL-I compliance. This was my first international opportunity and I was responsible for handling the pre-sales for the credit risk and operational risk domain for the entire APAC region, with a base in Singapore. I was falling in love with the domain and also with the country, but this had an abrupt ending. With the Lehman Brothers crash, countries around the world went into recession. My wife struggled to find a job in Singapore and we had just had a baby. We were both faced with a situation where neither of us wanted to spend time apart nor did we want to compromise our careers. We took the conscious decision of moving back to India, where we both had access to great opportunities but the memories of our Singapore life still lingered.
Back in India, I explored more avenues such as Lending, Cash Management, Anti-money Laundering, in addition to risk analytics. The roles were fluid, which led me to accept a country manager position in Sri Lanka.
Next, I joined OFSS in the Sales Consulting role for the Analytical Applications (AA) suite of products and was bestowed with additional responsibilities, working on the Financial Crime and Compliance Management (FCCM) products. Working with leaders from various geographies was such an enriching experience and added so much value to me and my career. This was truly one of the most enjoyable three-four years with lots of fun and learning.
After a good run at OFSS, I ventured into Analytical Applications (Risk management) in another organisation. I was heading the Global Sales and Pre-sales function for the organisation, which was attempting to compete with industry giants like Oracle and SAS. This was the organisation where I was travelling extensively and attempting to put up a respectable fight to the competition which was large and intimidating. There were struggles and challenges but that's what made it more exciting! I am proud to look back at my many achievements and milestones during my stint there, opening up new geographies for the company and catching the attention of our competitors as well. The consistent performance helped me grow and eventually rise to the role of Chief Business Officer (CBO) of the company.
All in all, while I share snippets of my professional life, I can confidently say that I worked with some of the best teammates, gained some of the best experiences, and contributed significantly to some of the finest organisations in the corporate world.
Careers360: Is the Industry work different from what you learnt at IFMR Graduate School of Business?
Arun Ramnath: Yes, undoubtedly the industry work is quite different from what is learnt in college. However, my learnings at IFMR GSB played an instrumental role in setting a strong foundation, based on which I managed to build my corporate career. Subjects such as finance and statistics are playing a massive role in my day-to-day job even now. Above that, I am truly grateful to the great faculty who taught us subjects and prepared us for the real world. I truly owe my career to these wonderful professors at IFMR GSB.
Careers360: How do you think your time in college has added value to your life, both professional and personal?
Arun Ramnath: Irrespective of where you pursue your management higher education, studying at B-school is bound to shape your career and forge memories and friendships for a lifetime. Staying together at the campus and studying, doing assignments, celebrating festivals, planning special events, being part of committees and working towards self-development -- all these activities made a significant impact in my student life and work life, shaping my individuality for the better. Those campus days may never come back, but I'm glad to have made the most out of whatever little time I spent there.
My association with them continues as I have been an active member of the finance committee. I was also running an initiative of teaching commerce-related subjects to non-commerce batchmates; it was my way of fulfilling my passion for teaching and I loved every bit of it!
Careers360: What was your initial thought process when you joined IFMR GSB?
Arun Ramnath: A relative of mine working in the banking domain told me about IFMR GSB in the early 2000s. A college batchmate, who was in the MBA cohort before mine, gave me an overview of the college too, whose inputs played a significant role in me choosing IFMR GSB. Such was my conviction that the only institute form I had filled and submitted, apart from CAT, was IFMR GSB's!
The intake processes at IFMR GSB in those days were rigorous and gruelling. I still recall my interview with the then-Dean and a few faculty members, asking me questions after questions. Naturally, I fumbled a bit but my takeaway experience was great. Even after the interview, I interacted with a few seniors and professors about feedback, the institute, curriculum, etc. The more I spoke to them, the more convinced I became that I was on the right path. Almost two decades later and I am glad that I made the best decision for my career and myself.
Careers360: You must have spent a memorable time at your college. Do you miss being a part of it? Share a few good memories.
Arun Ramnath: Once you leave an institute, you walk away with a lot of memories. My experience was fun, fulfilling and loaded with great lessons. I was glad to have made great friends there, found friendships that would last lifelong, and lived through an enriching experience with all of them by my side. Together, like a family, we lived through the many ups and downs during our MBA life. If given an opportunity, I would love to connect with all my batchmates and reminisce those days with them!
Careers360: How did you update yourself with the industrial requirements? What was IFMR GSB's role in it?
Arun Ramnath: I believe that one must constantly learn to stay relevant at all times. With the way analytics (AI/ML) has been trending in all domains, I decided to take up a comprehensive, blended one-year course in business analytics. It is always great to get back to a structured form of learning. This has helped give me my best whilst staying updated at my current job. The basis of any business analytics course is statistics. Given that my foundations are very strong owing to my learning's from IFMR GSB, I was able to perform well in this short course and finish among the top performers of the batch.
Careers360: You are a proud alumnus of this top college. What is the best part of IFMR GSB institute from a student's perspective?
Arun Ramnath: The best part of IFMR GSB is the quality of education. As a student, you don't realise how it significantly impacts your performance until you join the workforce. Especially since the curriculum places an emphasis on real-world learning, you enter the workforce already prepared and ready to apply your B-School learnings.
Careers360: What is your suggestion/guidance for the future aspirants?
Arun Ramnath: My suggestion would always be to focus on learning and strengthening the basics so that you can build on them when you enter your corporate career. I would also suggest that you should follow your heart and do what you love. Don't be driven by the "monetary tag" of any placement offer; always aim for the wealth of knowledge you'd gain from whichever company you choose. If you do what you love and excel at it, the money, the compensation will automatically follow.
IFMR GSB Sri City Updates and Articles
Questions related to IFMR GSB Sri City
Showing 23 out of 23 Questions