IFMR Graduate School of Business Campus Life - Interview with MBA student Manali Padale
Going to a B-school is not less than achieving a milestone in life, which you join to realize your career goals and develop core management skills needed to become a business leader. A campus of the B-school plays a vital role in providing an ideal environment for career development and personal well-being. IFMR Graduate School of Business (IFMR GSB) is committed to giving its students a unique MBA experience and a personalized environment on campus with their peers and professors. To know all about the campus life at IFMR GSB, Careers360 spoke to Manali Padale, a second-year MBA student in IFMR GSB about her experience at the said institution.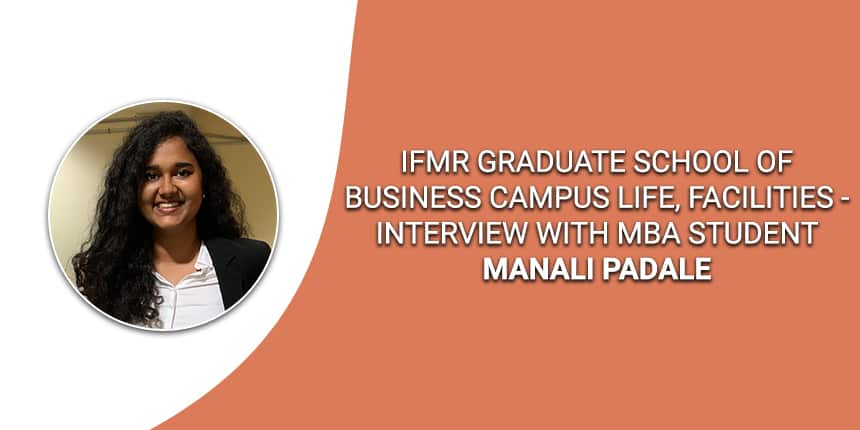 Careers360: Tell us something about yourself.
Manali Padale: I am from Mumbai and here I am a second year student of MBA in Marketing.
Careers360: Did you face any difficulty in the initial months when you joined the institute?
Manali Padale: No, the on-boarding process was very smooth.
Careers360: What activities are offered in the institute? Are there any clubs etc. for the various extracurricular activities? Which ones have you taken up and are a part of?
Manali Padale: Our institute has 23 different clubs and committees for various extracurricular activities. Each student can be a part of both, a club and committee or just either.
I am the student head of the Admissions Committee and a part of the Speakers Club as well.
Careers360: Describe a typical day at your institute.
Manali Padale: A typical day at my institute starts at 9 am since the first lecture is at 9:30 am. Between lectures, we get a break of half an hour when I grab a coffee and biscuits at the coffee shop situated in the Academic building. After attending another lecture, we walk over to the mess for a lunch break that lasts for an hour. Thereafter, I head back to the academic building for the next set of lectures and as soon as I am done with classes, I head over to the tapri outside the college to eat some Maggi and drink lemon juice. I then head back to my room to squeeze in some sleep until dinner time.
After dinner, I come back to my room and study or work on assignments. At 11 pm, I head to the student lounge to play table tennis/snooker with my friends and later, hang out with them until curfew time, which is 1 am. For an hour after getting back to my room, my roommate and I discuss the day and maybe some assignments and I go to sleep at 4 am, until when I'm mostly studying.
Careers360: Tell us about the faculty-student ratio here and about the teacher-student relationship in your understanding.
Manali Padale: The teacher-student relation is 12:1, which is quite conducive. All our professors are very helpful and supportive in terms of clearing queries. They always try to make a session interactive and insightful to make us rethink the business world.
Our college has also invested in a mentor program, which helps smaller groups of students share their problems and doubts with an assigned mentor throughout the academic session.
Careers360: What all facilities do you have on campus? What do you like here the most which you feel is unique and differentiating?
Manali Padale: Our campus has a football turf, a football ground, cricket nets, basketball court, indoor badminton court, volleyball court, cricket ground, snack vending machine, salon, medical centre, student lounge with indoor games like table tennis, foosball, snooker; fitness studio, ATM, convenience store and a laundromat.
I think the fact that our campus has 40-acres of land which is used by all the facilities mentioned above makes it unique.
Careers360: How comfortable are your hostels and how about the cleanliness factor over there?
Manali Padale: The hostel rooms are air-conditioned, spacious, twin-sharing with an attached bathroom. Each floor has water dispensers, a common air-conditioned room with a refrigerator, microwave and TV. Cleanliness is thoroughly maintained by housekeeping on a regular basis.
Careers360: What about the medical facilities? Can you avail requisite medical attention if needed in an emergency?
Manali Padale: Our campus has a medical centre with 24x7 nurses on duty allied with an ambulance.
Careers360: How do you balance your studies, projects, exams and other activities?
Manali Padale: I think the trick lies in time management. You are always busy while on campus but it depends on what your priorities are and how to allot time for these priorities.
Careers360: Tell us about the clubs and societies at the campus and how significant are they from your point of view or students' point of view?
Manali Padale: Given that there are 23 clubs and committees in our institute, they are extremely significant as they help you grow as an individual and teach you how to lead a team, work in a team, multitask, and also gives a lot of exposure.
Careers360: Is there any in-house magazine or journal for the latest events or happenings at the institute?
Manali Padale: Our institute has our very own in-house magazine called Krea Communiqué for the latest events and happenings at the institute.
Careers360: What are the popular hangouts at the institute? What, according to you, are the most-visited places nearby?
Manali Padale: Given that we have a huge campus, there aren't any popular hangout places at the institute but the Student Lounge is always filled with people either eating from the cafe, working on an assignment or just playing any indoor sport.
Careers360: How do you spend your leisure time at the campus?
Manali Padale: I prefer to play table tennis, badminton and walk around the campus with my fellow mates for leisure time while at the campus.
Careers360: Do you have any Facebook page of your campus where the students express their views, jokes or ideas, or maybe even a blog where they write about their experience of life on campus?
Manali Padale: We have an Instagram page where students share their thoughts, jokes and ideas about the campus via memes.
Careers360: What type of companies come for campus recruitment and what percentage of students get placed every year? How is the recruitment process here?
Manali Padale: We have companies of all domains visiting our campus each year for the summer internship and final placement. Finance related profiles receive major participation. Some of the key recruiters include Deloitte, HSBC, Accenture, KPMG and more.
The recruitment process is quite smooth from the very first briefing till the final placement. A better picture of the percentage of students who get placed every year gets updated every year on our college's official website.
IFMR GSB Sri City Updates and Articles
Questions related to IFMR GSB Sri City
Showing 23 out of 23 Questions