IFMR Graduate School of Business - Interview with Prof. Shobha Das, Dean on Admission, Cutoff, Placement
IFMR Graduate School of Business formerly known as Institute for Financial Management and Research is a well-known business school ranked 53rd in NIRF 2020 Rankings for Management. IFMR started as a Research institute and offers MBA programmes in 7 areas which are Data Science, Economics, Finance, Human Resources, Marketing, Operations and Strategy. Careers360 interacted with Professor Shobha Das, Dean, IFMR to get detailed insights about the institute, its mission, admission process and placements. Aspirants can read the interview to know more details about IFMR.
Latest - MBA Admission Open Now, Click Here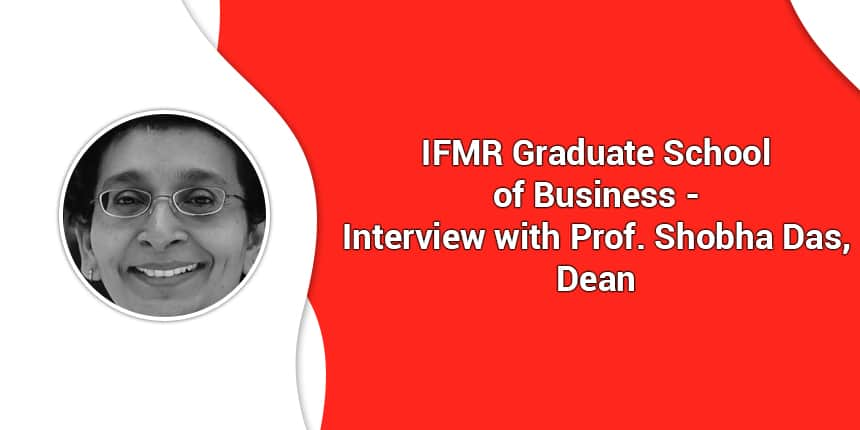 Careers360: Please brief us about IFMR Graduate School of Business.
Prof. Shobha Das: IFMR, Institute of Financial Management and Research is a 50 year old institution. We have transformed along the way. We started as a research institute; then we started a full time residential MBA programme. We began with 60 and now we have expanded to 180 students.
Careers360: What are theprogrammes and specialisations offered by IFMR Graduate School of Business?
Prof. Shobha Das: The first year,we focus on developing core and skills of the students so that they are well grounded. Four interdisciplinary courses are taught by the faculty from different areas of specialisations. These are communication, ethics, design thinking and Capstone business simulation. We bring industry experts to help and enable students to think like managers. In the second-year, students have to choose their electives. We offer 7 areas of specialization namely Data Science, Economics, Finance, Human Resources, Marketing, Operations and Strategy.
Watch the entire interview with Prof. Shobha Das, Dean, IFMR Graduate School of Business
Careers360: Please share some details about rankings and accreditations.
Prof. Shobha Das: We areSouth Asian Quality Assurance System (SAQS) accredited. For the first time we are below 50 in NIRF rankings and this is a concern for us. We are trying to bring recognition and this has affected the rankings.
Careers360: What are the cutoffs for IFMR admissions?
Prof. Shobha Das: Attention is given to the academic background and 60 percent is the minimum eligibility for class 10, 12 and graduation. We accept 6 standardised test scores including CAT, XAT. We have included NMAT this year. We also accept GRE and GMAT scores. We also look at the state of purpose (SOP)written by students as well as the extracurricular activities.
Careers360: Please throw some light on diversity in terms of region, gender and stream.
Prof. Shobha Das: We have all types of students; from engineers to art students – we have them all though the number of engineers has gone down. In terms of gender we have 60 percent male and 40 percent female candidates. If work experience is considered, about 30 percent students are experienced while 70 percent are freshers. Our geographic diversity is amazing. We have representatives from all the India. We have people from all regions.
Careers360s: Is hostel facility available for the students?
Prof. Shobha Das: Yes, our hostel has the capacity to accommodate around 650 students. Students stay in 2-seater AC rooms with attached bathrooms. We have cafeterias, good sports facilities - both indoor and outdoor. Our 40-acre green campus is equipped with all the necessary facilities including 24 * 7 medical facilities.
Careers360: Are there any scholarships available?
Prof. Shobha Das: Apart from the merit scholarships in the first year, we have three 100% scholarships this year. We encourage students to apply early for these.
Careers360: How are the placements at IFMR Graduate School of Business?
Prof. Shobha Das: We have 100 percent placements. This year, 10 students of 185 opted out and we have placed all the other students. The average CTC was 9.37 lakhs, median was 9.5 lakhs and the highest was something around 13 lakhs.
Careers360: What kind of students should choose IFMR Graduate School of Business?
Prof. Shobha Das: 3 things mainly - a sharp mind as our faculty really engages with the students; students with an active lifestyle and kind hearts.
IFMR Updates and Articles
Questions related to IFMR
Showing 23 out of 23 Questions