Case study based pedagogy and industry experience of faculty and peers are main takeaways of the programme: Di
Divya S, a Design Engineer working for the EPCM industry for 4 years decided to pursue Executive MBA to acquire the business skills to move further in career ladder. She chose the 1 year PGPM at Great Lakes Chennai over Executive MBA programmes in USA or Europe.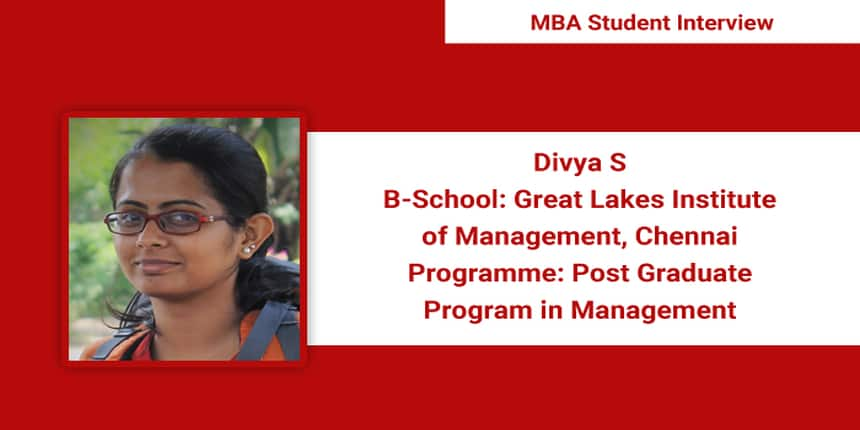 According to Divya, the best thing about the programme is the case study driven approach and the industrial experience of the faculty members. In this interview with Careers360, Divya S, PGPM 2017 student at Great Lakes Institute of Management, Chennai shares her experience of pursuing the programme and career aspirations post completion.
You May Also Like:
Read the full interview below:
Careers360: Why did you decide to pursue the 1 year PGPM programme at Great Lakes Institute of Management?
Divya S: After almost 4 years of full time work experience, spending 2 years in a classroom did not allure me. While many good universities offer a part-time MBA, I believe that will be no substitute to a full-time experience. An executive MBA combines the best of the both. It lets you draw from and build on to the lessons you learnt from the corporate, reduces the opportunity cost of being away from the corporate for 2 years and gives you just the right amount of time to acquire skills and knowledge to manage a business entity.
Careers360: Tell us about your previous role and work experience.
Divya S: In my erstwhile organization I was a design engineer associated with a multinational organization in the EPCm industry. We built plants to help its clients extract and process crude oil.
See Also:
Careers360: Which B-schools did you apply for and why did you select Great Lakes Institute of Management?
Divya S: I was looking for executive management programmes. B-schools in the US have 2 year management programmes. European universities do have 1 year programmes. However, I believe that there is tremendous growth opportunity in the emerging market economies. I had applied to Indian School of Business and Great Lakes Institute of Management since these two are well-structured and respected executive management programmes in India.
Students also Liked:

Careers360: What was the application and final selection procedure at your B-School?
Divya S: The selection to Great Lakes Institute of Management is twofold. The first step is an online application. Shortlisted applicants are called for an interview. Candidates, who make the cut in the interview, get admission into Great Lakes Institute of Management.


Careers360: How have you financed the course at Great Lakes Institute of Management?
Divya S: Financing for good management programmes inside India should be of least concern. Loans at competitive rates with and without collaterals are easily available from various banks and financial services.
Read Also:

Careers360: How do you spend a typical day at the campus?
Divya S: My typical day in Great Lakes begins with a jog around the campus or on the treadmill in the gym, runs through lectures, assignments, pre-reads, committee/club activities and ends with interesting maggi/coffee-table conversations over group assignments, when the night is still young.
Careers360: How difficult was it to adjust to the student life after so many years? How did you manage?
Divya S: Newton's laws apply to human minds as much as they apply to objects in motion. Initially there will be some inertia to switch back to academic mode. Great Lakes helped by conducting basic workshops and providing access to e-Learning courses for subjects one is not familiar with in the first fortnight. For instance, this year, in the first fortnight, we had access to Harvard Business Publishing for Accounting.
Read Also:

Careers360: What are the non-academic activities you are involved in?
Divya S: I am a part of the Branding and Public Relations committee, popularly known as BPR. I am also a part of the GL Blogmasters club, runner's club called Great Lakes Gazelles and the Toastmasters club of Great Lakes.
Quick Links-

Careers360: How much industrial and international exposure does your programme provide you?
Divya S: Great Lakes has an Advanced Management Programme (AMP) in association with University of Bordeaux, France. Each year a few students go on an exchange programme to France. The empirical studies which run for almost the entire tenure of the programme provide immense industry exposure.
Careers360: What are the difference in teaching method applied by guest lectures delivered by academicians and industry practitioners? Please share the best elements from both.
Divya S: All professors in Great Lakes come with decades of industry experience. The teaching methods are heavily case-study centric. Frequent interactions with people currently leading organizations also happen. These interactions supplement and add on to the learning in classroom.
You may also Like:

Careers360: What is the best aspect of your programme and campus?
Divya S: The best aspect of the programme is the faculty. As mentioned already, each professor comes with decades of industry experience. All subjects are heavily case-study driven thereby gives ample scope for flow of information.
Careers360: What are your expectations from the programme? How would you like to implicate the learning after completing the programme?
Divya S: I expect to equip myself with skills and knowledge to understand nuances of business.
Careers360: What is your advice to the aspirants of Executive MBA?
Divya S: Stay vigil at work and try to pick up learnings on the fly. In the end, an Executive MBA is to enable you to become an able leader. The first logical step is to learn from your pre-MBA workplace and attempt to understand the big picture.
Other Popular Universities
Read More:
Great Lakes Chennai Updates and Articles
Questions related to Great Lakes Chennai
Showing 92 out of 92 Questions