Know all about Indian Institute of Foreign Trade: Interview with Mr. Manoj Pant (Director, Vice Chancellor)
IIFT Delhi was established in 1963 as an autonomous institute by the Ministry of Commerce and Industry, Government of India. Indian Institute of Foreign Trade Delhi is accredited by the National Assessment and Accreditation Council (NAAC) with grade A and AACSB. IIFT Delhi is a member of international and national professional bodies like AACSB, AIB, EFMD, AIU and more. IIFT offers programmes in International Business and Research. IIFT Delhi offers two-year MBA (International Business), two-year and six months MBA (International Business) (weekend), Executive PGD International Business Part Time, Executive PGD Global Human Resource Management Part Time, MA Economics with Specialisation in Trade and Finance, Ph.D Full Time and Part Time programmes.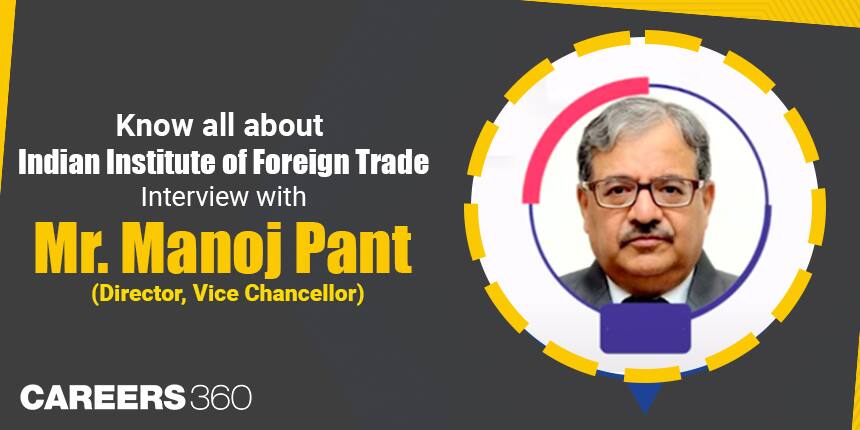 Careers360 brings you a interactive session with Mr. Manoj Pant, Director/ Vice Chancellor, Indian Institute of Foreign Trade. In his interview with Careers360 he shared information about different courses offered by IIFT, campus details, placement details and other relevant information which students might find useful. Read the complete interview of Mr. Manoj Pant to know more about Indian Institute of Foreign Trade Delhi.
Careers360: What is the mission and uniqueness of IIFT?
Mr. Manoj Pant: The mission of IIFT is to be the number 1 institution in the area of International business, in terms of trading, for students of India, the Indian policy holders and academics. Uniqueness of IIFT is that irrespective of the course whether it is management course or economics course it all works as the think tank of the ministry of commerce which began back in 1963 for management. IIFT tends to focus largely on International business.
Also Read: IIFT Courses & Fees
Careers360: How to choose between a General MBA and a specialized MBA?
Mr. Manoj Pant: The subjects are all same for the students in 1st year of the course, the specialization or the electives in the international areas are to be chosen in the 2nd year based on the subject in which they are good at. The only difference between the general and the specialized MBA is where the elective comes.
Careers360: Is IIFT good for those students who want to work in India?
Mr. Manoj Pant: Absolutely! 50 percent of India's GDP comes from either exports or imports, so it is obvious that we are linked with the rest of the world. Even the domestic markets and all companies in India are linked to the World market. IIFT students also get placements from Indian companies where students are placed within India.
Careers360: What are the benefits of AACSB accreditation?
Mr. Manoj Pant: There are many rating systems globally, but the best known one of them is AACSB. It is a continuous online rating system which rates the institution for 5 years by considering the progress, faculty ratios, student diversities and then accepts the institution as a member of AACSB. It is equal to international qualification if one wants to work abroad.
Quick Link: IIFT Admissions
Careers360: What is the placement procedure in different campuses of IIFT?
Mr. Manoj Pant: The Kakinada campus which has just started in September is an undergraduate campus with integrated MBA programmes which has separate interview system, ranking system, examination and procedure whereas Delhi and Calcutta are ranked together, both campuses are AACSB accredited. There is a programme called MBA IIFT which has common placements for both the campuses which happens in Delhi.
Careers360: What is the MA programme at IIFT all about and who should opt for it?
Mr. Manoj Pant: MA Economics is a specialized course which is very quantitative and meant for people who are at least honor level mathematics undergraduates. It is for the people who want to join companies or do PhD at research level. We focus on International economics and finance unlike any other institutions.
Careers360: What is the basic profile of IIFT students in terms of demographic diversity, regional diversity, gender diversity and stream diversity?
Mr. Manoj Pant: When we began, a large number of students from Engineering background were taken but we have had discussions with companies on that matter and slowly tweaked it. We have special points for gender wherein the ratio is 30: 70 for women and men. And there is no such thing called regional diversity.
See Also: IIFT Placements
Sampath (Student): Is it advisable to do both general and specialized MBA?
Mr. Maheshwar Peri: It is not advisable to do two, two-year MBA courses. For instance, it will be beneficial if you do a 6 months course of business analytics or data science management if you have an international business MBA degree. It is just electives which differ so it would be a waste of time if you do two MBAs.
Shashikanth (Student): How does an MBA from IIFT help if one has to run an import and export business?
Mr. Manoj Pant: Business is all about taking risks, losing money and getting it all the way back. But MBA from IIFT will teach you the pitfalls that you may face whether market exposure, how to check your products.
Other IIFT Links: IIFT Facilities
Himanshu (Student): What kind of student profiles does IIFT look for?
Mr. Manoj Pant: There are points for people with some prior work experience. Mainly we see people with analytical ability and ability to work with numbers.
Student: Is it a myth that IIFT only prefers students with Engineering background?
Mr. Manoj Pant: It is completely a myth. It's not that we don't want engineers, they have good quantitative ability but we have been slowly tweaking our systems to allow other students too. That's what business wants and we respond to it. Business doesn't want people from only one set of backgrounds.
Also Read: IIFT Reviews
Careers360: Most of the entrance examinations are skewed slightly towards stem students as they are good at the quantitative section. How does IIFT correct that imbalance for non-stem students?
Mr. Manoj Pant: The structure of the whole examination system is taken in a way that, in an interview it is seen whether the person has leadership qualities or not. A person who has both quantitative skills and leadership skills is taken into consideration.
Careers360: What initiatives were taken to encourage students from streams other than Engineering to pursue MBA from IIFT?
Mr. Manoj Pant: We do it through 2 ways, one where we tweak by giving some additional points, we add points to gender diversity. And we have been tweaking the entrance examination where we see the group discussions, we can identify people with leadership skills.
Also Check: IIFT Q&A
Student: Since I have a marine background, will IIFT as a college can help me in doing business in International trade?
Mr. Manoj Pant: Certainly. The Director General Rehabilitation of the Armed Forces has a system by which those who are towards the end of their career, they come to what we provide, six months courses and one year courses for the Armed forces where we give training in certain aspects. There are certain courses that you can do while working in Armed forces as the government has created channels to ensure that people should continue to be relevant even outside the Armed forces.
Student: If I have to do business in future, isn't doing MBA from any college the same?
Mr. Manoj Pant: There are three aspects on which you need to choose the institution, Faculty, Peer group or quality of students and Alumni. MBA is all about being relevant through your life and that happens when you study in a great institution where the network of people that you interact with as the years pass is far better than a normal institution.
Student: Does background play an important role in selection at IIFT?
Mr. Manoj Pant: Background does not count while we select students for IIFT. All that matters is your marks and performance. People from different backgrounds will have equal opportunities as mentioned in the diversity point. We do provide a good amount of scholarships for students.
Student: Does having a gap year affect the selection at IIFT?
Mr. Manoj Pant: The gap doesn't matter as long as you score well in the examination and sit for the interview.But there will be points for those who have work experience. So in order to stand out you need to score more than a normal student.
Other Links: IIFT Affiliated colleges
Student: What kind of exposure will be helpful in the selection process?
Mr. Manoj Pant: IIFT has faculty to help you with that but COVID is disadvantageous to you just as other students. You just have to go along and follow the system we have in IIFT where there are mentors for students to help out.
Arunima (Student) : Are 12th marks considered for IIFT selection ?
Mr. Manoj Pant: Yes. They do matter, but that is not the only prospect we look at while selecting, so make your profile a little strong in other areas so that those marks won't disadvantage you.
Shashikanth (Student) : What other courses can I pursue to learn import and export business skills ?
Mr. Manoj Pant: Become an intern at an export and import firm for 1 or 2 years while you do a certification program from IIFT.
Disclaimer: This content was distributed by Indian Institute of Foreign Trade (IIFT) Delhi and has been published as part of Careers360's marketing initiative.
Other Popular Private Institutes in India:
IIFT Delhi Updates and Articles
Questions related to IIFT Delhi
Showing 311 out of 311 Questions