Know all about IMT Hyderabad: Interview with Ridhima Kumar
IMT Hyderabad - Institute of Management Technology (IMT), Hyderabad established in 2011 is one of the top B-schools in India. According to the NIRF ranking, IMT Hyderabad has bagged the 63rd position in the management category. Careers360 brings you an exclusive interview with the Ridhima Kumar alumni of IMT Hyderabad. In this interview, she has shared her experience at the college, along with her professional life. The course curriculum at IMT Hyderabad PGDM programme is designed in a way so that students will get value-based education along with industry exposure. To know more about the experiences of a student at IMT Hyderabad read the full interview of Nitin Kumar Jain with Careers360.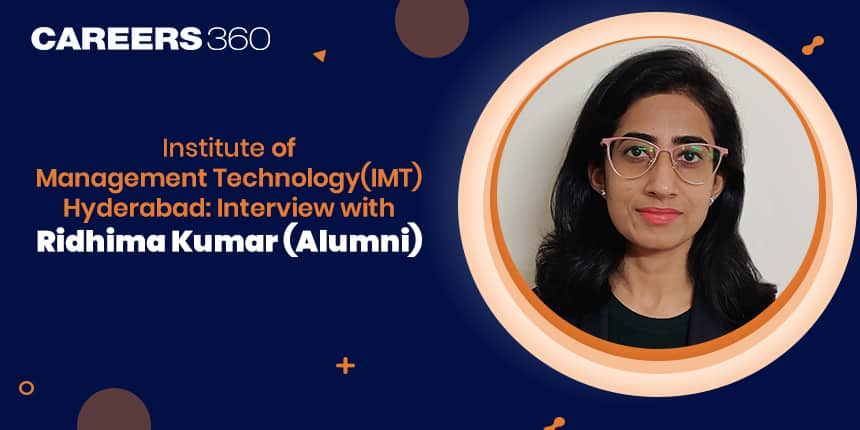 Careers360: Tell us about your domain and your work profile. At the professional level, did you pursue the same field you were interested in, or did you switch?
Ridhima Kumar: I am a Data Scientist and co-founder at Aryma Labs. My work usually revolves around applying Data Science techniques innovatively to various Marketing Analytics problems. My work also requires me to focus on Marketing activities for my start-up. While pursuing my IMT Hyderabad PGDM course, I started to hear a lot about Data Science and how it could help solve a lot of business problems. This intrigued me, and I wanted to learn more. So, I decided to pursue a career in Marketing Analytics.
8 min read
Mar 05, 2022
Read More
Careers360: Can you briefly tell us about your career path so far?
Ridhima Kumar: I started my career as a consultant in a boutique Marketing Analytics firm. Throughout my career, I gained statistical knowledge and picked up coding to get more hands-on experience. I learned a lot in the industry by being a hands-on Data Scientist. With data being considered as the new oil, I saw a huge demand by companies wanting to extract actionable insights. So, with that in mind, my co-founder and I decided to start our own Data Science start-up – Aryma Labs.
Quick links: IMT Hyderabad Admission
Careers360: Is the Industry work different from what you learned at IMT Hyderabad?
Ridhima Kumar: Industry work is usually different from a college education. It is about how much you can learn at college and apply it in the real world. A good college doesn't just teach academics but also ensures that students can improve their professional outlook and become a better version of themselves. The IMT Hyderabad courses certainly prepared me to make an entry into the industry.
Careers360: How do you think your time in college has added value to your life, both professional and personal?
Ridhima Kumar: My time at IMT- H was an enriching experience. All the professors had a very in-depth knowledge of their subjects and were more like our mentors and friends. At IMT- H, I got a chance to meet a lot of bright minds. I can say that the interactions with my peers and friends expanded my thinking and knowledge.
PGDM at IMT- H also teaches you important life lessons like time management and how to handle pressure. Overall, it was an experience to cherish.
Careers360: What was your initial thought process when you joined IMT Hyderabad?
Ridhima Kumar: My initial thought process when I had joined IMT- H was to make good use of the opportunity I had been provided. I was excited to get onto a new journey of learning at IMT Hyderabad.
Also Read: IMT Hyderabad Reviews
Careers360: You must have had a memorable time at your college. Do you miss being a part of it? Share a few good memories.
Ridhima Kumar: Yes, time spent at IMT- H was truly memorable. The IMT- H campus provided an atmosphere of fun-filled learning. The lectures at IMT- H were not the typical boring classes that students usually associate with college. On the contrary, most of the professors ensured that students get a fulfilling knowledge of the subjects.
One interesting thing I remember about some classes were, that we had role plays in which students played certain characters from a case study. Some of the other good memories of IMT- H, I have are the time I spent with fellow students in the Drama club and Media Relations Committee.
Careers360: Briefly take us through your life at the campus, the activities you used to do, and your routine life.
Ridhima Kumar: Life at campus involved not just attending classes but also taking part in various extracurricular activities. I was a part of the Media Relations Committee and Drama club. The academic rigor and my various extra-curricular activities kept me busy. Apart from that, there was usual fun with friends.
Also Read about IMT Hyderabad courses:
Careers360: Apart from academics, what were the other activities you were involved in and how did it enrich your life?
Ridhima Kumar: Other than academics, the IMT Hyderabad facilities are Media Relations Committee and Drama club. The extracurricular activities which I used to engage in as a part of various clubs, helped in developing 360 degrees thinking.
Careers360: How did you keep updated with the industrial requirements and what was the role of the institute in it?
Ridhima Kumar: Reading up on the state-of-affairs in different industries/domains was one way of keeping myself updated on the industrial requirements.
The institute facilitated regular practitioner sessions with industry experts. These practitioner sessions aided in understanding how the knowledge developed through the curriculum was applied in the industry.
Also, some of the case studies in the curriculum taught at IMT- H were real-life examples of how those companies/brands applied the Business knowledge we were studying and made strategic decisions.
Careers360: You are a proud alumnus of the IMT Hyderabad. What is the best part of the institute from a student's perspective?
Ridhima Kumar: IMT- H provided a place where students coming from different backgrounds could share their knowledge, stories, and ideas freely and help each other grow into well-rounded individuals along with good placements. The nourishing and hospitable environment fostered by the college and professors helped in building camaraderie among students.
Careers360: What are your suggestions/guidance for the aspirants who want to pursue PGDM?
Ridhima Kumar: Be curious, network, and have an insatiable hunger for learning new things.
IMT Hyderabad Updates and Articles
Questions related to IMT Hyderabad
Showing 99 out of 99 Questions