Campus Life at Prestige Institute of Management: Mahima Mahur shares her experience
Campus Life at Prestige Institute of Management - While we are in our teens, a situation of pandemonium always accompanies us as to what the future would be like or which stream to pursue further. And not all is settled even if we decide the discipline for higher studies after school. The next challenge that awaits us as adolescents is choosing the right college. Out of all students ready to step into college life, some are lucky to get into good colleges, while some regret their choices. Mahima Mahur is one such girl from the bylanes of Gwalior, Madhya Pradesh who's content with her choice of college. Pursuing BBA (1st year) at Prestige Institute of Management, Gwalior, Mahima wears her heart on her sleeve.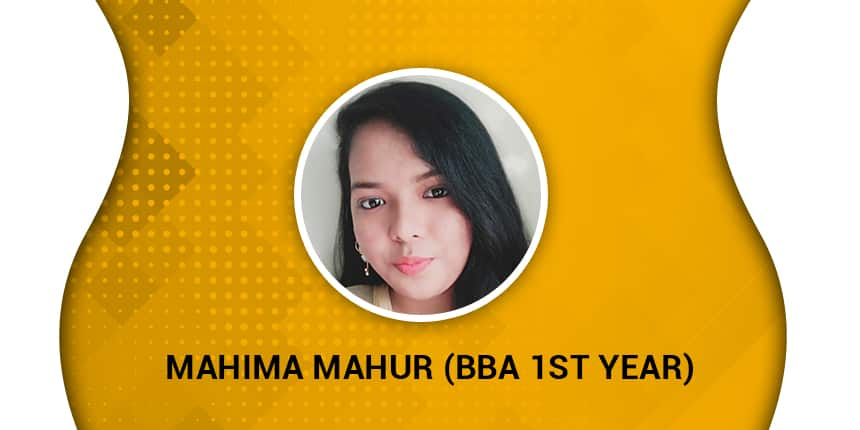 Without any complaints, she feels a great delight in sharing, "My initial days at my college were super awesome, my college organised an almost 15 days orientation programme for all new students. This helped us a lot in learning about the rules and regulations of the college and to adapt to the environment of the college. All the faculties and seniors were so supportive that I haven't even realised that this is a new place for me."
Her typical day starts at 6 am when she wakes up, does all her routine work and moves on to pursue her hobbies. She has even enrolled herself into a certificate course, which she pursues before her college begins at 11. As the academics happen during the day, it leaves her with a lot of space to pursue her hobbies or whatever she likes. At 11, she gets ready for college, takes lunch rushes for her classes. Returning back around 6 pm, she spends her evenings with some rest, then food and then completing her assignments and studies. Around 10.30 pm, she called it off.
It's not only the initial phase which she enjoyed, but she feels the same even after spending a few months at the college. Nothing has changed her perception about the college. What Mahima loves the most at the Prestige Institute of Management is the canteen and Amul parlour, the place where students gather, talk and hangout during breaks. The system of the college is so vibrant that Mahima feels her college to be the best management college in the city. At the academic front, what makes it the best management school in the city, the Gwalior girl says, is the syllabus and curriculum which is as per the requirement of the industry.
It's not only academics that makes a college great or a sought-after one, but the cultural activities, the DNA, legacy, environment, faculty-student ratio, placements and extra curricular activities that take place there.
The college doesn't also lag behind when it comes to cultural and extracurricular activities. There are many activities and clubs in the college including Rotaract Club, HR Club, Marketing Club, Finance Club and others. These clubs organise activities time to time. Even Mahima has been a part of the HR SKIT competition organised by HR Club and I'm looking forward to be a part of the HR club. So the college has something or the other to offer to every kind of student.
Another reason why the class fell for the college is its faculty-student ratio and the placements it offers. According to me, "Our college has a fair amount of faculties and visiting facilities too. All the faculties are quite supportive, always motivating and guiding the students." Moreover, while it comes to getting a job after graduating, the institute invites one of the best corporates, which includes the likes of Jaro Education, WIPRO, etc. to name a few. In my understanding, almost all the graduating students are placed in some or the other company, making the placements 100 percent, says Mahima.
Alike many others, who would graduate and take up a job after college, she also has similar plans. However, the college one studies in contributes hugely to one person's personality, knowledge and learning based on which one's future is determined to an extent. And Mahima's mid resonates with this thought. She says, "The person, as we get in the college and the person, as we become in this college is far better than before. My college has enabled me to be a confident person who can now debate, discuss and address a gathering. It has groomed me in all areas."
However, moving further, Prestige Institute of Management has not attained that absolute state wherein it does not need to improve in any area. She wishes that it would be a great initiative if the college can work on providing internship opportunities to the interested students from the 2nd semester only.
Sharing her views for the future aspirants, Mahima signs off saying - students should take admission in any college not because their friends are going to that college, but only after doing a lot of research about the areas like facilities, curriculum, placements, etc.
Questions related to Prestige Institute of Management, Gwalior
Showing 14 out of 14 Questions