Goa Institute of Management: Interview with Dr. Ajit Parulekar, Director
Goa Institute of Management: Interview with Dr. Ajit Parulekar, Director - Founded in 1993, Goa Institute of Management, a private autonomous business school offers PGDM programmes in Health Care Management, Big Data Analytics and Banking Insurance and Financial Services. Ranked 48th in the NIRF India Rankings 2020 for Management, GIM also is a member of AASCB. In an interaction with Dr. AjitParulekar, Director, Goa Institute of Management, Careers360 brings forth details about the institute's mission, programmes, accreditation, admissions and placement statistics. Read the article to know more about Goa Institute of Management.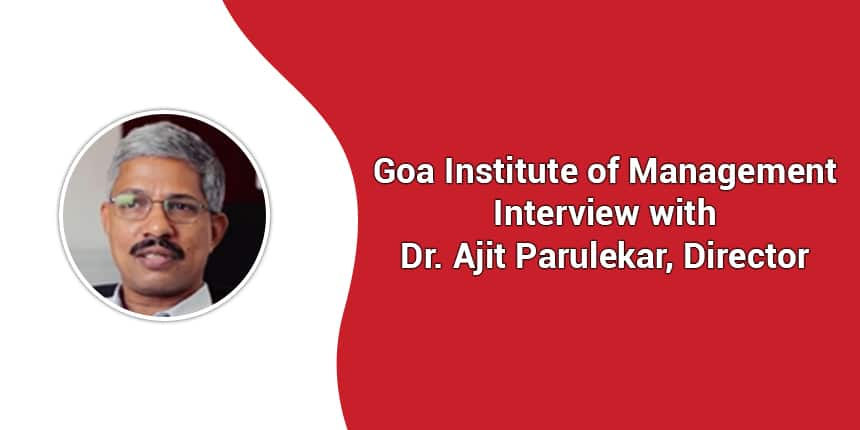 Latest: Want to apply for admission in Goa Institute of Management - Click Here
Careers360: What are the different programmes and specializations that the GIM has to offer?
Dr. Ajit Parulekar: We have around 240 places in PGDM general management programmes. For the last ten years we have not increased this; we have kept it as it is. We have seen a huge growth in our specialized programmes because we think that is what today's industry needs.
Careers360: Kindly give details on the institute's ranking and accreditation?
Dr. Ajit Parulekar: GIM has been recognized by AICTE, SAQS. Probably in two years from now we expect to start with the EQUIS process too. We have also adopted the AMBA process. We are also ranked 48 in the NIRF management rankings for 2020.
Watch the full interview of Dr. Ajit Parulekar
Careers360: What are the admission criteria? Please give details on the cutoff required to avail admissions?
Dr. Ajit Parulekar: All shortlisting and interviews are purely based on the exam cutoff scores, the candidate's previous academic as well as performance in GDPI, work experience, etc. As far as cut offs are concerned, we do have some eligibility requirements for shortlisting. The cut off for CAT last year was 88%, for CMAT the cut off was 98.5% and for XAT it was around 82-83%.
Careers360: Throw some light on the diversity prevalent in GIM's campus.
Dr. Ajit Parulekar: We totally believe that a diversified classroom and college enhances learning. Students coming from different economic, geographic backgrounds and having industry experiences really make the discussions multifaceted in the classroom. We also want students to come from arts, medicine and commerce backgrounds. As far as gender diversity is concerned, around 41-43% in the institute are girls while the rest are boys. We have students coming from every conceivable academic course. I am also proud to say that we have students hailing from all the 28 states of the country.
Careers360: What is the placement procedure and what is the highest salary package being offered to the students?
Dr. Ajit Parulekar: Luckily, all the full time programmes had 100% placements last year. The average salaries have gone up from 10.7 Lakhs to 12.25 Lakhs. We have recruiters coming from all the sectors such as banking, insurance, IT, pharmaceutical, hospitality, manufacturing, etc. Also, we have a lot of big companies coming to the campuses for the recruitment process. The reputation of GIM plays a huge role in driving the companies to the campus
Careers360: Is there any hostel facility? Please give details.
Dr. Ajit Parulekar: Yes, all of our full-time programmes are residential ones. We have a campus spread over 50 acres of land. The hostel has separate rooms for boys and girls. Students in their first years live in shared rooms because we want them to get the cultural experience of living with someone coming from a different background. The students get a single room to stay from their second year.
Careers360: Does GIM also provide scholarships?
Dr. Ajit Parulekar: Yes, we introduce scholarships every year for students coming from challenging financial backgrounds. Students who get the scholarships do not have to pay academic tuition fees at all. We provide 40 scholarships every year worth 4 lakhs to each student. We also have 5 scholarships for MBBS students. Our scholarship also enables students to go for international exchange programmes.
Careers360: Do you think by 2025 GIM will attain the triple crown?
Dr. Ajit Parulekar: Absolutely. That's what our target is.That will be a big win and an added bonus.
Careers360: What kind of students should be looking at GIM?
Dr. Ajit Parulekar: GIM would want students who want to make an impact in the world. It is not only about coming here and getting out with a degree and bagging a good placement but believing that they will be leaders leading in industry and society too. We want our students to view their education in that light, ask themselves what they can do for the community, to uplift the society, community and their family.
Questions related to GIM
Showing 136 out of 136 Questions